With Cow Dung as Primary Raw Material He Has Built a Rs 2 Crore Turnover Business
Deven Lad
&nbsp | &nbsp Mumbai
19-May-2018
Vol 9&nbsp|&nbspIssue 21
The story of Umesh Soni is a typical example of success despite a series of disappointments. From a shattered dream of becoming a medical doctor, to being rejected for a hospital job, Umesh didn't lose heart but forged on to become one of the leading manufacturers of cosmetics from a purely organic source—cow dung.
The Mumbai based entrepreneur is the Founder and CEO of Cowpathy, one of the first companies in the country to manufacture soaps and other cosmetics from cow dung.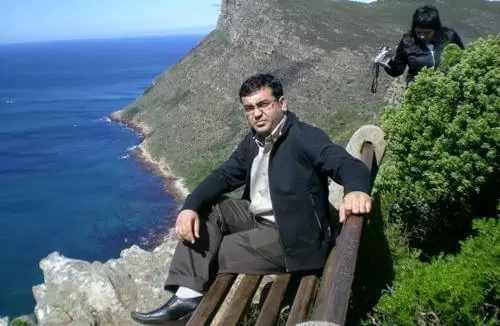 Umesh Soni made the first batch of 4,000 soaps made out of cow dung for ISKCON in 2012 (Photo: Special Arrangement)

From selling the first batch of soaps at ISKCON (International Society for Krishna Consciousness) outlets to later diversifying into cow dung based shaving cream, dish washing soap, and toothpaste, Umesh is now exporting to 13 countries, including the US and his company's annual turnover has touched Rs 2 crore.
"Today we sell over 45,000 units of soap every month across India through our distributors in Tamil Nadu, Karnataka, Gujarat, Assam, Punjab and Haryana," shares Umesh.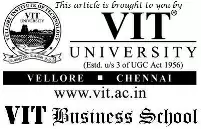 Hailing from Palanpur, Gujarat, Umesh did his schooling from M.M. Mehta English Medium School in Palanpur after which he shifted to Mumbai to study at Wilson College for Science. Since he could not pursue his dream of studying medicine in Mumbai on domicile grounds, he had opted for microbiology.
Determined to work in the health sector, he applied for a researcher's post at Harkishandas Hospital in Mumbai, but he was not selected for the job.
In 2004, he did a six-month post graduate diploma in Foreign Trade from the World Trade Institute, Mumbai. Later, between 2006 and 2008 he worked as an export executive at two export companies dealing with toiletries and cosmetics. The experience he gained in those two years laid the foundation for his career.
In 2009, Umesh and a college friend Tushar Hire invested Rs 25,000 each to found RaVino Industries with the aim of developing cosmetic products for export.
"But we exhausted the funds in three months, and I didn't know what to do. I was married by then and had to take care of family too. I could not sleep for many days and used to wake up in middle of the night in a panic," Umesh remembers.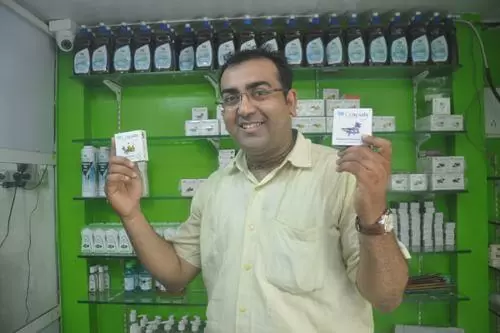 Cowpathy products are exported to 13 countries including the US (Photos: Deven Lad)

But Lady Luck had not given up on him. Out of the blue a client from the Caribbean contacted him after seeing his profile online and placed an order for ten shipping containers of washing powder. That business gave his company a fresh lease of life. Around this time his friend left the partnership and Umesh gained full control of RaVino Industries.
The next stroke of luck got Umesh into the field he finally settled in. Umesh had been a regular at the Mumbai branch of ISKCON and in 2010 Govind Das Prabhu, the then chairman of ISKCON, asked him to try and make soap from the cow dung produced at the cowsheds at ISKCON's Govardhan Eco Village, Wada, near Mumbai.
It was serendipity: "I was already doing some research in making herbal cosmetic products for the Adiya Birla group of industries and this knowledge helped in the new assignment," smiles Umesh.
He delivered 4,000 soaps to ISKCON, which distributed around 2,500 free and sold the rest at a rate of Rs 30 per piece. He named the product Biobliss – which he was renamed Cowpathy in 2016 - and soon launched seven more variants of the cow dung soap in collaboration with ISKCON.
By the end of 2012, Biobliss had launched other cow dung products like shaving cream, dish washing soap, and toothpaste. Now they also make facewash, floor cleaner and hair oil.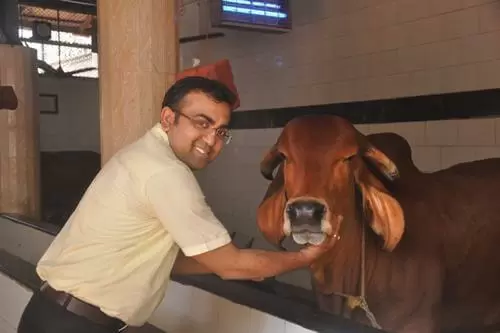 Umesh Soni procures cow dung from cow sheds located at Wada, near Mumbai

Looking back, Umesh recalls the initial challenges he faced in changing the mindset of people about using cosmetics made out of cow dung. He says the soaps contain other ingredients as well besides cow dung. For example, the Cowpathy Orange Peel variant is composed of 23% cow dung, 6% cow urine, 78% Grade I soap, and 2.5% orange peel powder and orange oil.
People were apprehensive about the odour too. Umesh says the smell and texture of the raw products is treated at their factories in Uttarakhand and Himachal Pradesh. Perfumes and other acceptable aromas are added to the product during the treatment.
He claims that many users of the Cowpathy soaps swear their skin ailments have reduced since using the soap and other products. "Someone at the Kolhapur branch of ISKCON said the soap was very expensive, but after using it for 15 days, he called me for more," says Umesh.
Umesh collects the cow dung from cowsheds at Wada, near Mumbai, where he also pays the owners for the upkeep of some cows. "We get 7 kg cow dung from each cowshed every day. I don't want to use their cow dung free of cost so I make some payment to the owners to take care of the cows," he says.
In 2014 Soni started selling his products in the open market and the success was near immediate--that year itself the turnover had reached Rs 1crore.
It's been quite a journey for Umesh Soni. And although he may have never become a doctor, he still has health care in his sights. He is having plans to manufacture medicines using cow dung soon!
Wish to share your story?
Trending Now: