Sick of MNC culture, a textile engineer returns to his roots to help the people
Kavita Kanan Chandra
&nbsp | &nbsp Mumbai
01-October-2010
Vol 1&nbsp|&nbspIssue 5
G Thakuria lost a decade in his life. He will not tell you what he was up to and it is anybody's guess, given the fact that he is in Assam's Chhaygaon, which was once a hotbed of insurgency. But today, Thakuria has found his calling - at the Fabric Plus factory. Chhaygaon, 70 km away from Guwahati, has transformed over the years with the Assam Government developing it as an industrial growth centre.

Fabric Plus, on its part, has touched the lives of many like Thakuria. Founded by Dilip Barooah, who was the first to cash in on the changing scenario, the industrial unit is a symbol of the new emerging industrial Assam.

Hailing from the non-descript town of Margarita at the tip of Assam, bordering Myanmar and Arunachal, Barooah studied textile technology in Guwahati. He joined a textile mills in Mumbai as a manager in the early eighties. He rose to the level of General Manager and became the highest paid technician in the metropolis. Later, he shifted to Germany and South Africa, enjoyed the high life, what with a six-figure monthly salary, a bungalow with swimming pool and a BMW to boot.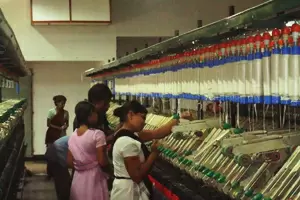 At Fabric Plus, workers are appreciated for what they do and not given designations for their jobs
One day he chucked them all, even leaving behind the wealth he earned due to some legal tangle and was back in Mumbai. However he had 27 years of textile experience, contacts and lot of goodwill. "I was back to square one. From driving BMW to riding Bus Number 11," says Barooah philosophically. But there was a burning desire to establish a company that deals with weaving and exporting of pure silk products made of exquisite Eri, Muga and Mulberry/Pat silk exclusive to the Northeast.

It was a passion for Assam silk, the immense potential it had offshore by value addition and innovation that has seen Fabric Plus catering to fashion giants like Armani, Hugo Boss, Just Cavalli, Chopard and Moschino among other brands.

Barooah started from scratch in 2003 in a 100 sq ft garage space with three members and almost zero investment. They started with R & D and sampling of pure silk product and soon became a registered silk exporting company. Within a year their turnover was Rs 14 lakh and there has been no turning back since then. The projected turnover in 2010 is Rs 700 lakh, almost double of the previous year's.

As a social entrepreneur for Chhaygaon, Barooah has helped the region's growth. The Eri silk spinning mill alone has impacted the lives of 350 spinners and weavers and benefitted 4500 people engaged in silk/cocoon rearing and marketing. "Just two years ago there was absolutely nothing in this region, no source of income for the educated youths but with the Fabric Plus project an industrial atmosphere is building up," says Trailokya Burman, a team member at Fabric Plus.

Burman echoes Barooah's dislike for titles and designations that stem from the exploitation and everyday human rights violation he saw in the Mumbai mills as a young manager. "We are all part of a family, everyone cooperates and there is no designation whatsoever," says G Thakuria. Adds Barooah: "The workers were paid peanuts, worked in unhygienic conditions, forced to do overtime and when I was the general manager my work was not to run the textile mill but find ways to retrench labour." This pained him and he vowed to treat his workers as team members with due respect and dignity. He practises what he preaches and his visiting card is sans any designation. He feels a sense of déjà vu reading Robin Sharma's international best seller 'The Leader Who Had No Title' for it echoes his thoughts in many ways.

"Once the people who feared bombs now see their women folk cycling to work, changing their lifestyle and heralding betterment in economy, health and work ethics," says Barooah. Apart from Chhaygaon, Fabric Plus also has factories at Amingaon (Assam), Dhatrigram (West Bengal) and a unit for hand spinning of Eri silk yarns at Mirza (Assam).

Trending Now: