Stung by the love of bees, a tailor goes for them and tastes sweet success

Afsana Rashid
&nbsp | &nbsp Srinagar
01-October-2010
Vol 1&nbsp|&nbspIssue 5
Mohammad Sidiq draws the local youth like ants to honey. For the youth, who know about his success story, flock him for advice. A resident of Bijhama in Uri area, about 120 kilometres from Srinagar, he developed an apiculture farm with nothing at hand. Today, he is counted among the best producers of honey and also seen as an expert in the field.
"Interest and dedication are the keys," says the middle-aged Sidiq, who is a tailor by profession. He developed an interest in apiculture and wanted to venture into the business after he liked the concept during an interaction with officials. "Just out of interest, I collected a box and learnt the entire process", he says.
He learned about apiculture after attending a livelihood support programme organised by the Centre for Environment and Education (CEE) Himalaya and Welthungerhilfe (WHH-formerly German Agro Action), a non government organization working in the area. Sidiq got eight boxes with colonies and 12 boxes without colonies in 2006. A year later, number of boxes rose to 32 (with colonies) and now he has 100 boxes (with colonies).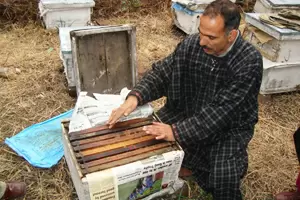 Not just his bees, Mohammad Sidiq is also creating a buzz among unemployed youth in Uri
"Bijhama was not in our agenda. When Sadiq expressed his interest towards developing apiculture farm, we adopted the village, seeing his dedication, and offered him a unit," says Mubashir Ahmad, Coordinator of CEE Himalaya.

Currently, Sidiq has developed a good apiculture farm with a production of 250-260 kilogram per season. "Three people assist me in my work but most of the time I do it single-handedly. It is in high demand and I sell it at the rate of Rs. 200 per kg." Sidiq mostly sells the production in the local market. "To tie up with trade and business groups, assured supply is required. There is a need to process it more, go for branding, sealing, packaging and promoting", says Sidiq.

Currently, he sells it in open bottles that are not properly sealed. "I had a proposal to send honey to Pakistan through Srinagar - Muzaffarabad bus service, but that requires assured supply."

Sidiq now keeps bees like Apis malfaria and wild (indica). He explains that there are eight frames in a box. "A quintal of honey can be obtained from 18 boxes. Honey can be extracted thrice a year. I leave 50 percent of honey in the box so that bees can survive for three months of winter," he says.

Trending Now: