Undeterred by setbacks, she fought on to build a Rs 10 crore turnover eponymous beauty brand
Sofia Danish Khan
&nbsp | &nbsp New Delhi
12-March-2018
Vol 9&nbsp|&nbspIssue 11
At the age of 34, renowned hair stylist and make-up artist Ambika Pillai found out that her business partner, who was also a friend, had been cheating her of money for 14 long years. When confronted, he ended the partnership abruptly and she was left with nothing – no salon, no money.
This was not even the first time this had happened to her. Deceived and cheated repeatedly by people she trusted, overcoming her limitations and managing life as a single mother, Ambika fell and picked herself up again and again to get to where she is today.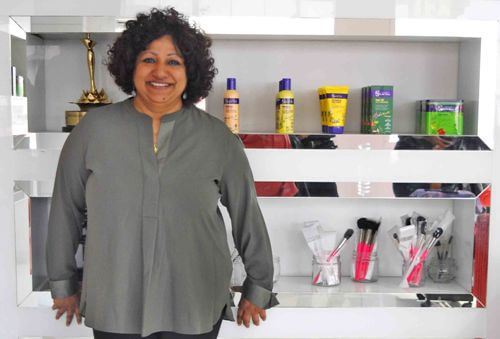 Ambika Pillai refused to accept defeat and came back strongly with every setback. She now heads an eponymous beauty brand with an annual turnover of Rs 10 crore (Photos: Navnita)

"I have learnt my lessons the hard way, yet I am not disillusioned by people," she says. And this is resonant in her warm conversation and how happily she mixes with her staff.
Having started with a staff of 11 and hardly five clients a day in 2010, the eponymous founder of Ambika Pillai Designer Salons Private Limited today heads a Rs 10 crore turnover company with 150 employees.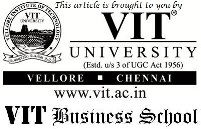 Born on 26 November 1962 in Kollam, Kerala, Ambika dealt with dyslexia all through her childhood and struggled with writing and math. She married early at the age of 17. However, she was soon to be disappointed.
After a loveless marriage of seven years, she got divorced at the age of 24 and, with a two year old daughter in tow, moved to Delhi, where, after weighing her options, she decided to do a hairstylist's course.
She was determined to give a good life to her daughter. Ambika's father was wealthy but she never took a penny from him because she wanted to make something of her life by herself.
In 1990, she started working at a salon. Her salary was Rs 2,000, half of which was spent on rent and the rest on home expenses.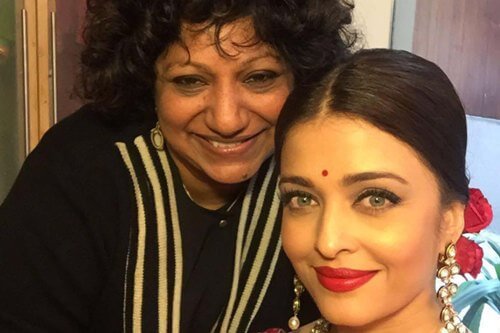 Ambika has worked with many celebrities including Aishwarya Rai

"I remember, I bought a moped with my savings and called my dad with excitement," she shares. "He, of course, had all sorts of luxury cars and wasn't as enthusiastic! But the happiness of buying something from your own money is priceless."
After working for a few months, she realised that opening her own salon will be a better idea as the money was good. She decided to partner with a friend whose condition was that the salon should be named after her.
"I borrowed Rs 7 lakh from my father at this time, and my first salon started in 1990 itself," recalls Ambika.
Seven years later she noticed discrepancies in accounts and had a face-off with her friend. "When I decided to call off the partnership, I wasn't even returned the initial investment of Rs 7 lakh," says Ambika. She was left with nothing and had to start from zero.
While one friend failed her, another came to the rescue. Hemant Trivedi, the fashion designer who is also her godfather as well as a great friend, has been a pillar of support to her.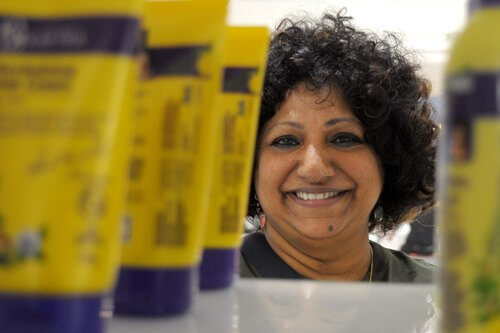 Constantly learning from mistakes, Ambika has reduced the number of salons she operates in Delhi from 12 to two

"In those times the Bombay-Delhi divide was too huge. So if there was an event in Delhi, the Bombay designers would fly down with their own hair dressers and make-up artists. But for one such event he asked me to do hairstyling as well as make-up," explains Ambika. "The second time we worked together was for the movie Taal featuring Aishwarya Rai. I went on to win my first award, the IIFA (International Indian Film Academy) Award for Make-up."
In 1996, she again trusted a friend and partnered with him to open a salon in Delhi, but he too cheated her. "I clearly remembered doing 22 bridal make-ups one day, for instance, because it was my birthday, but the accounts register for that day mentioned only two," she says. "This is the level to which I was being cheated."
In 2008 she picked herself up, took another loan, and started her own venture by the name of Ambika Pillai, her now famous brand. This time she built a secure system of software to keep track of the accounts. Over a period of a few years, she opened 12 branches all over Delhi.
She launched Kaytra, a range of herbal products, a year ago. "Currently the hair care products are available all over Kerala. We are thinking of expanding to the Middle East, as well as coming up with a new skin care range," Ambika shares.
There was a time when she was working from morning till night but now she is slowing down. "I worked too hard all my life, and suffered thumb and knee injuries," explains Ambika, "but now my body can't take it anymore and I now work just 12 to 5." She has shut down most of the salons in Delhi and only two of them are functional now.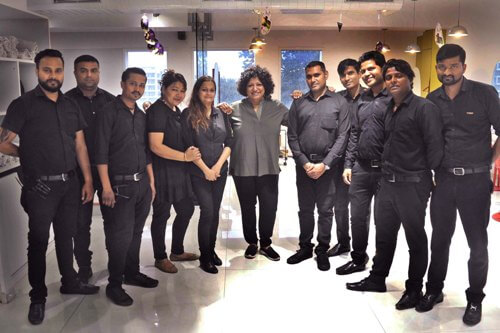 Around 150 employees work with Ambika. In the photo she is seen with some of her staff members

But she has not lost the spirit of adventure. She shares her future plans: "In a few years I want to retire and start my own restaurant, travel, write books, and do things for which I have never been able to take out time."
Her daughter, Kavitha has recently joined the company as a partner and she is the general manager.
Today, Ambika has a huge fan following, and her popularity is because she generously shares tips and tricks on her Facebook page, followed by 8.33 lakh people. She has won several awards such as the Bharat Nirman Super Achievers Award in 2007, Cosmopolitan Fun Fearless Female Awards for Best Hair and Make-up in 2009 and Vogue Best Makeup Artist Award in 2011 among others.
She says: "So many people cheated me in my professional and personal life but they cannot take away three things from me – my talent, my name and my daughter."

Trending Now: