From school teacher to edupreneur; school started with Rs 30,000 pays out Rs 1 crore in salaries every month
Gurvinder Singh
&nbsp | &nbsp Bhubaneswar
14-February-2018
Vol 9&nbsp|&nbspIssue 7
Even as a child, Poly Pattnaik wanted to open a school that didn't make children get out of bed too early in the morning, and didn't differentiate between weak and strong students.
With a marked determination and sense of purpose, she turned her childhood dream into reality with Mother's Public School in Bhubaneswar – providing a nurturing and inspirational environment to children.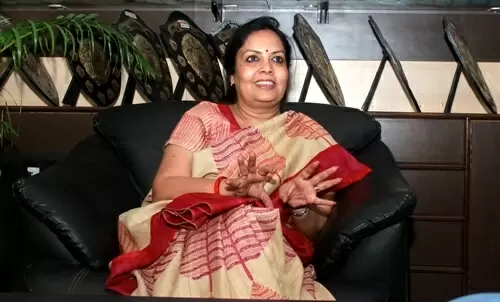 Poly Pattnaik started Mother's Public School with an investment of Rs 30,000 and five teachers in 1992 (Photos: Tikan Mishra)

Starting as a small school with an investment of Rs 30,000 and five teachers in 1992, Poly's dream school now employs 150 teachers and has 2,200 students who attend school from 9 a.m. to 4 p.m.
"I found it very difficult to wake up early morning for school when I was a child. I always wanted to sleep longer," she says, laughing. "I often thought of opening a school where children would come later in the morning and feel relaxed."
But her reluctance to go to school had another reason: She was upset about how some teachers were biased against students who didn't excel at studies.
"I always thought that proper attention must be paid to every child irrespective of their academic ability. A teacher's job is to guide children and not to demoralise or ignore them," says Poly, as we chat inside her office at the school.
Born at Cuttack in Odisha, Poly is the eldest of four siblings. Her father, Madhudan Nayak, a senior employee with Hindustan Aeronautics Limited (HAL), was posted at Koraput district of Odisha.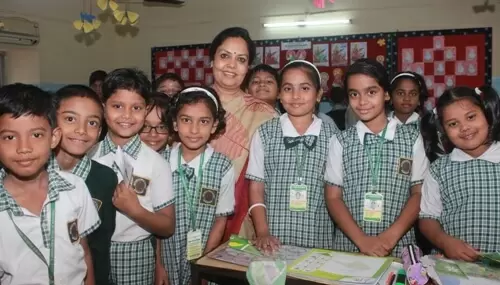 Around 2,200 children study at Mother's Public School

She completed her schooling from Sonabera HAL VSV School in Koraput in 1979 and moved to Bhubaneswar to study humanities at BJV College.
After this, she did her post-graduation in teacher's training from State Council of Educational Research and Training (SCERT) in Bhubaneswar from 1981 to 1985.
"I had a clear goal. I took the SCERT course just to give shape to my dream," says Poly.
She returned to Koraput and started working as a primary class teacher in the school she had studied. Her first salary was Rs 1,700 per month, in 1985.
In a few months, Poly got married to Nabaranjan Pattnaik, who is an interior designer based in Bhubaneswar. "That is how I shifted to Bhubaneswar again after our marriage," she explains. The couple was blessed with a son in 1988.
Poly had to quit her job but she continued to pursue her passion even after her marriage. In 1987, she joined Kamala Nehru College in Bhubaneswar, where she taught psychology for the next 10 years.
"I had set a pre-condition to my husband before my marriage that I would open a school one day. I gave my nod only after he agreed!" laughs Poly.
On 20 June 1992, Poly started her school Prakrit while she was still working as a teacher. It was run out of cottages near her house at Tank Pani Road.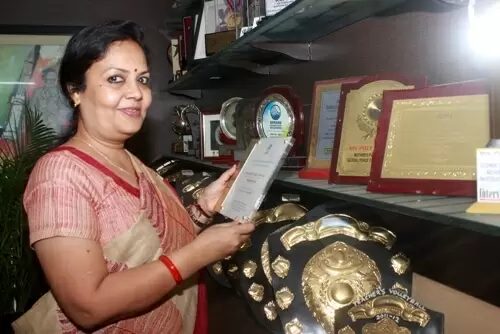 Students of Mother's Public School have won various competitions

"I didn't have the money to construct a building so I built cottages and started my school," says Poly. "It was the first day care school in the city, where students were provided with food and transportation along with studies."
The school was spread over 10,000 sq ft for which she invested Rs 30,000 from her savings. It also doubled as a crèche for children and infants.
"We started from pre-nursery with 17 students and five teachers, and charged just Rs 300 for tuition, food and transportation. We have always had low fees so that parents from all sections of society can afford quality education for their children," says Poly.
The school slowly began to grow and three years later the state government allotted one acre of land to her for starting a proper school.
"In those days, the government was offering free land to educational institutions to set up schools. We got one acre land in Unit-1 in Bhubaneswar in 1995 where the current school is located," explains Poly.
Since the 56-year-old educationist still didn't have money to construct a building a temporary shed was built for the school.
"This school was actually an extension of Prakrit, so we started with class five. By now we had a total of 400 students with around eight teachers," she reveals. "We didn't take any loan and instead used the money we got from Prakrit to invest here."
Poly with her teaching staff at the school

The school was named Mother's Public School because the land allotted to them used to have a small school run by Mother's Institute of Integral Education. "We suffered from shortage of funds and added a class every year as we got money from the fees," Poly explains how they built the school step by step.
Meanwhile, she continued her teaching job and quit only in 1997.
The turnaround came when the school got CBSE affiliation for class 10 and 12 in 2002 and 2004 respectively. "It was only when I received the CBSE affiliation that I took a loan of Rs 1 crore to build the infrastructure," she says.
In 2015, Mother's Public School opened its first branch. Poly purchased seven acres of land at Rs 20 lakh in Puri and started offering classes from nursery to class nine. They enrolled 300 students.
"The school was built over five acres and the rest of the land will be used to build retirement homes for senior citizens," says Poly.
The edupreneur had received the National Award for Teachers from the former President Pranab Mukherjee in 2012.
Today, Mother's Public School is ranked among the best schools in Bhubaneswar. It has a great academic record with cent per cent results year on year.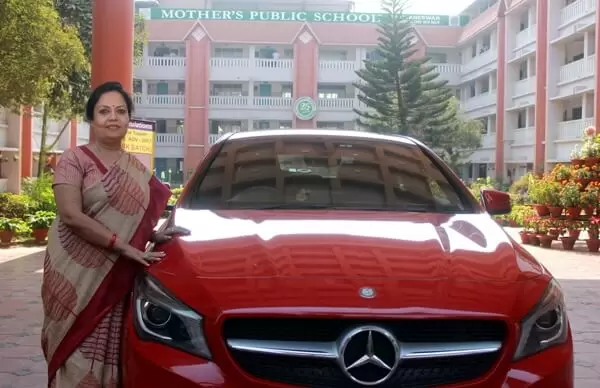 Poly doesn't charge high fees and sells limited number of application forms each year

Having had barely enough money to sustain her school, Poly now drives a luxury car, pays over Rs 1 crore in salaries to around 150 teaching staff every month and lives a comfortable life.
"But I am not here to make money," she declares. "I sell just 200 forms and take just 60 students in the lower kindergarten – we don't take students in higher class unless it is a transfer case. Unlike others, I don't sell forms to make money. Our fee is between Rs 2,000 and Rs 4,000 per month, which is quite low compared to others."
A word of advice from Poly: "A women can do anything. She doesn't have to depend on her husband, or any man, for money – she just has to work passionately and the money will simply follow."
This article is part of the 'Eminent Edupreneurs' series

Trending Now: