How a Successful Chartered Accountant Turned an Edupreneur and Built a World-Class School in Bhubaneswar
03-January-2018
Vol 8&nbsp|&nbspIssue 53
Nelson Mandela had once famously said, "Education is the most powerful weapon, which you can use to change the world".
Keeping in mind these golden words of the South African anti-Apartheid revolutionary, one man in Bhubaneswar, who had to fight poverty to get himself educated, has been illuminating the lives of hundreds of children with the nectar of education.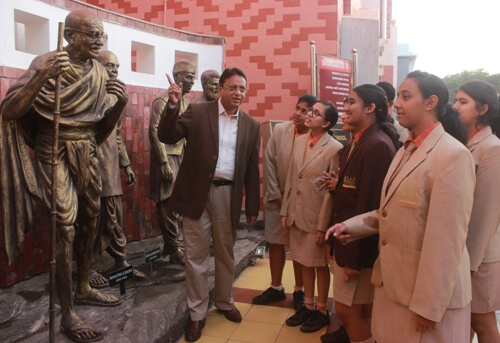 Bijay Kumar Sahoo visited around 250 schools across the world between 1997-2006 before starting SAI International School in Bhubaneswar in 2008 (Photos: Tikan Mishra)

Bijay Kumar Sahoo, a Chartered Accountant-turned-edupreneur in Odisha who mixes education with sports to ensure the all-round development of children.
Starting in 2008, SAI International School is now counted as the fourth best school of the country and number one of Odisha by Education World's Top School Rankings for India, 2017.
At present, his school has 4,300 students, 600 teaching staff and 1,000 non-teaching staff. They charge around Rs 8,000 per child and the school is now till class 12.
Born on 1 June, 1963, in Bhubaneswar, he was the second of two siblings, with an elder sister. His father was into a smalltime business and his earnings were barely enough to keep the kitchen fire burning.
He started his education from DM School, from where he cleared class 12 in 1980. The fee was negligible as it was run by the central government. He then took admission at Ravenshaw College in Cuttack and graduated in 1982.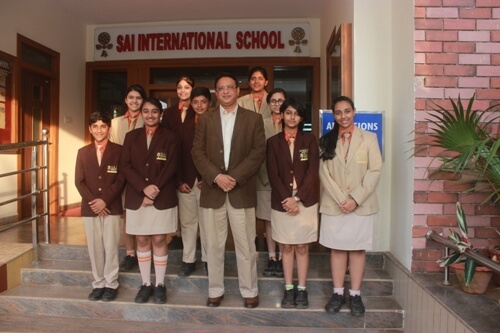 SAI International School has 4,300 students, 600 teaching staff and 1,000 non-teaching staff

"I was good at studies so I was awarded a scholarship of Rs 600 per year, which helped me pay the tuition fees and look after other expenses," he says, while sitting at his office in SAI International School. "I also used to give tuitions during my college days to look after my day-to-day expenses."
In 1982, he enrolled for Chartered Accountancy and went to Kolkata for articleship with a private company. He was paid a stipend of Rs 600 per month.
"I had the responsibility of my family on my shoulders, as my father's earnings were not enough," he remembers.
"I wanted to save every penny of my stipend, so I used to share a room with a watchman of a post office at Princep Ghat Street in Kolkata. I used to pay him Rs 100 every month as rent. It was a small room of around 10x8 sq ft with a common toilet. There were days when it was difficult to even manage two square meals a day…"
After completing his CA in 1985, he came back to Bhubaneswar and started a CA firm AK Sabat and Company in a partnership, which he ran till 1992. Soon it became a leading CA firm and had several clients. The firm was started from a space of around 1,000 sq ft with around four staff members – and his earning was around Rs 10,000 every month by 1992.
Meanwhile, he married Shilpi who also hails from Bhubaneswar, in 1987. The couple has two sons and a daughter. His daughter is working as Senior Consultant in Ernst & Young, while one of his twin sons is working for Bain and Company in New Delhi and the other at Parthenon EY at Mumbai.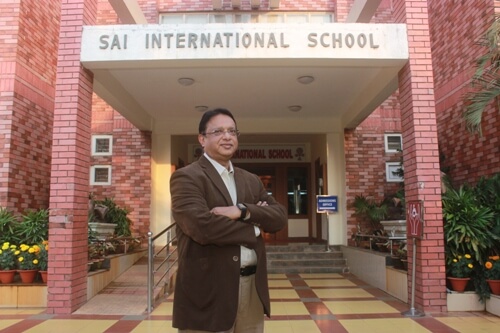 Realising that it was education that made him prosper in life, Bijay Kumar wanted to impart quality education to the future generation and decided to start the school quitting his CA profession

In the year 1992, he ended the partnership and started his own CA firm, JSS Associates, in Bhubaneswar. In 2000, he merged with two more firms to form SRB Associates.
"I was into the CA profession for almost 15 years. Our firm earned quite a reputation and around 25 CAs were working with us," says Bijay Kumar. "We had clients like Nalco, Falcons among others. By the year 2000, I was earning Rs 3 lakh per month."
But his attention was more on the level of education in the State – he wanted to do something to improve it. "I always felt that education was a fundamental requirement that can change the future of the country and also of an individual," says Bijay Kumar. "It was education that made me prosper. Education was my passion and I decided to sacrifice my profession and pursue my passion."
The edupreneur visited around 250 schools across the world between 1997-2006 to understand their level of education and what can be done to improve the present set-up in Odisha.
In 2007, when he was earning around Rs 4-5 lakh every month from his firm, he took a sabbatical and decided to open a school with world class facilities.
He purchased around eight acres of land in Bhubaneswar by taking a loan of Rs 10 crore from a bank, which was later extended to Rs 60 crore in the next five years. The rate of interest was 10 percent per annum.
The construction began on February 14, 2007 and the doors of the school were thrown open for co-education on April 4, 2008. It started admitting students from nursery to class 8. The school had 410 students, 50 teaching staff and 100 non-teaching staff in the first year.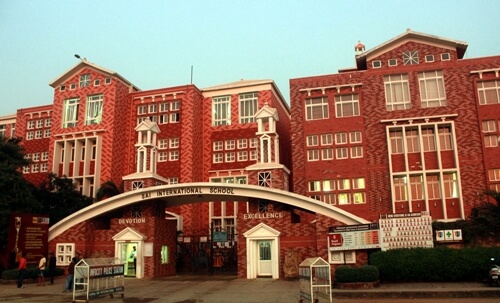 Front view of SAI International School

The school got its CBSE affiliation for class 10 and 12 in 2009 and the first batches for both classes graduated in 2011. "We focus on each child and six hours is spent every day on academics while two hours is given on personality development," says Bijay Kumar. "We ensure the all-round development of the child."
SAI International School has an impressive track record of students securing 86 percent in board exams on an average, with the toppers crossing 90 percent.
In 2014, the SAI group came up with SAI International College of Commerce at Bhubaneswar. Spread at an area of two acres, the college was constructed at an investment of Rs 8 crore. It has around 250 students.
The institution has won several awards such as D.L. Quality Gold Award 2017 from Quality Council of India. It is also listed as the 'Best 50 Schools for Shaping Success' by Fortune India and received the Green School Award by the State government. The group also has foreign collaborations with UNESCO, British Council and Cambridge, among others.
"We have around 100 foreign students studying in our school," says Bijay Kumar. "We are also coming up with residential facilities for children from classes 5-12."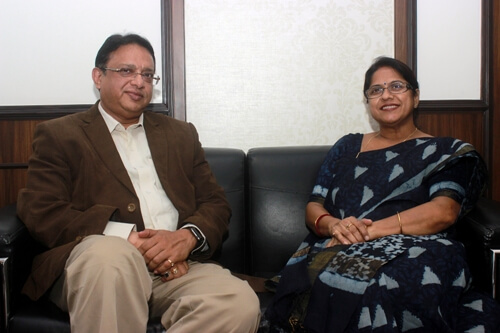 Bijay Kumar with his wife Shilpi

The construction of the building has started, and it will be spread across an area of 35 acres in Bhubaneswar. The investment is around Rs 60 crore and the boarding facility opens by next year.
His wife, Shilpi, who holds PhD in Women Studies, is the vice-chairman of SAI International Group.
His mantra for success: Every day brings a new challenge, work hard and face them. Strive to attain excellence and perfection, and success will follow.
This has been the secret of a man who strongly believes that education can change the destiny and direction of life.

Trending Now: