The Man Who Had Slept in a Public Bathroom, but Later Became a Multi-Millionaire
P C Vinoj Kumar
&nbsp | &nbsp
05-September-2017
Vol 8&nbsp|&nbspIssue 33
One of the most inspiring rags-to-riches stories is that of Chris Gardner, an American multi-millionaire stockbroker and motivational speaker, who had a troubled childhood, growing up with three half-sisters and an abusive step father in Milwaukee, Wisconsin.
Chris, who became famous after a movie based on his life starring Will Smith was released in 2006, is now reportedly worth $60 million (approximately Rs 64 crore in INR).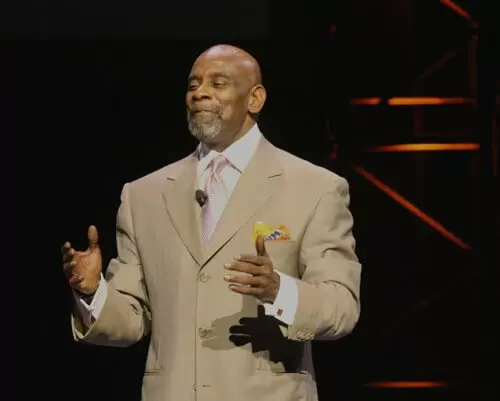 The life of Chris Garner, founder, Gardner Rich & Company, was made into a movie 'The Pursuit of Happyness' starring Will Smith in 2006 (Photo Courtesy: Wikimedia Commons/dbking; published under
Creative Commons Attribution 2.0 Generic licence
)

He was able to rise above all the hardships, and achieve success in life because he always remembered his mother Bettye Jean's words, "Son, if you want to, one day you could make a million dollars."
He shares his story in a book titled 'The Pursuit of Happyness' that he has co-written with Quincy Troupe.
Chris grew up in a tough black neighborhood, where he admits to having smoked marijuana, stolen things, and got into fights.
Until he was in his twenties, he had not seen his biological father, Thomas Turner, whom he finally located to introduce him to his toddler son. When he was a kid, his step father Freddie Triplett always hurt him saying that he was not his dad and used to beat him often.
Chris was so angry with Freddie that he planned to kill him, but mercifully failed to achieve his goal. His mother was sent to prison after she allegedly tried to burn the house when Freddie was sleeping inside.
Chris managed to stay positive at all times, even though he had been in situations like once when his gun-wielding step father threw him out of the house during one Christmas.
"I was put out of the house, butt naked, at gun point. To this day, I still have a problem with Christmas…
"(But) I made a decision that I was going to be everything that this guy was not. I am not going to drink, I am not going to beat women, I am not going to be ignorant.
"One of the tactics that I developed as a young kid was I would read out aloud and I will be saying to the sky that you can beat me down, you can beat me, you can beat my mom, you can put us out of here, put a gun, but I can read. I am going places," he told Channel 20/20 in an interview.
Both Chris and his mother loved reading. They were fans of Reader's Digest and would read the magazine cover to cover. Chris would visit the public library and spend hours reading the books there.

As a teenager Chris had done odd jobs like washing dishes at a restaurant, and attending to elderly patients at a nursing home, where he used to handle their bed pans.
After high school at age 18 he joined the US Navy with the hope of seeing the world. However, he got posted at the US Navy Hospital Corps School in Great Lakes, Illinois, where he received training in the basics of first-aid and later served at the Navy Regional Medical Center, Jacksonville.
Post his stint in the navy, he worked at a research lab in San Francisco and seriously considered getting professionally qualified as a doctor. He also worked part time as a security guard, and took up painting jobs in the weekends to earn some extra bucks.
However, he was nowhere close to achieving his dream of making big money when his son Christopher Jarrett Medina Gardner Jr. was born on January 28, 1981.
Under pressure to earn more, he took up a job as a sales representative in CMS, a medical equipment company for an annual salary of around $30,000 and later joined their competitor Van Waters and Rogers.
But his meeting with a man who owned a red Ferrari 308 changed his life after he asked the latter two simple questions: 'What do you do?' and 'How do you do that.' He learned that the man, Bob Bridges, was a stock broker and he earned $80,000 per month.
Suddenly it dawned on him that this was the job that would make him a millionaire. He determinedly pursued his goal, though he was told that most people in Wall Street were MBAs. He eventually joined Dean Witter as a trainee for a monthly stipend of $1,000.
He encountered some of the greatest difficulties in his life during this period when as a single parent he had to look after his toddler son. Chris recounts in his book how he was homeless, and had slept with his son even in a public bathroom in a railway station on many occasions.
From Dean Witter he moved to Bear Stearns, where his earnings kept increasing until he made his first million dollars in 1985.
In 1987, he founded his own brokerage firm Gardner Rich & Company. On making positive choices in life, he told in an interview to BBC, "I chose light, from my mother, and from others with whom I don't share a single drop of blood, and I embraced it."
This Article is Part of the Series 'World's Biggest Entrepreneurs'

Trending Now: