Creating a record that speaks more about the community itself

Jehangir Rashid
&nbsp | &nbsp Srinagar
24-September-2010
Vol 1&nbsp|&nbspIssue 4
Passing the civil services examination has always been a hard nut to crack for Kashmiri youth. One who clears it was always looked up with respect. In such a context when one of the Kashmiri boys tops the list it also sends across a message to others: Kashmiris can excel if they are given a chance.

So when 27-year-old Dr Shah Faesal created a record by being the first person from Jammu and Kashmir to top the civil services list in 2009, he also came under the glare of media limelight. In other words, Faesal helped Kashmir to hit the headlines for a reason other than the conflict, for once in recent history.

But behind the extraordinary success of the young doctor from Sogam village in Kupwara district is a long and poignant story. Faesal lost his father to the bullets of some unidentified gunmen in 2002. His father, Ghulam Rasool Shah, a school teacher, was killed hardly a day before he was scheduled to appear for the common entrance test for medical and other professional courses. He did not allow the shock of losing his father to deter him from pursuing the dream of his mother, who wanted to him as a doctor.

"I owe my success to my parents and I am feeling the absence of my father today. I miss him, but at the same time, I am glad to follow the principles set out by him. My mother has always been an inspiration and she has guided me all along," says Dr. Faesal.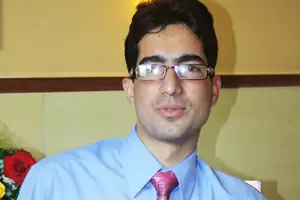 Shah Faesal: pride of Kashmir
Mubeena, the proud mother of this young medico is very happy and is elated over the extraordinary success. "My children were never demanding. Faesal's success aptly proves that children can reach higher echelons in their life provided they put in hard work and remain committed towards their goal," says Mubeena, also a school teacher.

Urging Kashmiri youth not to be scared by the civil services exam, Dr Faesal says: "The examination is difficult, but one can pass it provided he or she works hard. The students should be abreast with current affairs in order to pass an examination like IAS," he says. He took up the subject of Urdu Literature along with Public Administration for IAS.

Dr Faesal has been a brilliant student throughout his life and he carried this brilliance to the civil services examination - he was the gold medalist at Sher-e-Kashmir Institute of Medical Sciences (SKIMS) Medical College, Bemina, where he studied medicine.

Besides academics, he has an interest in poetry and has written some poems. But more than that, he was a social conscious youth who was involved in the Right to Information (RTI) movement in the Kashmir valley since his college days.

His mother hopes her son would live up to the expectations of the people of Kashmir. "He is aware of the problems being faced by our people and I believe he would come up to their expectations," says Mubeena.

"It was difficult, but not impossible to bring up my children after the demise of their father. We kept our way of living simple. I think this simplicity and honest approach paid us in the long run," says Mubeena, whose younger son is studying medicine and daughter is working as a government teacher.

Faesal, who wants to bring about a change in the system, says: "One can only bring some relief to the people by being the decision maker. I would do the same by taking people centric decisions and thus would play my role in helping the common masses."


Trending Now: