CASE STUDY: Taking a franchise for Rs 50,000 and building it into a Rs 22 crore turnover enterprise

Usha Prasad
&nbsp | &nbsp Bengaluru
07-April-2017
Vol 8&nbsp|&nbspIssue 15
In 1976 P. D. Shylendra, 65, opened his first textiles shop Netra, a multi-brand store on a 700 sq ft rented space at the Bengaluru Corporation owned Jayanagar Shopping Complex, with an investment of Rs 50,000.
"I dreamt of opening a showroom in Jayanagar, which was Asia's largest residential layout at that time. And I did it," recalls Shylendra, managing director of Gajanana Men's Wear Private Limited, a Rs 22 crore turnover company.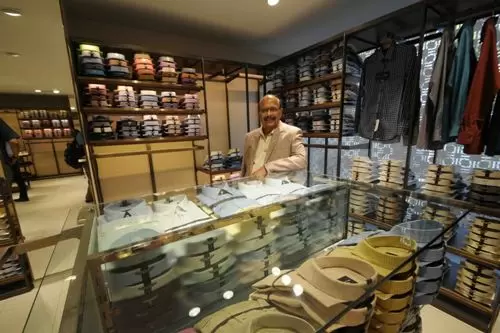 P. D. Shylendra launched The Raymond Store in 1996 (Photos: H K Rajashekar)

Twenty years later, he became a Raymond franchisee and opened an exclusive Raymond outlet in another part of Jayanagar.
Today, The Raymond Shop on 11th main road, 4th block, Jayanagar, spread over 11,500 sq ft is a landmark in Bengaluru and one of the top three Raymond franchise stores in India.
Shylendra's entrepreneurial journey began after his graduation. A B.Sc graduate, Shylendra, son of P. S. Devadas, a leading criminal lawyer of his times in Bengaluru, was never interested in a 9-to-6 job.
Soon after his graduation, he joined a small scale industry manufacturing fasteners as one of the partners.
Later, he exited the partnership and took up distributorship for textile brands Modi, Digjam and Modella. His next move was Netra, which sold suitings, shirtings and readymade dresses from multiple brands.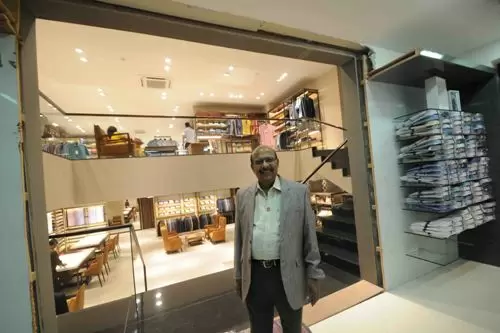 Spread over 11,500 sq ft, The Raymond Store is a landmark in Bengaluru

It was during the mid-nineties that Shylendra made the strategic move to take up Raymond franchise.
A Raymond showroom required minimum 4,000 sq ft area. So, in 1995 Shylendra purchased a 2,400 sq ft plot in Jayanagar and constructed a commercial building with basement, ground and three upper floors investing Rs 60 lakh.
"Retaining the basement and ground floor for the showroom, I sold the remaining three floors to cover up the investment cost. The showroom, the first Raymond ready-to-wear shop, started doing very well. Twenty years down the line, I have expanded it to 11,500 sq ft," he adds.
The store, which was launched with Rs 80 lakh investment in stocks, saw a turnover of Rs 1.5 crore in the second year itself, which has now gone up to Rs 22 crore.
With a workforce of 150 and a growing top-line, Shylendra has all the reasons to look back on his entrepreneurial journey with complete satisfaction.
"It has been an incredible experience so far. I have been learning something new each day in my association with Raymond since 1980 –as a dealer as well as a franchisee," he says.
There were times when he was faced with negative opinion, but he had ignored it to march forward.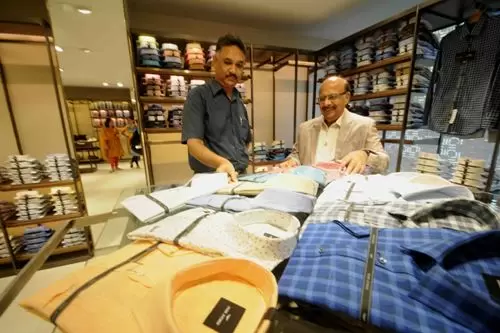 Shylendra with Narender Varne, one of the directors of Gajanana Men's Wear Private Limited

When he started the Raymond franchise, industry stalwarts, family and friends felt that the shop's location in a prime residential locality was not a good idea and that it would fail.
The Raymond Shop was the first commercial building to come up on 11th main road, Jayanagar.
"I was firm in my decision and believed that I would succeed. As years rolled by, my confidence proved right and my business grew by leaps and bounds,"he says.
He purchased adjoining properties to expand the shop's floor area and recently opened a 4,000 sq ft lounge to house the Chairman's Collection - Raymond's top-of-the line range of suiting material.
With this facelift, The Raymond Shop in Jayanagar, Bengaluru becomes a first of its kind in South India.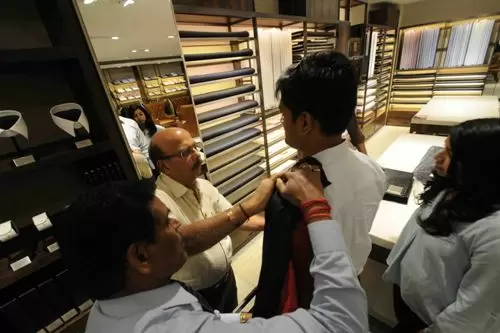 Shylendra attending to a customer at the shop

"From the interiors to furniture and fixtures, the new longue has been designed with support from Raymond. The shop has been modified to meet the requirements of our customer profile," shares Shylendra.
The Raymond Shop also caters to the 'Made to Measure'concept of Raymond, which is in between custom tailoring and readymade –where the clothing is made to the customer's requirement by fine-tuning the garment.
From ministers to celebrities, Shylendra's shop caters to a wide range of customers. Sitar maestro Pt. Ravishankar was one of his regular clients in the initial days.
As a franchisee, what's the secret behind his huge success? "I am always on the floor with customers and sales people. I have never sat in the cash counter in the last 35 years in my business," he explains.
He also attributes his success to the fact that the expansion took place in their own property and there was no need to pay any rentals.
Shylendra's advice for would-be entrepreneurs and franchisees: "Don't take away 100 per cent of what you think is your profit.
"Use 50 per cent and keep the balance as reserve. If you are sure of developing the business without incurring any losses, invest the balance 50 per cent."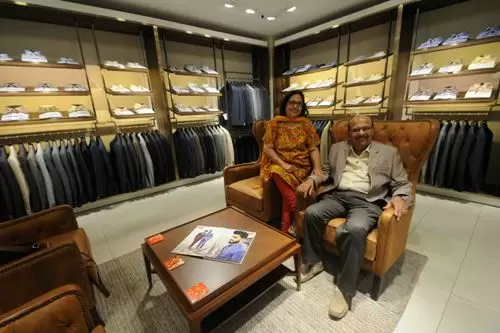 Shylendra's wife Netra is one of the directors of Gajanana Men's Wear Private Limited

Shylendra's wife Netra, who is also one of the directors in the company, plays an active role in the business. Gajanana Men's Wear Private Limited has six other directors including his wife.
Shylendra, who has two children - son Prithvi and daughter Priyanka - grew up in a large family with eight siblings. He is the only one in the family to become an entrepreneur though.
In his spare time, Shylendra involves in the activities of Parikrama Centre for Learning, a school for children from economically weaker sections.
The school is run by the Saraswathi Memorial Trust –which was formed in memory of his mother –along with Parikrama Humanity Foundation, a Bengaluru based NGO.
This Article is Part of the 'Exemplary Franchisees' Series

Trending Now: