Money grows on trees for this rural entrepreneur from Rajasthan
23-March-2017
Vol 8&nbsp|&nbspIssue 12
An auto-driving farmer who planted 60 amla saplings that cost only Rs 1,200 is now an exceptional rural entrepreneur with a turnover of Rs 26 lakh.
It took 22 years, but now it's the topic of conversation and inspiration among the 500-odd inhabitants of Samman village in Kumher block of Bharatpur, Rajasthan.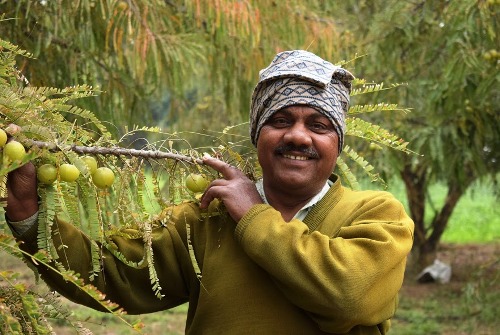 Amar Singh, who started growing amla trees, later turned to making amla products. His Amrita brand murabbahas become a household name in Kumher, Bharatpur, Tonk, Deeg, Mandawar Mahwa (Photos: Partho Burman)

Amar Singh, 57, has set an example in going beyond conventional farming and succeeding.
Sita Ram Gupta, Executive Director, Lupin Human Welfare Research & Foundation, who helped Amar Singh on his journey with training and funds, says the latter has emerged as a local icon providing employment and empowerment to women.
"We want many more Amar Singhs here," says Gupta.
However, Amar Singh's story is a bittersweet one with twists and turns that culminated in his successful avatar as an entrepreneur.
He left school after Class XI in 1976-77 when his father Vrindavan Singh died, leaving acres of farmland behind. His two brothers and a sister being very much younger, Amar Singh was stuck with the responsibility of this farming legacy.
But his heart lay elsewhere. After spending a few years at home driving an auto and earning just about Rs 500 a day, in 1984-85 he moved to his maternal uncle's home in Ahmedabad, Gujarat.
He opened a photo studio at Maninagar with the help of his uncle - who too owned a photo studio - and hired an experienced person to look after it on his behalf.
Meanwhile, his mother, Somwati Devi, hired labourers to help with the farming of mustard, wheat and gram, but soon they began to cheat her of her share.
Two years later, she wrote Amar Singh a letter asking him to return. Her son did come back, but instead of looking after the farm, he bought a Mahindra van to ferry local passengers and made paltry earnings.
But in a plot twist, one morning in 1995, a torn piece of a Hindi newspaper lying on the road caught Amar Singh's attention as he was waiting at Kumher bus-stand for passengers. He picked it up and in it was an article about amla (Indian gooseberry), also known as 'amritphal' for its many health benefits.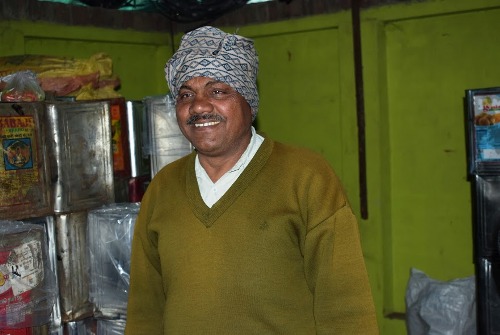 A newspaper article on amla farming changed the course of Amar Singh's life and put him on the path of prosperity

In one of those aha moments, Amar Singh thought he had enough land to plant amla and the investment would be minimal. He began to collect information about it.
On his request and advance payment, the Bharatpur Horticulture Department got him 60 amla saplings at Rs 19.50 each. He planted those on 2.2-acres of his loamy, fertile land. A year later, he bought and planted 70 more amla saplings.
The farm had a well for watering the land. Patience bore fruit after 4-5 years. Some of those amla trees produced 5 kg fruit while others bore 10 kg, and Amar Singh was able to save Rs 7 lakh in the first year of the trees fruiting.
Delighted to see the kind of production, Amar Singh went to the manufacturers-cum-traders of amla murabba(preserve)in Mathura, Bhusawar and Bharatpur to check out the retail market.
He found that the big amlas would fetch Rs 10 while medium and small sizes would sell between Rs 8 and Rs 5 respectively for a kilo. The business during the first few months was outstanding, but later the traders did not give him the fair price.
"The traders would claim that the quality and size were not at par with the sample when I landed at their factory with the truckload," shares Amar Singh. "I had no choice but to give in to their terms."
He did this for 2-3 years, but became increasingly disheartened. "I thought – why not set up my own food processing unit?" he recounts.
During that period, in 2003, he learned that Lupin Human Welfare Research & Foundation (LHWRF), a local NGO, was training the village women in making murabba. He visited LHWRF's centre and sought their help for complete training in making various food items from amla.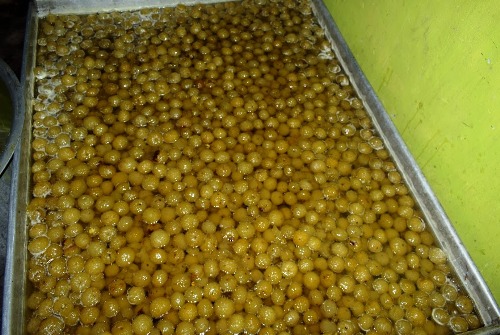 In 2015-16, Amar Singh made a bumper harvest of about 400 quintals of amla

In 2005, he set up the Amar Self Help Group with an investment of Rs five lakh, of which he borrowed Rs three lakh from Lupin, adding the rest from his own savings.
In the first yeararound 70 quintals (7,000 kg) of amla was processed for making murabba, with a self-help group of 10 women who assisted him.
Over the past decade or so, Amar Singh's high-quality 'Amrita' brand murabbahas become a household name in Kumher, Bharatpur, Tonk, Deeg, Mandawar Mahwa, Surooth and Hindaun – all areas surrounding his village.
In the small-scale production unit, the women collect the fruit, segregate them on the basis of size and quality, make the murabbaand package it, being paid for their labour as well as getting small perks in the shape of murabba, amla fruit and amla juice.
Amrita amla murabbacomes in packs of 1 kg, 2 kg, 5 kg and a tin of 19 kg. The rate of the 1-kg and 2-kg packs is fixed at Rs 60 and Rs 110 respectively for a pack.
The rates of the 5-kg pack (Rs 300-250) and 19-kg tin (Rs 800-1,200) varydepending on the size and quality of the amla. Besides murabba, Amar Singh also manufactures amla jam, candy, syrup and laddus.
After the first two years, Amar Singh wanted to expand his business, but the private and national banks laid down a high interest rate of 20 per cent. Lupin came to his aid again.
"They not only secured me two loans of Rs one lakh each at an interest rate of one per cent but also helped me getting the license of the Food Safety and Standards Authority of India," he says. He returned the loan within the stipulated timeframe.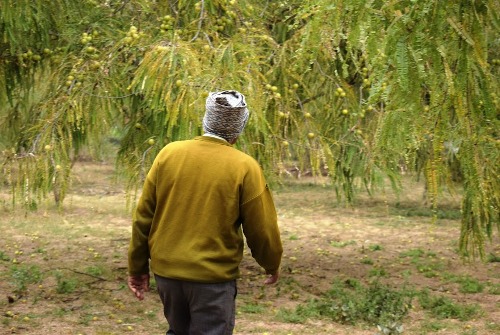 Amar Singh at his amla farm

Giving him increasingly good business with each passing year, Amar Singh's farm now has about 100 prolifically fruiting amla trees, each bearing on an average 200-225 kilos of fruit a year. However, in 2015-16 his farm saw a bumper production of about 400 quintals of amla.
In 2012, Amar Singh re-registered his unit, changing it from Amar Self Help Group into "Amar Mega Food Private Limited" with 15 employees including 10 women. But income tax issues made him seek Lupin's help again for arbitration and he rolled back his business to the earlier model.
"Everything from cultivating to processing, packaging and transporting the finished products are done from here," Amar Singh says. "I don't have to go to the traders now; rather they come here.
Despite his annual turnover of Rs 26 lakh, he continues to live simply, but there have been some welcome changes.
He renovated his old house and bought a truck for delivery. His elder son has finished his BA, the younger son has completed Class XII and the daughter is pursuing a B.Ed, while his wife Urmila helps him in his business.
"Two hundred quintals of marmalade preparation is underway this year and there is still fruit on the trees," he says, celebrating the good times now.
He also cultivates vegetables like brinjal, chilli, tomato, cauliflower, cabbage and potato, mustard and wheat in a portion of his land. Manufacturing wood apple (bel)murabbaduring the off-season is on his to-do list soon.
All in all, Amar Singh has proved that, with the right effort, money can grow on trees.

Trending Now: