Ten Success Mantras for Entrepreneurs from a Man Who's Been There, Done That

06-February-2017
Vol 8&nbsp|&nbspIssue 6
The man who started a thyroid testing lab with Rs 1 lakh from a 200 sq ft rented garage at Byculla in South Mumbai and built it into a company whose current market valuation is pegged at Rs 3,600 crore, shared his rags-to-riches story at an award function held recently in VIT University, Vellore.
Dr Arokiaswamy Velumani, 57, Chairman of Thyrocare Technologies Limited, who grew up in poverty at a village near Coimbatore, worked as a scientist at Bhaba Atomic Research Centre (BARC), Mumbai, for 15 years before he took voluntary retirement and set up a thyroid lab in 1995 with his PF money.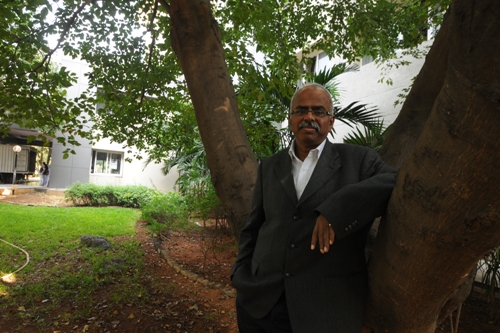 Dr Arokiaswamy Velumani, Chairman of Thyrocare Technologies Limited, shared the secrets of his success during his address after receiving The Weekend Leader – VIT Amazing Entrepreneur Award at VIT Vellore (Photos: H K Rajashekar)

He received The Weekend Leader – VIT Amazing Entrepreneur Award from VIT Chancellor Dr G Viswanathan at a function, which was attended by students and faculty members of VIT Business School.
Velumani addressed the audience after receiving the award, which is given to a select few persons featured in The Weekend Leader under the Amazing Entrepreneurs series.
Living up to his reputation as a raconteur, Velumani narrated his life story starting from his education at a government school in his village where he was a beneficiary of the free mid-day meals scheme to his struggles in finding employment after graduation, and eventually to the successful business strategies he adopted to grow his company.
Thyrocare handles on an average 40,000 thyroid samples daily that arrive at their Mumbai laboratory from 1,200 Thyrocare franchisees located around the country, charging a meagre Rs 100 per sample.
The franchisees charge Rs 250 from the customer, which is much lower than the market rate that ranges from Rs 500 to Rs 1,500 or more in bigger hospitals.
"No company on this earth has collapsed because they charged less. They collapsed because they could not control the cost.
"When you charge less and cut down the costs then you become the most powerful brand on this earth. Volumes help you become rich," Velumani said.
Velumani, who held the students as well as the teaching fraternity in rapt attention through his speech, shared several secrets that contributed to his success.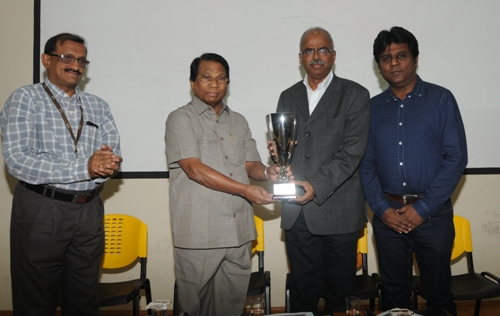 Dr G Viswanathan, Chancellor, VIT University presents the Amazing Entrepreneur award to Dr Arokiaswamy Velumani, Chairman of Thyrocare Technologies Limited. Dr D Ashok, Dean, VIT Business School (extreme left) and P C Vinoj Kumar, Editor, The Weekend Leader, are also seen

Listed below are 10 Success Mantras that we took away from his speech:
* To achieve in life, you should not be blessed, but you should be challenged.
* Look at comfort zones in your life as danger zones – the minute you are comfortable, it means you are going down.
* If you are successful, it is only because you stayed focussed. To do business, first focus; to succeed in business, focus and accomplish.
* Entrepreneurship is to succeed without anything in hand.
* Only when a person is restless, he can create something unusual, unimaginable and very big.
* Success in life is Delta. Delta (Δ)= X2 – X1. X2 is where you are today and X1 is where you were when you started. So, if X1 was zero, you wouldn't lose anything, which simply means, those born to poor have nothing to lose.
* Business is like a hockey stick; it goes down and then only it comes up. And if you don't allow it to go down, it will not come up.
* Plan to lose - If you plan to be successful, you may lose. If you plan to lose, you may never lose.
* In business, you can make money from the customer or vendor; you can't make money from both.
* Villages are true universities. In villages, you learn how to solve problems. True experience is not the number of years you sit in a chair, it is the number of problems you have solved in your life. That means, the poor have solved many problems and the rich have not solved any problem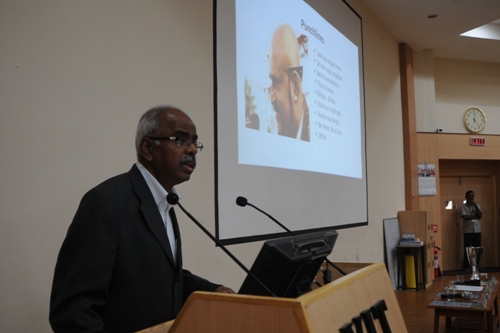 VIT Business School is likely to do a case study on Velumani's successful business model

With most part of his talk revolving around poverty, giving a glimpse of the difficult times he spent during his childhood, Velumani said, "Poverty is a luxury and lucky are those who are born to the poor."
And he came up with these punch lines too:
* Take less to get more
* What is easy to do will take you down, what is difficult to do will take you up

* Winners are likely to lose; those who create winners will never lose
* Winning is not a very big challenge, creating winners is the biggest challenge
* Maintain TTT – Trust, Truth and Transparency
* Create jobs, not just money
* Work for value not profits
* Invest more, spend less
* Act poor
Velumani's story was featured in The Weekend Leader under the Amazing Entrepreneurs series and it went viral on social media.
Earlier, VIT Chancellor Dr G Viswanathan presented the Amazing Entrepreneur award to Velumani and congratulated him on his success.
"Many have this mindset that to settle down in life, one should not start an industry or do business – that they should be in service, get married and lead a good life.
"Yes, you can lead a good life, but you cannot go up in life. If you want to become like Dr. Arokiaswamy (Velumani), you have to take risks. Today, he is successful because he took risks," he said.
Viswanathan also felt that a tinge of poverty in student days is very good for one's success.
"Today, in this globalised world, we are living in a competitive market. With engineering and marketing backgrounds, you must produce and serve the market," he told the students and urged them to take a leaf out of Velumani's life and look up to him as a role model.
VIT Vice President G V Selvam greets Velumani and extends his warm wishes

VIT Business School Dean Dr D Ashok and The Weekend Leader Editor P C Vinoj Kumar were also present at the function.
VIT Vice President G V Selvam extended his heartfelt wishes to the awardee and said that Velumani's success story merited a case study by VIT Business School.

Trending Now: