He came to Coimbatore with Rs 25 as a 16-yr-old, today he owns Rs 10 crore valued lodge and 3 biryani outlets

P C Vinoj Kumar
&nbsp | &nbsp Coimbatore
25-January-2017
Vol 8&nbsp|&nbspIssue 4
In 1979, three youth from a remote village in Ramanathapuram district arrived in Coimbatore with dreams of starting a new life in the city. One of them, K R Raja, was a 16-year-old, who had left home with just rupees 25 in his pocket.
Clad in a veshti and shirt and carrying a yellow cloth bag that contained a spare shirt and a lungi, he got out of the bus with his two friends and made enquiries to locate the house of the only person he knew in Coimbatore – a police constable who hailed from his village.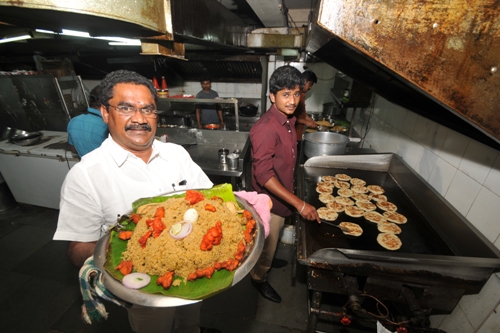 K R Raja arrived in Coimbatore with just Rs 25 in his pocket, but now owns three biryani outlets and a lodge in the city (Photos: H K Rajashekar)

"We walked all the way to his house. He was a kind man and he served breakfast to all of us.
"I had spent Rs 11 for the bus ticket from Devakottai to Coimbatore and I was left with very little money," recalls Raja, now 54, sitting in his lodge at Gandhipuram, located behind the central bus stand, in the heart of the city.
Raja came up the hard way, from his first job as a supplier in a hotel for a monthly salary of Rs 45, then trying his hand in some small businesses, and finally starting a small eatery in 1987 that laid the foundation for his growth as a businessman in Coimbatore.
Today, he owns three biryani outlets and a lodge with more than 30 rooms in the city. He estimates the current value of the three-floor lodge in Gandhipuram at Rs 10 crore, though it might be worth much more.
"I have slept on the pavement in this same vicinity during my initial days in the city," reveals Raja, as he narrates his rags-to-riches story.
Raja was born in Govindamangalam village in Ramanthapuram district, about 30 kilometres from Devokottai, the nearest town.
"Public transport is yet to reach our village," says Raja, who hails from a very poor family. He is the only son to his parents who had no formal education and worked as agricultural labourers for daily wages.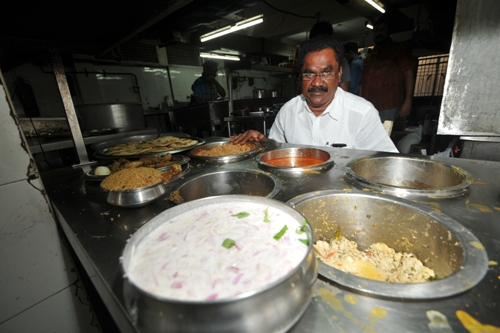 Raja worked as a supplier in a restaurant when he first came to Coimbatore

"I had my education in government schools. After Class four, I discontinued school for a year after my parents migrated to a distant place in search of livelihood due to severe drought conditions in our village.
"I was sent to Manamadurai town, where I worked for a family that was engaged in murukku (a local snack) business. The husband and wife made murukku and sold it at local shops.
"I was given the task of cleaning their house, washing the vessels and taking care of their two children," says Raja.
During the one year he spent at their house, Raja, who was about nine years old then, developed an interest in business. He was reunited with his parents at his village after a year and went back to school.
He took his first tiny steps in business at age 10, buying local sweets (like thean mittai, kadalai mittai) from Ananthoor, a neighbouring village around 4 km away, and selling it at his house after school hours for a small profit.
"The first time I bought sweets for 70 paise, I made a profit of 45 paise. It gave me a lot of encouragement.
"Later when I joined the government school at Ananthoor in Class six, I would buy things regularly from there while returning from school and sell it in my house in the evenings," he says.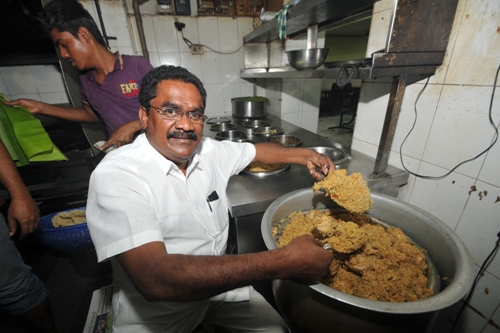 A total of 35 employees work in the three restaurants and one lodge that Raja owns

The 4-km walk from home to school and back would turn into a steeplechase of sorts for the children during rainy season when they would cross gushing streams removing their trousers and carrying it over their heads until they reached dry ground, where they would change over.
Years later in Coimbatore, Raja would turn nostalgic whenever he remembered the carefree childhood days in his village.
But the desire to succeed in life was too overwhelming to give in to emotions. His first job the day he landed in Coimbatore was at a restaurant where they took him to serve water at the tables.
But when one of the workers asked him if he could handle the 'supplier' (or the waiter) job, he lied and said he could, though he had no prior experience in the job.
An experienced waiter would be well-versed in rattling off the menu, setting the food on the tray, and delivering it at the table.
But Raja quickly learned the tricks of the trade and retained his job. As he was working, he joined a short-term tailoring course at a vocational institute run by an NGO, where he also received a monthly stipend of Rs 175.
Two years later, he went back to his village and started doing tailoring work and some small businesses.
"I stitched trousers and blouses for women. I also made charcoal from wood and sold it in the market. But somehow I was not happy and I returned to Coimbatore in 1984," he shares.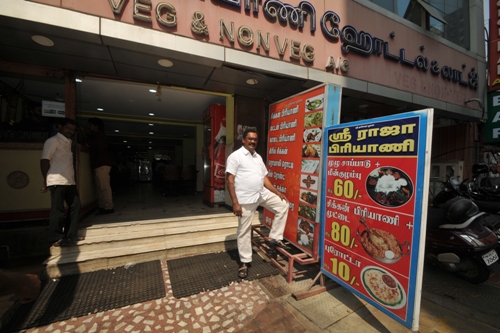 Sri Raja Biryani Hotel and Raja Lodge are located in the same building near Gandhipuram bus stand

This time he found a job at a hotel in Ukkadam where he was designated 'aravai (grinding) master' and was in charge of preparing dosa and idly batter and all kinds of masala needed for the kitchen.
In the evenings, he went on a rented bicycle and sold shirt and trouser 'cut piece cloth' for workers in other hotels. He started the business with an investment of Rs 1,000 that he took from his personal savings.
In 1986, he opened a 10 ft by 6 ft petty shop at Pappanaickenpalayam on a rented space and the following year a parotta and meals shop next to it.
"Parottas were made on the roadside where we set up a drum for the fire. We served full meals at Rs 3.50 and some tasty parottas. It was a small shop. There were two folding chairs and a stool for customers," says Raja.
As business grew, he bought the shops and constructed a bigger restaurant in the same place. Later, he purchased another property nearby to start his second restaurant.
In 2007, he purchased a lodge in Gandhipuram that came up for sale with some of his savings and a bank loan of Rs 70 lakh. The lodge has since been renovated and expanded after Raja purchased the adjoining 3-cent land as well.
There are now around 35 employees working under him and he takes good care of them, especially during Diwali when he personally serves them some fine non-vegetarian food before he celebrates the festival with his family.
"When I was a worker, I did not get any special food to eat during Diwali. I don't want my workers to feel the same way," he says.
Raja's life proves the point that with hard work you can court success, no matter what your circumstances are.

Trending Now: