You Tube sensation from Tamil Nadu helps son earn lakhs of rupees

10-November-2016
Vol 7&nbsp|&nbspIssue 45
A You Tuber from Tiruppur, a small town near Coimbatore in western Tamil Nadu, has earned more than Rs 6.5 lakh in less than six months after launching his You Tube Channel, Village Food Factory.
The channel shows a man preparing varieties of mouth-watering non-vegetarian dishes in bucolic settings with the help of his son and tasting the cooked food with exaggerated relish before the camera, sometimes joined by the villagers.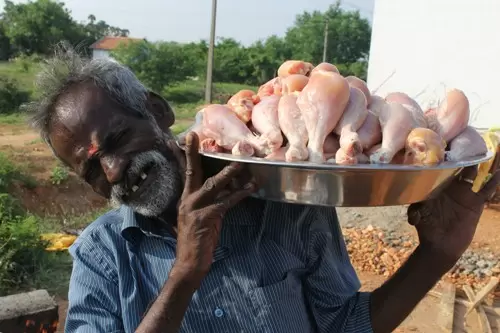 Arumugam has become a You Tube sensation following the success of his cooking videos

The videos are shot by the channel's owner A Gopinath, 26, a diploma holder in electronics and communications, who also edits and uploads them on You Tube.
The protagonist in Gopinath's videos is his father Arumugam, their master chef, who is now a You Tube celebrity. His younger brother Manikandan also appears in the videos helping their father in preparing the food.
"We have made 42 videos which have got 30 million views so far. We have 66,000 subscribers, out of which 50,000 had joined in the last 20 days," says Gopinath.
Their last two videos - full goat gravy and egg gravy using 300 eggs – went viral and triggered a sudden increase in revenue and subscriptions.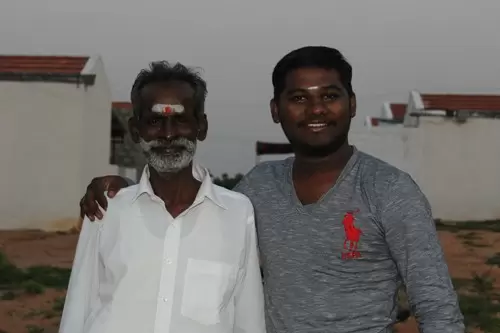 Gopinath with his father

Some of their other popular videos include making of beef leg piece gravy, goat intestine gravy, prawn curry and duck curry.
They use only firewood for cooking to maintain the traditional taste and flavour of the dishes.
Gopinath's income comes from Google Adsense, a Google service that displays advertisements on partner websites and You Tube channels.
Google serves ads based on content and the profile of visitors, and payment to the publisher is based on number of views and clicks on the ads.
Gopinath receives his payments on a monthly basis.
"I got my first payment of Rs 8,000. The next month I got Rs 45,000, which went up to Rs 1.05 lakh in the third month. Last month it increased to Rs 3.10 lakh. In the last eight days, I already have Rs 2.13 lakh in my account," he reveals.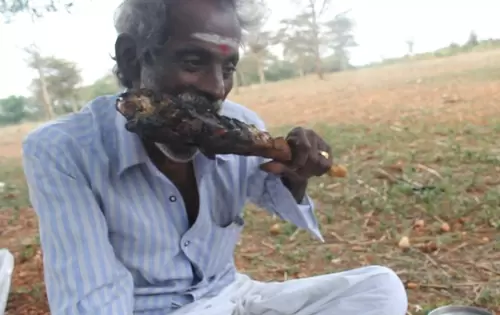 Arumugam enjoying a fried mutton leg piece that he has cooked

Gopinath is happy not just with his earnings that is growing by the day, but also the fact that his father Arumugam has now become 'famous'.
"People give their feedback in the comments section after watching our videos and advise him not to eat too much and to take care of his health.
"My dream of making him famous has been realised 10 per cent. I wanted to make him famous somehow, because in his family nobody cared about him. My dad's brothers are all financially well-off. Only our family was struggling.
"I wanted to show everyone that we too can succeed," he says.
His father is a building painter and his mother used to do tailoring work earlier. Now she is looking after the home and is involved in their You Tube work.
The whole family - his wife, parents, and brother - discusses every new dish they plan to cook in their upcoming videos.
"I and my brother choose the shooting spots. We select some scenic places in nearby districts and get permission for the shooting from the farm owners ten days in advance. On the day of our shooting, we travel to the spot on our two-wheelers with the vessels and materials," says Gopinath.
Gopinath had lived in Chennai for about five years working in the film industry, initially as an assistant director in a Tamil film 'Anjali Anniyan Matrum Pasanga' and later as an associate director in some small budget films.
"Unfortunately, the film I had worked as assistant director has not yet been released and the other films were not even completed," says Gopinath.
Soon after completing his diploma, at the age of 20, he joined a local cable channel in Tiruppur where he worked for about three months and learned to edit videos.
He then worked for a nameologist in Chennai for a few months, uploading his videos on You Tube before shifting to the film industry.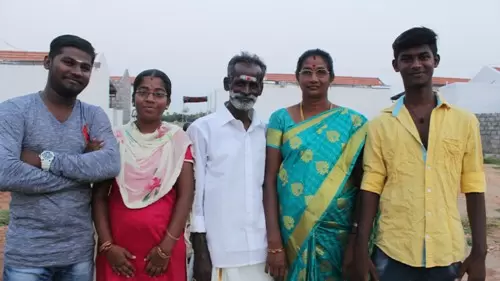 Gopinath with his wife (second from left), father, mother and brother

In June this year he married Pragathi, the girl he had been in love with since his college days, after getting the consent from their two families.
And after his marriage, he has been on a roll.
So what are his future plans?
"I want to keep making one good video every week and reach a target of 1,000 videos. There have been suggestions from our viewers that we should start a restaurant. I am considering the idea, but it might not happen in the immediate future," he says.
WATCH VIDEO
Wish to share your story?
Wish to share your story?
Trending Now: