Surat diamond tycoon Savji Dholakia presents cars, flats to staff for Diwali
28-October-2016
Vol 7&nbsp|&nbspIssue 44
Known for his benevolent Diwali gifts to his employees, Surat-based billionaire diamond merchant Savji Dholakia has this year too kept over a thousand cars and 400 flats to his well-performing staffers with the company bearing part of the monthly installments.
Dholakia, who owns the Hare Krishna Exports, has gifted 400 flats and 1,260 cars as Diwali bonuses to his employees. However, the company will bear a part, Rs 5,000, of the loan installments on the flats and the cars for five years.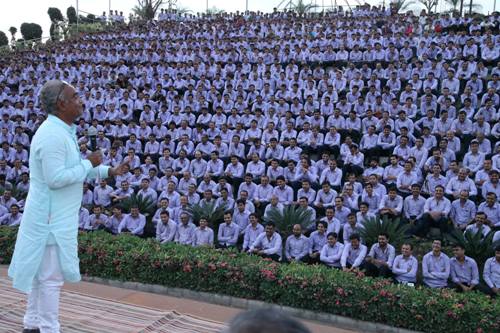 Last year, Dholakia, seen in the photo addressing his employees, presented 491 cars and 200 flats to his employees (Photo Courtesy: Savji Dholakia Facebook)

"We have selected 1,716 employees as the best performers this year. We are arranging for houses for those who already own cars, while those who don't have a four-wheeler will get one," said Dholakia.
He said the 400 flats each of 1,100 square feet would be allotted in a housing scheme of the company itself.
"The flats would come dirt cheap at Rs 15 lakh and the monthly installment, which the employee will start paying after five years will be Rs 11,000," he said.
The bonus, which were announced at an informal meeting of employees, on Tuesday have been an annual ritual at Hare Krishna Exports.
Last year, Dholakia's company similarly gave 491 cars and 200 flats to its employees. The year before that, it spent Rs 50 crore on performance incentives, Dholakia said.
The diamond merchant, who hails from Dudhala village in Amreli district in Saurashtra region, established and nurtured his business using a loan from his uncle. He had sent his son Dravya to eke out a job in Kerala to learn the ropes. - IANS

Trending Now: