Street kid turned entrepreneur's Cafe in Mumbai has a social mission

15-October-2016
Vol 7&nbsp|&nbspIssue 42
Bombay to Barcelona Library Café in Marol, Andheri East, Mumbai, is an extraordinary new eatery - just a month old -that offers awesome food with a generous serving of humanity. And it comes from the large heart of street-survivor and social entrepreneur Amin Sheikh, 36.
A runaway at the vulnerable age of five, Amin managed to turn his sufferings on the cruel streets of Mumbai into a book, which has sold more than 12,000 copies at Rs 300, and helped muster more than Rs 28 lakh to fund his dream café.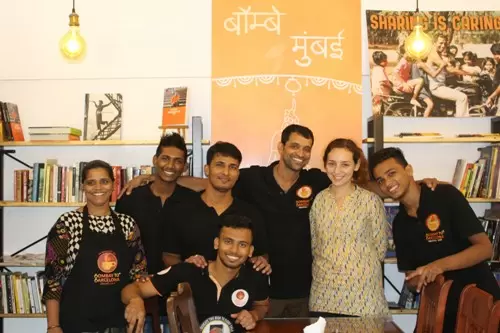 Amin Sheikh with his team at Bombay to Barcelona Library Café

The uniqueness of Amin's flagship charity café is that he employs six twenty-something boys and girls from this same Snehasadan, the orphanage home where he too grew up – but for which he would have got devoured in the underbelly of Maximum City like many other little Amin Sheikhs.
In the core of a middle-class locality in Mumbai, is his warm, welcome place – 18 seats inside and 12 alfresco – quirked up with kettles of all shapes and sizes, and hanging lamps made of tea glasses.
Two racks are stacked with books ranging from Anne Frank's Diary to lifestyle, Nat Geos and children's books. A glass wall unit showcases greetings cards painted by children of Snehasadan, a shelter for homeless children, and jewellery hand-crafted by Amin's sister.
Amin Sheikh was born in an impoverished Muslim family of five, including his parents, himself and his two younger sisters in Mumbai.
It was a troubled family, with the father an alcoholic and the mother the only breadwinner, working as domestic help.
Amin's mother finally left her husband to move in with another man, along with the three children.
The stepfather was not kind and Amin's mother sent him to work in a tea shop at the age of five for a daily wage of two rupees.
One day when Amin dropped tea glasses and broke them, he fled fearing severe punishment and landed at Malad station in western suburban Mumbai.
Later his sister, Sabira also left home to join him on the streets. By the vulnerable age of eight, Amin had become a survivor of the cruel streets – hunger, insecurity, constant fear, physical and mental torture, sexual abuse, rape, drugs, dirt and disease, there was nothing vile or inhuman that he hadn't suffered.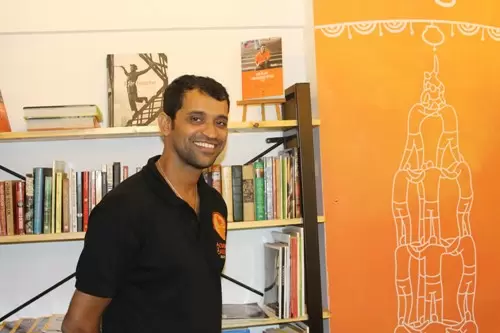 Amin used to work for Eustace Fernandes, creator of the Amul Butter mascot

He lived by his wits, doing all kinds of odd jobs from begging and picking food from garbage, stealing to sweeping train floors, rag-picking to labour in factories, shoe polishing, selling stolen fruits, water bottles or other stuff in trains – anything to survive.
During these years, a couple of times he was found by his mother; he went back home only to run away again very soon.
One day Sister Seraphine and Father Placido Fonseca of Snehasadan, a NGO that runs a 'home for homeless children' found him and his sister Sabira from near Dadar station and took them under their care.
Amin's life took a new turn. Snehasadan put him into a school, and he also started to work with a newspaper vendor.
Later, he started his own newspaper distribution business – Amin Newspaper Supply – a little before leaving school when he was around 17, besides trying his hand at other odd jobs such as running errands for banks as a 'collection boy', and washing cars.
He learnt driving on his own while cleaning cars and later managed to get a driving licence with money he earned by selling off his newspaper business.
In 1998 Father Placido sent Amin to work for Eustace Fernandes, an eminent artist in Mumbai, known for creating the Amul Butter mascot.
From cooking to cleaning to driving him across the city – Amin became Fernandes's Man Friday. Over time he developed a special bond with Fernandes, met his friends from around the globe, and learnt the finer things of life: English, etiquettes, and computers.
Amin worked and lived with Fernandes for 12 years. He started his travel business Sneha Travels and Tourist Company in 2002 with monetary help from Fernandes and his friends, and an old car from one of them.
He bought his first second-hand car around 2005 with Fernandes's help and his own savings.
The Christmas of 2003, however, was to bring a gift Amin could only have imagined, and it proved to be life-changing. Fernandes flew him to Barcelona, Spain, as a Xmas present.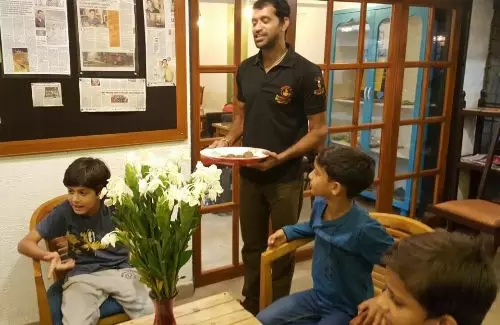 Amin serving cookies for some poor children at his cafe

"I used to pick up and drop and wait for hours for so many guests and clients at the airport," recalls Amin.
"I always wondered about what happened behind those gates. As a teenager, I along with my friend rode a bicycle to the Mumbai airport wall, climbed up and peeked at the aeroplanes taking off or landing down. I always fantasised about flying in one of them."
This trip opened his eyes to the world. He was struck by the fact there were no street kids there and there was no discrimination against the poor.
The dream to start his own charity café took seed in his mind then: a café where street kids could come and have tea and cookies - sponsored by customers and well wishers - learn to read, write, draw and have a nice time.
Around six months ago, a Spanish restaurateur couple who had read his book and blog, came all the way to India for 12 days, just to help Amin set up his café - training the staff to make patatas, bake, serve and manage the place.
Amin had started writing his autobiography in 2010, titled Life is Life: I Am Because of You and self-published it in 2012 to raise funds for his dream charity cafeteria.
In it he shared his idea for a charity café: "My coffee shop will emphasize quality in what we offer, but it will also have messages to offer. I am concerned about the inequality among people, and I want my shop to make a statement about that."
His friends helped him to edit the book, design the cover and sell it, something that Amin himself does on the streets, at traffic signals, schools, colleges, universities, corporate houses, churches, bars and cafes, while also giving talks on his life's winding journey and the lessons he had learnt.
Some of his friends helped him to translate the book in other languages such as English, Spanish, French, Catalan, Marathi, Hindi, German and Hebrew.
Amin has visited Spain six times since his first trip in 2003, besides Germany, France, and Norway to sell his book, share his life lessons and raise funds for his café.
"I have been running since the day I broke those tea glasses," says Amin. "Those days I used to run in fear. But today I am running with confidence, to realise my dream to help many Amins like me."
At Bombay to Barcelona Library Café, while plating up yogurt-spinach rolls and patatas bravas or dishing out kanda bhajia and ginger chai, some of the street kids are making their own destiny.
Take for instance Anil Kurup, who learnt the basics of baking during his stint as a kitchen helper at Taj Lands End in Mumbai, and works at Bombay to Barcelona as the specialist baker.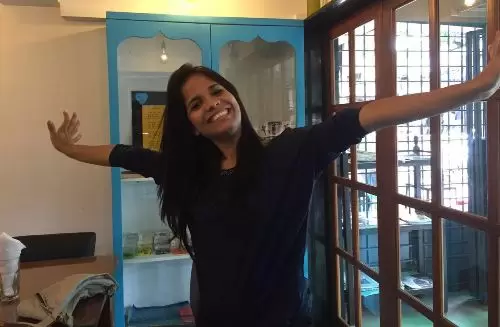 Khushboo Ali who works at Bombay to Barcelona Library Café wishes to become a fashion designer

He dreams of setting up his own bakery one day, while Khushboo Ali wants to become a fashion designer, and another boy a rap singer and dancer, and yet another a photographer.
They are all learning and earning on the job at a salary of around 7,000 rupees and four full meals a day. Amin wants to empower them so that they can fulfil their own personal goals and never go back to the streets.
In 2005 Amin had bought a home for his mother and sisters again with some help from Eustace, his friends and his own savings.
His elder sister Sabira is today a trained nurse at a hospital and his younger sister Sabiya helps him in the café.
In 2007 Fernandes once again generously came forward to help Amin to buy his first new car for his travel business. "It's a one-car one-man show," says Amin.
"I take on driving assignments five to six in a month to pad up my income."
It's not surprising that his life has become an inspiration, and Amin today gives motivational talks right from India to Spain, Germany, France and Norway.

Trending Now: