She gave her foot to her detractors and now she is a Champion

Partho Burman
&nbsp | &nbsp New Delhi
11-June-2016
Vol 7&nbsp|&nbspIssue 24
Overcoming her flat-foot condition, thought to be a considerable disadvantage in gymnastics, 22-year-old Tripura athlete Dipa Karmakar vaulted in April to become the first Indian woman gymnast ever to qualify for the Olympics and the first Indian gymnast to qualify for the Games after 52 years.

"Though the Olympics are a tough challenge, I shall do my best to win for the country," says Dipa Karmakar, one of the only five women gymnasts in the world to have successfully completed the dangerous Produnova vault.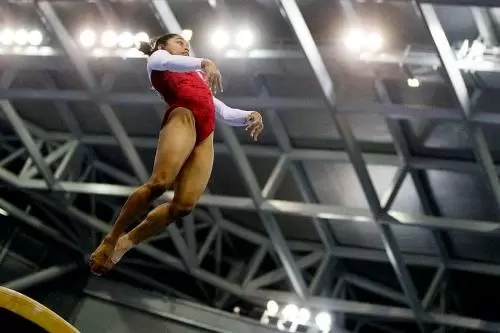 Dipa Karmakar started training from the age of six and her family encouraged her to pursue gymnastics seriously

When the historic Games start this August, the scorecard in Rio de Janeiro, Brazil, will not show that unlike all her competitors, Dipa Karmakar never had a vaulting table to practise – she landed on a stack of gym mattresses!
Nor will it say that she had flat feet, a big no-no for gymnasts. Or that she faced seemingly insurmountable challenges on her journey to these international games. Spectators might not even know that Dipa made a skillful landing in the extremely challenging Produnova vault in a remarkable demonstration of skill and grit.
The turning point in Dipa's life came when she demonstrated her proficiency in the Northeastern Games Competition in 2002, where she bagged a gold medal on the balancing beam.
She was only eight years old then, competing with seniors in the all-ages category.
Kamal Saha, the then Tripura Sports Council Secretary spotted Dipa and recommended Bishweshwar Nandi, a reputed gymnast and Dipa's first coach Soma Nandi's spouse, for advanced training.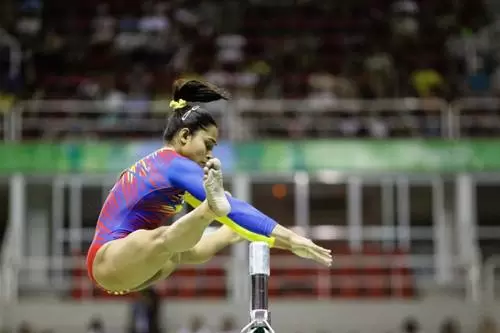 Dipa puts in a minimum of five hours daily at the gymnasium practising her jumps

Coach Bishweshwar Nandi had been five-times National Champion in gymnastics, represented the country in 12 instances and led the Indian gymnastics team six times as captain.
Under his supervision, Dipa began her advanced training in 2001 at the Netaji Subhash Regional Coaching Centre (NSRCC), Agartala. Almost immediately she came in the scanner of a SAI (Sports Authority of India) doctor, who squarely blocked her further training because of her flat feet.
Highly arched feet are a common feature of top-class gymnasts the world over. Dipa did not have them.
Though dejected, coach Bishweshwar did not give up. He visited the National Institute of Sports (NIS) in Patiala to acquaint himself with special exercises that could improve or enhance the arch in Dipa's feet.
Strength, speed, flexibility - the three critical factors in gymnastics - Dipa always had in abundance.
"She listens to every instruction," coach Bishweshwar says. "Dipa has no friends. Not even a boyfriend. Her boyfriend is the gymnastic apparatus!" Perhaps fittingly, it was Bishweshwar Nandi's record Dipa broke to become the National Champion in gymnastics for the sixth time in July 2014.
"She always had an eagerness to learn," shares Nandi. "I helped her develop her sharpness. After a few years of vigorous exercise, her honesty, discipline and determination brought laurels in the arena."
They did not come without complete devotion and determination.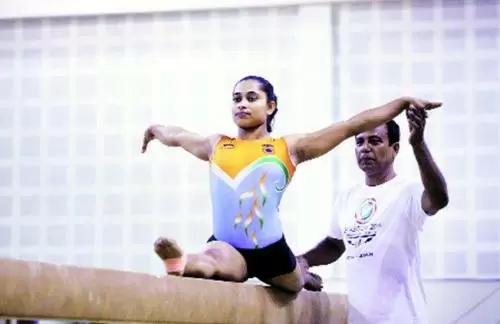 Coach Bishweshwar Nandi, a five-time National Champion in gymnastics, has been a pillar of support to Dipa

Belonging to a middle-class Bengali family, the five-foot-five-inch tall Dipa lives in Agartala, in the tiny north-east Indian state of Tripura. Her father Dulal Karmakar is a weightlifting coach with the SAI, who instructs at Vivekananda Byamagar, a local gymnasium, while her mother Karmakar is a housewife.
When she was a skinny six-year-old, Dipa's father enrolled her name in the Byamagar in August 1998. She rode pillion on her father's Vespa scooter six kilometers from home to learn and practise gymnastics.
The gymnasium was apportioned into two: one division for weight lifting and the other for gymnastics, with the capacity to accommodate around 18 girls. At that time, all of them practised on apparatus discarded from the NSRCC, run by the State government.
Under the guidance of her first gymnastics coach Soma Nandi, Dipa put in for two-and-a-half years of rigorous training. It was here that the talented girl learnt and practised the demanding Produnova vault - named after Yelena Sergeyevna Produnova, a Russian gymnast - with a bunch of gym mattresses.
The Produnova, an artistic gymnastics vault comprising a front handspring and two front somersaults, is one of the hardest vaults being done today in Women's Artistic Gymnastics.
"Forget about world-class training facilities," Soma Nandi recalls, "we didn't even have vaulting tables for the gymnasts in those days. We used to set four thin gymnasium mattresses one above one the other on the floor. The corners of each mattress were strongly fastened with rope, so that it didn't shake."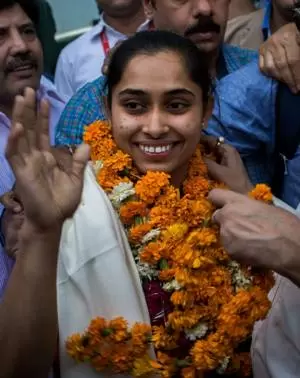 Dipa received a hero's welcome when she landed in Delhi after qualifying for the Olympics

Practising gymnasium without proper modern and safe equipment is not an easy task, but Dipa never got disturbed about the uneven floor in the practice hall, nor the soiled mattress. Instead, she focused on practising.
Dipa finished her schooling from Abhoynagar Nazrul Smriti Vidhyalaya, joined the Tripura Women's College to complete her Bachelor of Arts in History, Political Science and Education, and then pursued her Masters in Political Science from Tripura University.
"I have never asked Dipa about her studies," says her father Dulal, realising that his daughter's key talent lay in the challenging field of gymnastics.
Recognition came at the Junior Tripura Women's College Nationals in Jalpaiguri in 2007, when Dipa won 3 golds and 2 silver medals. It further fuelled her passion for the sport and she went on to win a bronze medal at the Glasgow Commonwealth Games in 2014.
Her winning spree continued with another bronze at the Asian Gymnastics Championships in 2015 and finishing fifth at the 2015 World Artistic Gymnastics Championships, the first Indian gymnast to do so among both men and women.
The young gymnast has won 77 medals including 67 golds since 2007, yet she idolises Ashish Kumar, the Indian gymnast who created history by winning a bronze medal in the floor exercise event and a silver medal on the vault at the 2010 Delhi Commonwealth Games to become the first Indian gymnast to win International medals.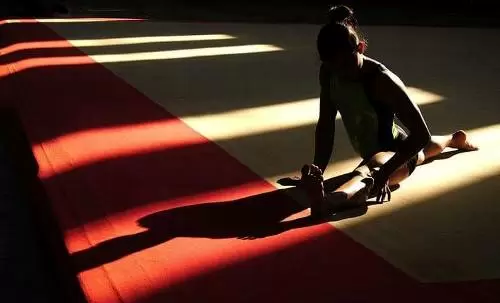 Dipa is determined to stretch that extra bit to give her best shot at Olympics and practising hard for the games

Despite her love of Chinese cuisine and home-cooked hilsa fish with rice, Dipa watches what she eats. The items on her stamina-enhancing menu are red and white meats, fruits, dry fruits, fat-free milk and health drinks - and, yes, no sweets, chocolate or ice creams.
Dipa's daily regimen starts at 8.30am on the gymnasium floor and lasts till 11am, to resume at 4.30pm and end at 7 in the evening. However, two weeks before any competition she adds on another hour to both her morning and afternoon training routine.
"Practice makes perfect," says a proud Soma Nandi. "Things gradually changed in 15 years. Dipa proved all gymnastics equations wrong. Now she is gearing up mentally and physically to meet the demands of the international sporting event in Rio."
Expectations are high and Dipa is sharply focused. She scored 52.698 to reserve her place in Rio. "But all days are not the equal," she says wisely. "I won gold at the test event but cannot say what is lying in store for me at Rio in the Olympic events. But I will try my best to bring gold for India."
A whole nation will be there in spirit to cheer her on.
Wish to share your story?
Trending Now: