A couple's elaborate meal of over 20 non-vegetarian dishes draws crowds daily

16-April-2016
Vol 7&nbsp|&nbspIssue 16
A couple running an eatery at their home in Erode district, 79 kilometres from Coimbatore, has put their otherwise nondescript village, Seenapuram, on the food map of India.
The hotel, UBM Namma Veetu Saapaadu, serves a special non-veg lunch and gets customers from faraway places like Bengaluru and Chennai.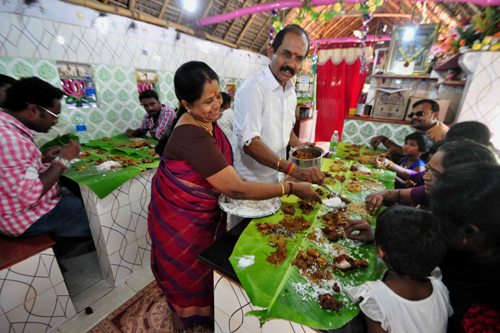 At UBM Namma Veetu Saapadu, the owners R Karunaivel and Swarnalakshmi serving customers (Photos: H K Rajashekar)

The hotel's USP is its sumptuous unlimited lunch at Rs.500 (which goes up to Rs.700 in some cases) with around 20 types of traditional non-veg dishes made from mutton, chicken, fish, turkey and more.
Food is served on plantain leaves, seven to eight feet in length, and a family of four to five can sit together and eat from a single leaf. They serve on smaller leaves too, if you ask for it.
The owners, R Karunaivel, 60, and his wife Swarnalakshmi, 53, make the food themselves. About 50 people drop by on weekdays, but a bigger crowd turns up on weekends, according to the couple.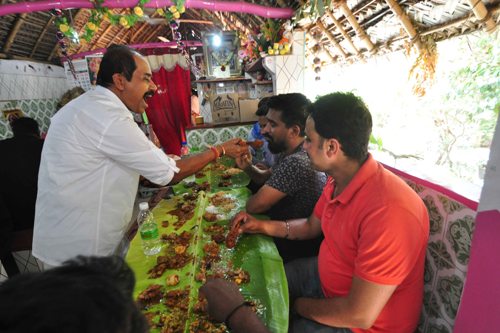 Karunaivel feeding a chicken leg piece to a customer

"We get around 150 people during weekends and holidays. Families travel from as far as 150 to 200 km to satiate their taste buds and eat to their heart's content.
"The smile on their face when they leave our hotel gives me the energy to feed more and more people," says Karunaivel.
Along with a variety of non-vegetarian items including mutton kolambu, rathaporiyal, kudal curry, thalaicurry, liver curry, items made of broiler chicken and naatukoli (country) chicken, meenkolambu (fish curry), they serve rice, rasam and curds as well.
For children, a special chicken gravy is made adding lentils, which is less spicy
Lunch is served as they do at wedding feasts, to batches of about 50 people in each sitting. Twenty people can sit inside their home and a separate enclosure on the side of the house accommodates the rest.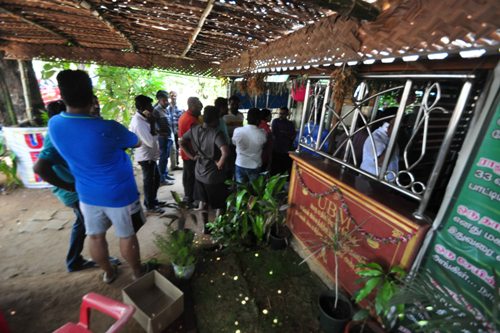 Crowds waiting for their turn to partake in the feast

At lunch time, the area around UBM hotel is quite out of sync with the rural setting. You find a long line of swanky cars parked outside the hotel, families lounging in the waiting room, and people sitting on chairs under the shade of trees by the roadside patiently waiting for their turn to have the food.
UBM is open from 12.30 p.m. to 3 p.m. serving only lunch. If you have to be sure of treating yourself to a hearty meal, you need to make a call and book your table.
But an interesting piece of information is that both Karunaivel and his wife are strict vegetarians.
"I am a pure Shaivite. I don't even eat egg. I just have one meal a day at 5 p.m., a simple vegetarian food, which is served by my 8-year-old granddaughter.
"My wife stopped eating non-vegetarian food eight years ago. We go by our experience over the years in preparing the dishes," says Karunaivel.
So how did the whole concept of running a hotel from home emerge?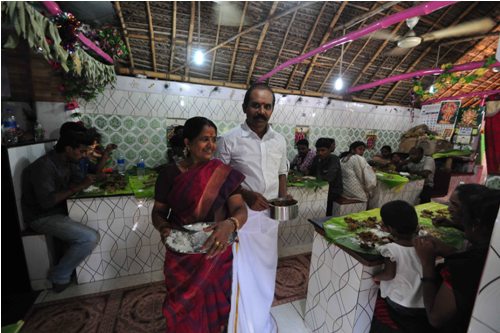 Karunaivel and his wife enjoy making the food and feeding the people to their heart's content

"Our family was known for extending hospitality to people. My grandparents saw to it that nobody visiting our house would go back hungry. This was passed on to my parents and we are continuing the same tradition," says Karunaivel.
"Though our family was positioned comfortably, I could not serve free food as preparing non-vegetarian dishes is expensive and it becomes difficult to serve such big numbers," he adds.
As a youngster, Karunaivel grew up being fed with a variety of delicious food at home.
"Taste and authenticity is one thing which we cannot compromise. The recipe for each dish, which has been modified to cater to making non-veg dishes, is a gift passed on from our elders," says Karunaivel.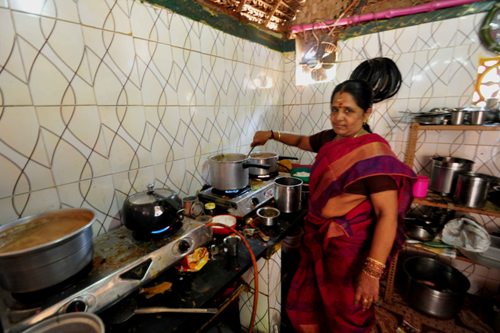 Swarnalakshmi heating the food in the kitchen

In 1992-93, Karunaivel's family started a canteen at a saw-mill in their village and six years later decided to continue the business from their home itself.
"Since we are located bang on the main road, government officials passing by would stop over for food. By word of mouth we started getting more people," says Karunaivel.
The couple procures the core ingredients locally. Karunaivel personally checks the quality of meat, and fish, and gives clear instructions on making the masala pastes and mixes to his wife.
"As a home-run establishment, and with my wife being the sole cook, we have greater control over what goes into the food, and thus we have been able to maintain the quality and taste," he adds.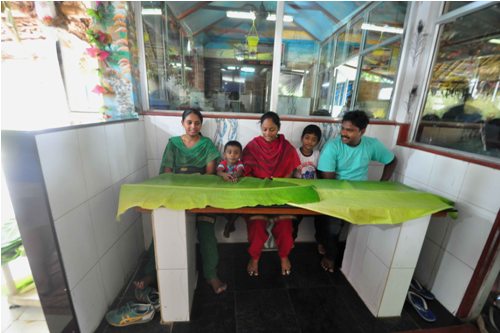 A family waits in anticipation for the delicious lunch they are going to be served in a moment

"Our aim is to make the entire family feel at home and give them the experience of enjoying a meal sitting together and eating from a single leaf. For individuals and friends, who, at times hesitate to eat from the same plantain leaf, we serve food individually on smaller leaves," he adds.
By chance, if you are a vegetarian and happen to pass by UBM on a hungry stomach, worry not.
Karunaivel says there will be enough vegetarian food for up to five people any day. "Nobody coming to our door will be sent away without being offered something to eat," he adds.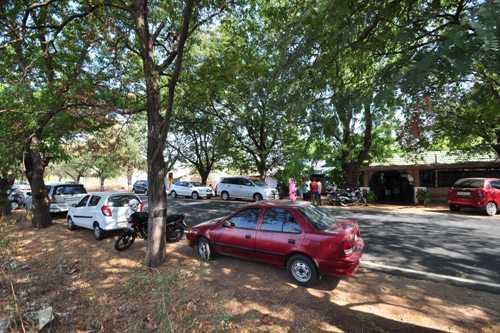 A front view of the hotel

"The reward for my labour comes through the fact that UBM Namma Veetu Saappadu has become a household name among our repeat customers.
"This hotel is not here to just make money, but rather based on the idea of rendering service. This has always been my wish and my endeavour," says Karunaivel.

Related Stories: