Turns and twists in life lets a poor Haryanavi boy tee his way to glory on the greens

Partho Burman
&nbsp | &nbsp New Delhi
15-August-2015
Vol 6&nbsp|&nbspIssue 33
Golf has traditionally been a sum of money and privilege, but 11-year-old Shubham Jaglan, the son of a milkman from Haryana, has upended the equation, by winning the prestigious IMG Academy Junior World Championships in San Diego (11-17 July, 2015) and topping it with the World Stars of Junior Golf (19-23 July 2015) title in Las Vegas.
This golf prodigy's rise to success sounds like a fairy tale and will likely become a local legend in Israna, a small hamlet in Panipat district of Haryana, about 250 km away for the national capital Delhi.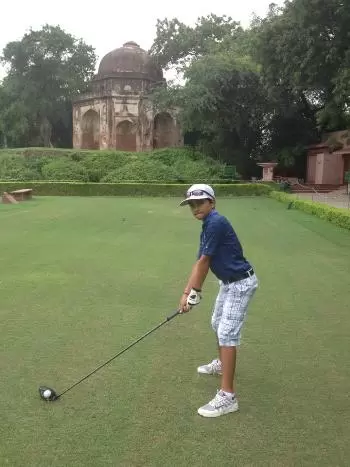 Shubham's natural golf skills have surprised experts. He hails from a village where the only popular sports are kabbadi and wrestling
Shubham was born in a family of modest means. As recently as seven years ago, Shubham's father Jagpal Jaglan owned 6-7 buffaloes and supplied milk to the local families and hotels to earn a meagre 5,000-7,000 rupees for his family of three – himself, his wife Anjana and Shubham.
Sometimes, to make ends meet, the milkman would turn farmer, leasing land seasonally to farm it. The three lived with the extended Jaglan family (Shubham's grandparents, uncle and aunt) in a two-bedroom house.
Jagpal's routine was one of hard work. He woke up early at 3-4am to milk the buffaloes, then went to the fields to fetch fresh fodder for the cattle. After that he washed the cowshed and bathed the animals. People started coming in to buy milk between 5am and 8am.
Earlier in life, after completing his Plus-2, Jagpal periodically sold vegetables grown in Panipat, at the Shimla wholesale market in Himachal Pradesh. On his way back, he gathered vegetables grown in Shimla and sold those at the Azadpur and Okhla mandis (wholesale markets) in Delhi.
During his hill visits, he lodged at Himachali girl Anjana's house. The two fell in love and married in December 2001. Around three years later they were blessed with a son. They named him Shubham – meaning 'auspicious'. The father rejoiced.
Jagpal could not have dreamt that he was going to be the father of a famous son.
What's extraordinary about Shubham's victories is that their seed lies in an earth that has nothing to do with golf. In such villages of Haryana as Israna, the only sports one can think of are wrestling and kabbadi.
Shubham's uncle, Joginder Pal, a Greco-Roman wrestler working in the CRPF, was keen to bring the boy into the wrestling arena. But Shubham's mother, having been witness to Joginder's post-bout cuts and bruises, was against it.

In 2008, the unimaginable happened. Kapoor Singh, an NRI, introduced golf to this small village by setting up a golf academy and offering free coaching.
Golf was probably not a game the locals even ever watched on TV, but Shubham's grandfather Ishwar Jaglan, now retired from the Co-operative Bank, had his four-year-old grandson, a student at Vidya Niketan in Israna, enrolled into the academy.
An instant chemistry exploded between the boy and the golfing course.
Shubham was so keen to master the basics of the game that even after the sessions at the academy, he would practise on the grazing land behind their house.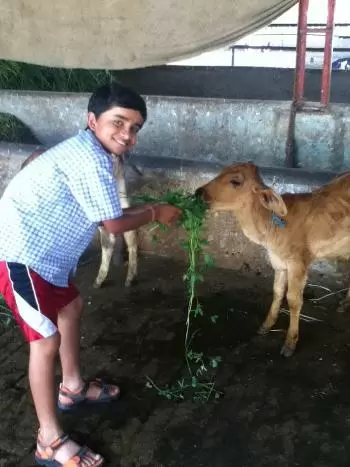 Shubham's family owned buffaloes in his ancestral village. He is seen in this photo feeding a calf
Barely two months later, before the family could understand the little boy's exceptional proclivity and gift for the game, Singh decided to pull the curtains down on the academy, leaving the child desolate on the greens.

The father was helpless. It was impossible for him to muster the money and contacts needed to enroll Shubham into any other academy. Time doesn't wait, and three years elapsed. The father kept trying to find a way.
Someone suggested that Jagpal meet Arjuna Award-winner and Asian Games Gold Medalist Amit Luthra, Founder-CEO of the Golf Foundation in Delhi, and gave him a phone number. Many doors had shut, but another had opened just a crack.
When Jagpal called Luthra, the latter requested professional golf instructor Nonita Lall Qureshi to assess Shubham's skills. "I drove down to village Israna from Chandigarh to see Shubham play," Nonita recalls.
"He was seven then. Though there was no golfing facility there, yet he had a lovely golf swing…he was very talented."

Upon hearing this, Amit Luthra offered Shubham unconditional support to play and practise at the swish Delhi Golf Club. This meant a ground shift for the milkman and his family. They had to move to Delhi. The father had to make a big decision.
Jaglan packed up the only life he knew, sold his buffaloes for a couple of lakhs, and left his village to back his son's future.
The family has been living near Ashram in Delhi since 2012, supported by the Golf Foundation, which looks after their needs so that Shubham is able to focus on his game.
The golf club that Shubham uses now costs around Rs 2 lakh – just about the cost of all of Jaglan's buffaloes! A golf ball lasts only a day and costs Rs 300. Unless you are member, using the Delhi Golf Club turf means a whopping Rs 3000–5000 per game.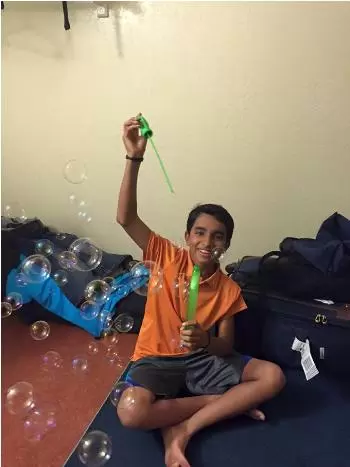 The world junior golf champion still has time for doing simple things that children his age do, like making bubbles
Hiring a caddy is priced between Rs 500-2000 per day. Add to that fuel, a nutritious diet and countless other expenses. All together, about Rs 6000-10,000 per day are needed to help build a young golfer.
But of course, the talent and hard work comes from young Shubham. As Luthra modestly says, "I saw his potential and just brushed away the dust from the diamond."

Jagpal, now 40, is thankful for the universe coming together to conspire in his son's success: besides the Delhi Golf Foundation, Shubham received support from the Delhi Golf Club as well as Ping (golf equipment manufacturer).
Equally important is the fact that Laxman Public School in Delhi offered him free quality education. Dr Usha Ram, Principal, Laxman Public School, Delhi, says about the seventh-grader, "Shubham is a humble and intelligent boy – he obtained 87 per cent in the sixth grade!"
The school provides books, uniforms, special English counselling, personality development lessons and evening classes for his playing schedule.
No wonder Shubham has transformed into a self-assured campaigner, which was reflected in his impeccable accent when he addressed the press conference at the Delhi Golf Club after he returned from the US tournaments.
"Life has changed dramatically due to Shubham and the golf," says Anjana. "We never imagined that such a life can also be lived."
With 130 titles under his belt on the Indian and international circuits, Shubham has been India's number 1 in the D-category (under 11).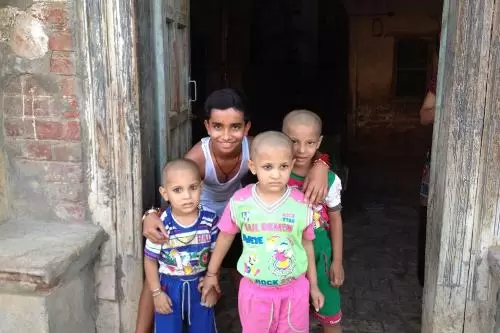 Shubham at his village home in Haryana

He says, "This win means a lot to me, my father, my coach and the Golf Foundation. All the credit goes to my family, Delhi Golf Club, the Golf Foundation, my coach Nonita Lall Qureshi and Amit Luthra Sir, who gave me all the support I needed. I have to work harder now."
The junior golfer, who likes to read, chase basketballs and watch his idols Seve Ballesteros, Gary Player and Tiger Woods on YouTube, has great admiration for Dr APJ Abdul Kalam as well.
"Dr Kalam's quotation: 'A dream is not that which you see while sleeping, it is something that does not let you sleep', motivated me before the second game in Las Vegas (at the World Stars of Junior Golf Championship)," he says.
Playing as an amateur golfer, there is no prize money involved, but the stakes will be higher 8 years down, when he plays professional tournaments.
"We are taking baby steps to prepare him for PGA (Professional Golfers Association) Tournaments about 8 years from now," says Nonita, who quit the Golf Foundation in 2014, but continues to coach and mentor Shubham without charging a fee.
It's time for wrap-up. Tomorrow is another day, a day closer to the not-so-distant dream. Shubham will start it at 8 am for school. Right after school, he will go to the Delhi Golf Club course at 2:30 pm for practice.
The father, as always, will be at his side.

Trending Now: