'Organic dairy farming will yield better milk, enrich farmers'
Fakir Balaji
&nbsp | &nbsp Bangalore
24-January-2015
Vol 6&nbsp|&nbspIssue 4
Cultivating organic fodder and nurturing cows with care would yield plenty of "truly" organic milk and make their owners wealthy in a short period, says a veterinary expert who runs a dairy in the Karnataka countryside.
Veterinary doctor-turned-entrepreneur G.N.S. Reddy maintains that shocking as it may sound, most of the milk supplied or sold in urban India is not organic but artificial as it is sourced from farmers who feed their cattle with fodder grown on chemical fertilizers like urea.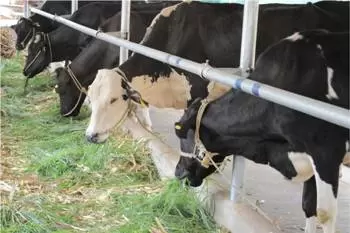 One of Reddy's vision is to increase the average yield per cow (or buffalo) and improve the quality of milk
"Milk produced even through cooperatives is contaminated, as modern husbandry encourages a lot of artificial factory-made fodder and harmones for cattle with no quality control at chilling or processing plants," Reddy said from Tiptur, where his dairy is located, in Tumakuru district, 150 km from here.
Set up in 2010 on a 24-acre land with Rs.25 crore upfront investment, Akshayakalpa Farms & Foods Ltd. is the first of its kind private initiative to incubate rural entrepreneurship based business models in the countryside, he said.
"With organic milk becoming popular, especially among health-conscious citizens of Bengaluru, our member farmers are able to sell their entire produce through our firm Akshayakalpa for Rs.50 per litre," Reddy said.
He said they have a makeshift arrangement to process daily 15,000 litres of milk, collected from about 1,100 farmers who grow organic fodder on five acres each of their lands "under our supervision and are able to milk 10-12 litres per cow".
Though India is the world's largest milk producer (135 million tonnes per year) from maximum number of cattle (300 million), average yield per cow or buffalo and its quality is low -- less than a litre for every kilo of feed (fodder) as against 1.6 litre per kg feed in the best farms world over, he said.
Reddy said their "twin objectives are to make small and medium farmers as enterprising and productive as those in manufacturing or services, earn as much as they do and stay put in villages to provide job opportunities for rural youth".
By making organic dairy farming fruitful, Reddy said he wants to reverse urban migration and create economic opportunities for small and medium farmers to become micro-entrepreneurs, and by introducing automated organic dairy production as an integral part of small and medium farm across the state, he hopes, will create self-sustaining farms that increase income of farmers and lessen manual labour.
"We are setting up a one lakh litre processing plant to expand capacity and train more farmers in using technology to produce organic fodder and yield organic milk. It will be a win-win situation for them and consumers, who will get high quality and pure milk," Reddy said.
The dairy plant is expected to be commissioned by mid-2016, opening up unlimited possibilities, as denoted in "Akshayakalpa".
With 25 cows in each shed on the five-acre farm land where a variety of fodder is grown, the farmer is also able to generate power for irrigation pumpset through bio-gas plant, run with the cattle's urine and dung as raw material.
Reddy has also roped in a dozen people, including techies from IT majors like Wipro and others to demystify technology, train farmers in optimal utilisation of natural resources and use marketing networks to hardsell their milk and other dairy products. - IANS

Trending Now: