Farmers in the foothill of Bhutan are cheerful that water flows into their paddy fields
01-December-2014
Vol 5&nbsp|&nbspIssue 48
The gurgling water flowing fast through a traditional canal system that has been revived in water-scarce parts of Assam has brought cheer to farmers who now look forward to a bumper harvest.
After about 20 years, 42-year-old Rati Ranjan Mondal expects at least 450 mounds (about 18,000 kg) of rice from his 30 bighas (about 10 acres) of paddy field in this harvesting season, compared to about only 200 mounds of rice which he has been getting all these years.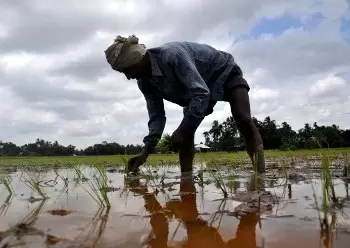 Farmers are expecting a bumper harvest this year following the revival of a traditional irrigation system (Photo: Indian Photo Agency - for representational purpose only)
Like Mondal, the farmers in Guwabari, Bikrampur, Mahendra Nagar and other villages under the Nagrijuli Revenue Circle in Assam's Baksa district are dreaming big as their endeavour to irrigate their paddy fields has succeeded this time.
These villages are located on the foothills of Bhutan and just a few kilometres from the India-Bhutan border. It is an arid region and the farmers and other families had to depend on the waters that flow down from the river in the upper reaches of Bhutan through the small streams and other water bodies like the creeks for all their water needs - whether potable or for irrigation.
There are no irrigation facilities by the government in these areas and it's a herculean task to tap ground water due to the rock bed beneath the ground.
The villagers with the help of NGO Gramya Vikash Manch (GVM) have this paddy season revived the traditional canal system - locally called Dongs - and taken the water from Bornodi and Oronga, Asoma, Pagladia and Diring rivers in neighbouring Bhutan to irrigate their paddy fields, said GVM president Prithi Bhusan Deka.
"Most of these water bodies originated in Bhutan and merged into the river Brahmaputra through its tributaries. These networks of water bodies are the only source for irrigation, drinking water and natural fishing by local community since time immemorial," said Deka.
He added that unfortunately, the entire system has been obliterated due to several causes.
"We have studied the problem and decided to construct a diversion-based irrigation system and improve upon the traditional system of Dong in the area so that waters could be brought to the arid region to help the people. The project involved securing the natural bodies and removing obstruction for smooth flow of waters and improving it by using modern technology," he said.
Dharma Narayan Das, another villager of the Guabari village, said: "After 20 years we are expecting a good harvest. The harvest is likely to be good this time as we have been getting water through the Dongs."
"We along with the GVM have constructed the Dong for a stretch of 12 km and it has helped people of 10 villages in this area alone. About 12,000 bighas of land have got proper irrigation this year and we all are expecting a bumper harvest after so many years," said Hari Charan Das, another farmer.
Das said "the use of modern technology like construction of sluice gates and concretisation of portions of the Dong has also helped us".
"Earlier it used to be only an earthen canal and it needed regular repairing by the community members, particularly whenever there is heavy water flow. The concretisation has solved this problem. It was also difficult to hold the water earlier, but construction of sluice gates has made it easier for us to hold the waters for days and then use it," Das added.
Manjyoti Lahkar, senior programme manager of GVM who is looking after the project, said: "The major problem of the farmers in Guwabari village was the loss of farming days, and problem to get irrigation in the paddy fields due to the breaching on both sides of the earthen canal during the monsoon season and especially during flash floods. Now after the intervention was made using modern technology, they are happy to get water almost regularly."
"Under the project, the target is to improve the quality of life of at least 60,000 families in Baksa, Nalbari and Kamrup districts of Assam within three years," Lahkar added. - IANS


Trending Now: