Spotted by a sailing coach first, two girls get trained and bring laurels to the country
Hema Vijay
&nbsp | &nbsp Chennai
08-November-2014
Vol 5&nbsp|&nbspIssue 45
Sporting history was made on September 30, 2014, when Chennai teenagers Varsha Gautam, 16, and Aishwarya Nedunchezhian, 18, finished their 12th race in the 29-er Women's Two Person Dinghy event at the recently-concluded Asian Games in Incheon, South Korea.
For this feat they bagged the bronze medal and became first women sailors from India to win an Asian medal. Incidentally, the bronze medal also made Varsha the youngest ever Indian medallist at the Asian Games.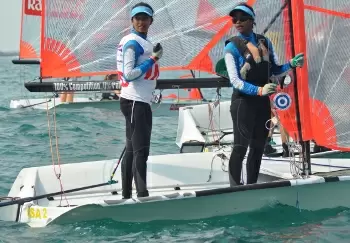 Varsha Gautam and Aishwarya Nedunchezhian became first women sailors from India to win an Asian medal
The duo had made a stunning comeback in their last two races, after a tumultuous run that saw them win the first race, lose their way in the middle races, get disqualified in their seventh race, and finish first and second, respectively, in the final two races..
However, the account of their journey towards becoming one of Asia's top competitive sailors would have been remarkable even without the medals.
Picture this: two teenage girls from middle-class homes in Tamil Nadu's state capital foregoing their studies at school and shuttling across the city to divide their time between exercising at a gym near the beautiful Marina beach, sailing into the far seas off the Chennai harbour for hours before finally rounding off their day studying the videos of their sailing style along with their coach Pete Conway to spot where they could do better.
It's most certainly not the daily routine of your average adolescent girls! Remarks the duo, "On a regular day, we set off to sea at the break of dawn and getting back home by 7 pm is a luxury."
What adds to the wow factor of their victory is the fact that the achievement comes just three years after they started competitive sailing; most sailors need at least a decade of practice before they produce such glorious results.
Ever since they got back from Incheon a few weeks back, the girls have been really busy. They attended a congratulatory meeting with Prime Minister Narendra Modi, followed by a trip to Nainital to promote sailing at the invitation of the Chief Minister of Uttarakhand.
More such promotional and celebratory events dot their calendar in the days ahead, but the girls are already looking forward to getting back to the seas. They are now eyeing the 2016 Olympics, and their focus is on getting through the Asian Qualifiers for the same in the 49-er FX Class, which is the Olympic Women's Skiff class. The qualifiers would be held around October 2015, perhaps in China.
To qualify, Varsha and Aishwarya will have to step up from the 29-er sailing boat they used at the Asian Games and tame its bigger and more challenging 49-er version (that is 4.9 metres long). It will be a challenging transition, but the girls are prepared for it.
"With sailing, one needs to manoeuvre to get the wind into the sail. The basic skill isn't so tough, but mastering the art of sailing takes years," explains Aishwarya. "Unlike in other sports, in sailing, we don't have to mark ourselves against competition. We just have to do our own things right," adds Varsha.
Both the girls were introduced to sailing when they enrolled for a summer sailing activity being conducted by the Tamil Nadu Sailing Association (TNSA) and took an instant liking to it. Initially, their time in the waters was restricted to the weekends and they generally took part in individual events.
It was national coach Pete Conway, from the UK, who noticed their skill and potential and brought them together. He has been training the two since 2011 and they are a seamless team now.
Apart from practicing with each other, the girls collaborate with teammates Varun Thakkar and K.C. Ganapathy as well. "Our medal is as much theirs as ours. Without Varun and Ganapathy, our coach Pete and mentor Captain Amish Ved, this medal would not have been possible," they say.
They are also quick to acknowledge the support of Admiral R.K. Dhowan, Chief of Naval Staff and President-Yachting Association of India, the Tamil Nadu Sailing Association, and K.D. Singh, manager of their sailing team. And for their top physical form, critical for performing well, the girls thank Kannan Pugazhendhi, who created a special daily exercise routine for them.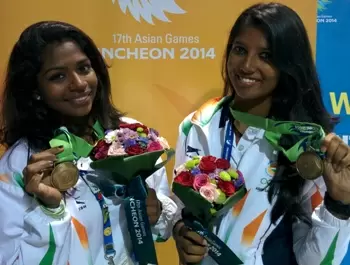 Varsha and Aishwarya with their Asian bronze medals
"The Indian Navy has taken the lead in promoting yachting in India. I remember I got to step into INS Tarangini, the first sail training ship of the Indian Navy in 2005 while it was docked in Chennai. That sparked my interest in sailing," Varsha recalls.
However, raising funds to pursue the sport keeps them on their toes. Currently, the girls are training and competing on state and central government sports sponsorship. Unfortunately, corporate sponsorship is almost absent.
The duo firmly believes that setting up Sailing Centres of Excellence, in partnership with the Indian Navy and various state governments, complete with state-of-the-art facilities and located on sites with direct access into the sea, can give a real fillip to their cause of popularising it among young people. "That would get us many more medals at the Olympics level," asserts Aishwarya.
Of course, like all youngsters, the girls have to give time to their education. Aishwarya is now a second year student of B.A Sociology at Chennai's M.O.P Vaishnav College, though she gets to go to college just once a week.
"Not just my parents, my college has also been fully supportive," she says, adding, "My parents understand that sailing is really hard work. They don't wake me up and insist on my going to college if they know that I have just had a challenging day at the gym. They know that sailing is my priority."
Meanwhile, Varsha is still in school and has to give one more exam to finish Class 12. They both catch up with studies in between training sessions.
Busy as they are, they don't mind missing out on hanging out at college, or the other such things that are fun for many others their age. "We do have our hours when we get to do nothing – during flights and at airports," they say.
So what kind of a future are the girls eyeing? "Sail bigger boats, becoming a coach someday... it all depends on how far we go in the next six years," they sign off. - Women's Feature Service

Trending Now: