Rural youth get jobs without moving out after getting vocational training
Prantick Majumder
&nbsp | &nbsp Jhadol (Rajasthan)
19-July-2014
Vol 5&nbsp|&nbspIssue 29
Of what economic value is a broken-down or damaged mobile phone? For nearly two dozen people from a few remote villages in Rajasthan, it is a source of income, enabling them to earn more than they used to do as daily wage agricultural labourers - and without migrating to an urban conglomeration.
One of them is 22-year-old Mahendra Kumar Darangi, who lives with a joint family along with his parents and two brothers in Sundla village in Jhadol block, around 40 km from Udaipur city and along the border with Gujarat.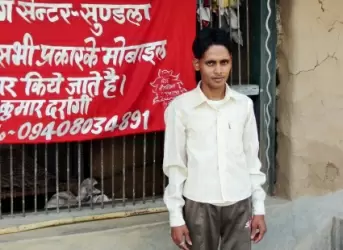 Mahendra Kumar Darangi, the mobile phone mechanic in Sundla village (Photo: IANS)
Darangi, who is married and has a five-year-old son, said that he dreamed of becoming an engineer, but that could not happen due to the lack of proper educational facilities.
After dropping out of school in Class 9, he had no other option than working as a daily wage labourer.
"I was not happy with my life. I never liked labour and due to my failing health, I could not continue working in the fields," he said.
Darangi's life took a U-turn when he came to know about a vocational training programme for jobless youths in Udaipur. Along with 22 other youths from the area, he enrolled in it in February.
"I got myself admitted to the 30-day mobile phone repair training programme in Udaipur and was given a stipend of Rs.1,500 by the institute for completing the course," he said.
"With that money, I bought some repair tools and soldering equipment and started my mobile repairing shop," he said, beaming with pride.
Darangi became the first mobile phone 'mechanic' in his village.
People now come to his place from within a radius of 4-5 km to have their phones repaired, and Darangi says he earns about Rs.500-700 every day, and people of his area are happy with his expertise, as it saves them time and money as earlier they had no option but to go to Udaipur if there was something wrong with their phones.
The vocational training programme facilitated by ChildFund India also imparted knowledge on how to procure materials for repair work.
"We learnt about the places (in nearby Udaipur) where we could get spare parts for mobile phones," said Darangi.
The youths who underwent the training were also imparted lessons on bank savings, he added.
"Mahendra was among the 56 youths who received skill training as part of a project that aims at providing alternate livelihood source or income options for vulnerable families," said a spokesperson for ChildFund India.
Some youths also received training in electrical and mechanical repair, household wiring and car driving, he said.
"Most of the youths in the villages of Jhadol are Class 6 or 8 dropouts. Many of these youths have worked as labourers under family pressure or peer group influence. They never tried to go back to school," the spokesperson said.
"All these courses have high demand in the local market and the youths don't have to migrate to urban areas to earn their livelihood," he said. - IANS

Trending Now: