After seeing a market potential in waste, they did not waste their time looking elsewhere

Asad Ashraf
&nbsp | &nbsp New Delhi
28-June-2014
Vol 5&nbsp|&nbspIssue 26
Two young entrepreneurs, doing their final year MBA from the JRE School of Management in Greater Noida, have entered the unorganized market of scrap collection and bringing smiles on the faces of customers with their professional approach.
Operating in the Delhi NCR (National Capital Region) through a website (kabaadiwala.com) and a hotline number, they have managed to connect with around 10,000 customers in a short span of eight months.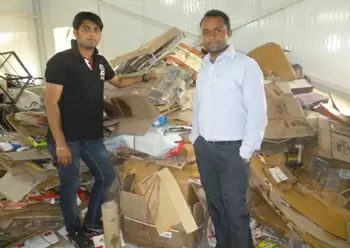 Apoorva and Yogesh work with about 20 former kabaadiwalas
"Our company aims to organize a market which is left tattered and untouched by the corporate sector and still has a vast potential. A huge quantity of scrap is being sold by households and corporate offices every month," says Apoorva Chaturvedi (25) who jointly owns the enterprise with Yogesh Sood (24).
Their customers include big companies like Wipro, which has helped them to achieve a turnover of more than Rs. 40 lakhs already.
Apoorva and Yogesh thank their institute, JRE Business School for guiding them throughout this journey and also funding their initial investment of Rs. 2 lakh.
Their USP (Unique Selling Proposition) is efficiency and honesty. "The traditional kabaadis exploit their customers in the absence of any mechanism to check the actual rates of scrap in the market.
"Besides, many also use fraudulent scales for weighing. People are also not certain about their next visit to their homes or offices.
"We have introduced transparency and professionalism in the business. We use digital weighing machines to ensure accuracy in measurement of weight," says Yogesh.
"The common impression of a scrap dealer is an untidy man coming to your home but we have brought an end to this stereotype by encouraging our team to look more professional, and for the same we have provided them proper company T shirts and trousers," he adds.
They have a team of 20 employees, most of whom were former kabaadiwalas.
"Earlier I used to earn around Rs. 6000 to 7000 a month, but here we get a monthly salary of around Rs. 10000 and other incentives based on one's performance. This is much more peaceful and respectable than working independently," says Mohsin, one of the scrap collectors in the company.
Apoorva and Yogesh say they pay a higher rate for the scrap than what their competitors in the unorganized sector pay. For instance, they claim to pay Rs.2 more per kg for old newspapers they buy from their customers.
Customers have the option of registering themselves on their website and their men would come every month to collect the scrap from their doorsteps. Customers also have the option of calling their hotline number to ask for a collector to visit them.
The company is planning to introduce a new customer-friendly feature pretty soon. According to the plan, all scrap collectors would be given Android phones, which would enable them to pay the electricity or phone bills of their customers as compensation for the scrap they collect from them.
Any balance due for the customer would be provided by cash. Cash payment would be made for those who prefer the mode.
However, it has not been a hassle-free journey for the youngsters. They have faced number of problems, but the most disturbing one is the continuous threats they receive from those already in the scrap business.
The duo is not letting it pull them back in any manner. They are now planning to move beyond Greater Noida and have bases in Noida and Gurgaon.
Although, like any other business their main concern is to maximize profits, they prefer to earn profit by employing some ethics and values in their business
Apporva hopes to see his company listed on the stock exchange of India and emerge as the biggest company dealing in scrap all over the Asia Pacific region and he is pretty determined to realize his dreams.
If you live in Greater Noida and are not getting a good deal in return of your monthly kabaadi, you could probably visit kabaadiwala.com or call their number (+91-8527810555).

Trending Now: