A farm in Uttarakhand stands out from the rest because of one woman
Anuradha Sahni
&nbsp | &nbsp Almora
22-November-2013
Vol 4&nbsp|&nbspIssue 47
The skies are overcast; the hilly countryside is lush. A mist envelopes the tall pines and rain falls as if at will.
Families living in the numerous villages that dot Almora district in Uttarakhand are preparing for winter and this is the busiest time for women as they divide time between the home and their widely spread out terrace fields.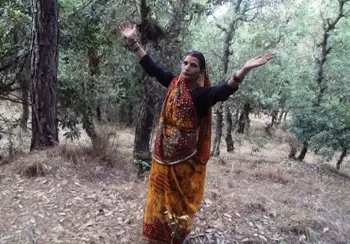 Sudha Gunwant, 47, has proved herself as a passionate environmentalist and successful farmer (Photos: WFS)
But it's been raining almost continuously for the last six months and this prolonged wet spell has thrown normal life out of gear – much of their local lentil and other crops have been destroyed while the fodder grass has not dried up enough to be stored.
However, despite the obvious difficulties, there's one woman from Guna village in Lamgara block of Almora, who has turned her farm into a veritable hub of biodiversity.
Unassuming and ever smiling, Sudha Gunwant, 47, enjoys taking visitors around her home and land holding. After all, it is a perfectly run mixed farm – conventional grains are harvested seasonally along with a variety of vegetables, fruits and exotic flowers.
Additionally, she also rears livestock for dairy and keeps bees for honey, which she sells on demand.
While Gunwant's farm is doing well these days, it does not mean that she is oblivious to the dangers of climate change.
She observes, "I remember when I had come to this village in 1980 after marriage, farming was the mainstay of most families. Unfortunately, the changing environment and weather has become a threat to our way of life. On my part I am determined to overcome this challenge."
Help has come to Gunwant through the Central Himalayan Environment Association (CHEA), a non government organisation that assists mountain communities to achieve sustainable development by adapting to climate change.
According to Pankaj Tewari of CHEA, "In the hills, most agriculture in Uttrakhand is rain fed. So the seasonal variations that have impacted rainfall and snowfall are extremely worrying. It has affected soil fertility and hence the yield.
At CHEA we have been working intensively for sustainable livelihood development in various villages around Lamgara and Sudha-ji has been an inspiration for everyone. She has successfully demonstrated how, given the right support, people can effectively adapt to climate change and transform their lives."
By Gunwant's own admission, although she has always been a passionate environmentalist, becoming the able farmer she is today required effort.
She needed to acquire the necessary expertise. Initially, her heart had been set on becoming a teacher, a dream that she gave up after marriage. But keen on making a mark within the community, she finally got the chance to prove herself when, about a decade ago, she was chosen to head the Guna Van Panchayat.
Van Pachayats are village-level councils that are responsible for the day-to-day management of local civil forests.
Under the guidance of CHEA, she not only got the chance to fully understand what it was that was triggering climate change, but she was also introduced to the various government schemes that promote sustainable livelihood for hill folk, like cash crop cultivation, horticulture, floriculture and various non-farm activities like animal husbandry and bee-keeping.
Walking towards Gunwant's home the first thing that one notices are the fruit trees that encircle the yard.
"These were planted in 2002. I got the saplings from the horticulture department with CHEA's help," says the industrious woman, pointing towards the cluster of peach trees which, she proudly informs, have already yielded a crop for each of the last four years.
Then there are lemons, oranges, cucumber, colocasia (arvi), tomatoes, radish, French beans and corn growing on the farm. The surplus produce regularly makes its way to the mandi (wholesale market) in Almora, fetching her a decent income.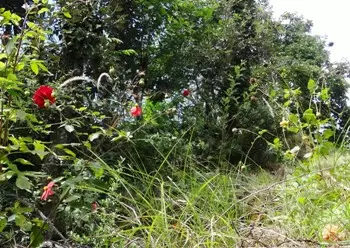 Fruit trees and flowering bushes at Sudha's farm
This season she sold radishes worth Rs 3,000-4,000, while the lemons went for Rs 5 a piece.
Besides these, flowers such as gladiolas, chrysanthemums and marigolds that grow in a small poly shed built just off the courtyard, also find a ready market, especially during the festival seasons.
Walking past trees of kafal (wild berry), bhimal (fodder) and low hanging kiwi fruit creepers, one arrives at a tin-roofed open shed.
This is the vermi-pit that provides Gunwant with all the organic manure she needs for her crops and has also become a source of substantial revenue.
Remarks Vijay Adhikari, Project Manager at CHEA, "Sudha-ji is one farmer who has taken full advantage of the government schemes. When we told her about vermi-composting she was eager to create a pit and became one of the first few farmers in the district to take up vermiculture."
Adds Gunwant, "In 2009-10, I had sold vermi-compost at Rs 200-250 per kilogram in addition to earthworms to the government's Aajeevika (National Rural Livelihood Mission) scheme. Even now I get buyers who pick up one to two quintals of compost at the rate of Rs 6,000."
It was her willingness to experiment with alternate sources of income generation that led her to undertake animal husbandry and apiculture (bee keeping) as well.
Says Adhikari, "While most people have now switched to keeping buffalos and cows to make ends meets by selling milk – it is sold at Rs 18 per litre to private dairies - for Sudha-ji dairying simply adds to the revenue, which she ploughs back into the land."
From dawn to dusk Sudha Gunwant, who was conferred the state's Green Ambassador Award in 2012 for her significant contribution towards biodiversity conservation, is a busy woman.
Says she, "The life of hill women is extremely difficult and in families where the men don't have permanent jobs they shoulder all burden as wives, mothers and even farmers. A farmer's life is intrinsically connected to nature – too little or too much sun, rain or snowfall is always bad for the land."
According to this successful woman, the time has come for farmers to take all the help they can get and adapt to newer, better ways of making farming feasible. - Women's Feature Service

Trending Now: