A quite revolution in rural Karnataka is spearheaded by women

Pushpa Achanta
&nbsp | &nbsp Bangalore
27-September-2013
Vol 4&nbsp|&nbspIssue 39
The population of Anekal block, which falls in the district of Bangalore Urban – some 40 kilometres to the southeast of Karnataka's capital, Bengaluru - is largely dalit, although it has a Muslim and adivasi (tribal) presence as well.
Of its three lakh people, around 35,000 live in the eight wards of the Attibele Gram Panchayat, which is the site of a quiet revolution.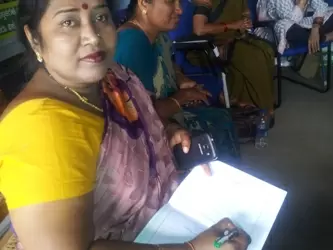 Women like V Sulochana, the current president of the Attibele Gram Panchayat, have emerged as grassroots leaders in Karnataka (Photos: Pushpa AchantaWFS)
Forty four-year-old Kanthalakshmi N, knows this gram panchayat (village council) very well. After all, she was its former president. Says Kanthalakshmi, "Over the last 10 years, we - women like Shahina, the two Prabhavatis, Suvarna and myself - have been active members of Panchayati Raj Institutions here, holding posts like president/chairperson and vice president at the village and block levels."
The women have been able to make considerable difference to the lives of the local community. For one, they have been able to reach out to people in numerous ways, especially women from marginalised communities who were otherwise outside the loop.
They have been to do this in spite of the fact that many men are not comfortable with the presence of women in the gram panchayat. Observes Kanthalakshmi with a wry smile, "Even if the men do not express their resentment towards us in the open, some of them are known to talk ill of us behind our backs!"
What is also striking is that there have been no instances of financial irregularities in the Attibele Gram Panchayat, which redounds to the credit of its women members and office bearers.
According to the Karnataka Panchayati Raj Act 1993, a new gram panchayat chairperson is selected every two or two-and-a-half years. The category from which the candidate is chosen – whether Scheduled Caste, Scheduled Tribe, Backward Class or Muslim among the various sub-divisions – is decided through a computerised draw of lots.
V. Sulochana, the current president of the Attibele Gram Panchayat, is optimistic that women will find it easier to lead in the days to come. She herself has been in active politics for some time now.
"I believe that women are beginning to gain acceptance in our gram panchayat in a gradual manner. But, as in any sphere, we must be pragmatic and persevere in order to mobilise the support – societal, political and financial – that we need in order to achieve our ends."
Sulochana's personal evolution is intriguing. At 47, this determined dalit woman has had to spend a lot of time and energy convincing her father, husband, father-in-law and a brother, to allow her to pursue her academic interests.
That effort culminated in Sulochana getting a Ph.D. in Women's Studies from Bangalore University a few years ago. However, she could not take up a teaching job because of domestic commitments but, undeterred, she went ahead and set up a pen manufacturing unit a couple of years ago. Through this unit, she has been able to provide employment to around 50 women from economically challenged backgrounds.
Yet another former president of the Attibele Gram Panchayat is Asgari, 39, who runs a small tailoring business. She talks of her own evolution as a community leader, "I was a novice in politics when I was approached by one of the local leaders of a national political party to contest for a seat in the gram panchayat in 2005.
"After spending some time as a member, I was elected as the adhyaksha, or president. Although I was hesitant at first, I learnt a lot about managing people and problems in the public realm and at home."
But do these women receive any training? This seems to be the weak spot of the model. Apart from a few three-day audio-visual awareness sessions conducted by the government on governance structures and the roles and responsibilities of panchayat members and leaders, there's not much by way of training
Mamtha, a committed and vocal activist with Vimochana, a well-known women's rights forum in Bengaluru, is full of praise for these women for having taken on violence issues.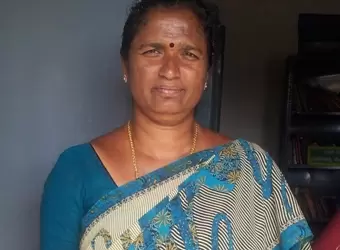 Suvarna, 47, is an active member of the Attibele Gram Panchayat in Anekal block
"They have been able to intervene and even successfully counsel women who have been assaulted." She recalls a case when one of the gram panchayat members was placed under 'house arrest' for aiding a woman in distress.
Fortunately for her, her colleagues in the gram sabha raised their voices against this and the matter was quickly resolved. Incidentally, Mamtha, who is from this area, started to work on violence issues with women members of the gram panchayat a couple of years back and now envisages a greater and more lasting role for them to check violence both within and outside their communities.
Change is perceptible at every level with women in charge – and this trend is going to get accentuated as time passes.
At present, only 33 per cent of seats have been reserved for women in Panchayati Raj Institutions in Karnataka. However, from the next elections – scheduled for 2015 – the new rule reserving 50 per cent seats for women would come into force, bringing even more women into grassroots decision-making in the state. - Women's Feature Service

Trending Now: