Woman warriors who fight in the border with democracy as weapon

Ashutosh Sharma
&nbsp | &nbsp Jammu
13-September-2013
Vol 4&nbsp|&nbspIssue 37
Boonikhet is a nondescript panchayat, cradled in the lofty Pir Panjal mountains in Surankote block of Poonch district in Jammu & Kashmir (J&K), but its ward panch, Zaitoon Begum, in her mid-fifties, is anything but ordinary.
This leader is raring to make a difference. Says Zaitoon, "Militancy prevented developmental activity for years together. Panchayats were non-existent and government functionaries, fearing for their life, refused to come here and attend to the problems faced by us in the villages."
Ward panch, Zaitoon Begum, in her mid-fifties, is raring to make a difference to her area. (Photos: Ashutosh SharmaWFS)
Panchayat elections were held in J&K after a gap of more than three decades in 2011 on the promise that it would strengthen grassroots democracy and create a strong cadre of local women leaders.
According to official estimates, the state lost about Rs 1,200 crore of Central assistance during the 12th Finance Commission period because of the non-existence of panchayats and this loss was felt most in under developed rural pockets like Boonikhet.
Surankote – which forms an arc along with the twin border blocks of Mendhar and Haveli – has remained a hot bed of militancy for several years.
Even in defence circles it is labelled a "liberated zone". Situated on the historic Mughal road, this snowbound region is now silently witnessing economic development, thanks to a junior panchayat woman official, a panch.
Unlike many women panchayat leaders in the state, who usually remain indoors while their husbands run the show, Zaitoon actively participates in panchayat meetings, and wants to reach out to the poorest of the poor.
"Women's dignity and safety remain my top concerns," she says firmly, adding, "After I was unanimously announced the panch of my ward since the post was reserved for a woman, I attended a workshop by the district panchayat office on Nirmal Bharat Abhiyaan (Total Sanitation Campaign), which appealed to me immensely."
Motivated thus, she set about on a village cleanliness mission. "Providing one toilet to each household in my ward became by top priority," she says. According to her, open defecation has been totally eradicated and more than two-thirds of the 64 households in her ward have installed toilets.
With her focus on women, Zaitoon has been able to reach the benefits of the Indira Awas Yojana, which provides housing for the rural poor, to two widows in her ward. Poverty is a huge challenge in Surankote and this ward panch has submitted a list of residents living below the poverty line to the concerned department.
Undeterred by militant threats and attacks on her counterparts across the Peer Panjal, she says, "Women were at the forefront in this area when Village Defence Committees (VDCs) were constituted to fight militancy. Now that militancy has declined, woman should fight the other enemy – poverty and underdevelopment. The years of turmoil only pushed us into backwardness."
Unlike the central legislation the higher post of sarpanch is not reserved for women and marginalised communities in J&K. The state has only 28 women sarpanches out of total 4,113 such posts in 22 districts.
One of them is Vimla Devi, an elected woman sarpanch in Samba district. "Why didn't you join the night patrol party last night? Where have you been? Your phone was switched off. Don't do it next time," she says, ticking off a village youth, as she makes a round of her panchayat constituency of Gagwaal, which is near the international border. This area was in the news in 2012 after the Border Security Force discovered an underground tunnel connecting it with Pakistani territory.
"Alarmed by a spurt in theft cases, we have formed night patrol teams to keep a watch. Youths of the village accompany VDC members, who have been issued weapons by the government to fight militants and to tackle unidentified burglars," explains Vimla.
She has put in some hard work to change the face of the panchayat, "Despite a lack of funds, I got at least five ponds restored and de-silted. A road has been constructed over the last two years as well as some pathways."
In one of the paradoxes of panchayati raj, in J&K, the ruling party – the National Conference – has been opposing the extension of the 73rd Amendment of the Indian Constitution to the state.
The party argues that this would dilute the state's special status. But without the adoption of the Central legislation by the state, political observers feel panchayats here will only remain as ornamental bodies. Some commentators even argue that should the state frame an even better law than the Central legislation, it would make a remarkable difference to the lives of ordinary people.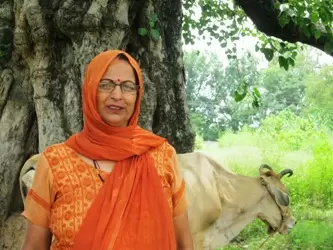 Vimla Devi - one of the rare woman sarpanches in Jammu and Kashmir - works hard to change the face of Gagwaal, a panchayat close to the international border.
As it exists, the state law is disappointing. In 2009, the Union Cabinet had approved 50 per cent reservation for women in PRIs. In J&K, however, they get only 30 per cent reservation and that too only for the post of panch, without any real powers. Out of 28,248 elected panchs, 9,424 are women, which is symbolic representation at best.
Points out Rekha Choudhary, a professor of political science in Jammu University, "Women are under-represented not only in PRIs but also in the state assembly - there are only three elected women MLAs in an 87-member House.
"Incidentally, the three elected MLAs – Shamima Firdous from Habbakadal, Mehbooba Mufti from Wachi and Sakina Itto from Noorabad – are all from the Valley. The Jammu region has no elected women representative."
Rabia Baji, a Kashmir-based woman activist and chairperson of the state chapter of the All India Centre for Urban and Rural Development, blames male domination in the public sphere for the inadequate representation of women in J&K's political institutions.
Says she, "All women activists need to come together on a single platform and lobby for representation of women in political institutions. And, as a first step, we must demand 50 per cent reservation for women at all levels of local governance."
Women like Zaitoon Begum and Vimla Devi, who are doing stellar work at the local level, need this message to reach those inhabiting the corridors of power.
(The writer, who is based in J&K, is a media fellow with National Foundation for India.) - Women's Feature Service


Trending Now: