"Physical strength is not enough, mental strength is very important"

Ninglun Hangal
&nbsp | &nbsp Delhi
23-August-2013
Vol 4&nbsp|&nbspIssue 34
This May, three women climbers – Anshu Jamsenpa, Bidyapati Ningthoujam and Wansuk Myrthong – scaled Mount Everest, which pierces the skies at 8,848 metres.
Jamsenpa, 34, was the second women from Arunachal Pradesh to have achieved this feat – a day after Tine Mena, also from her state, ascended it in 2011. For her, this was the third experience of standing atop the world's highest peak.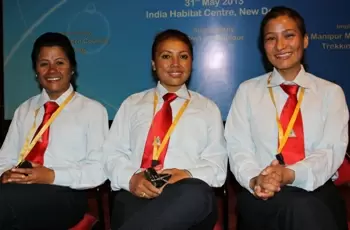 The Northeast trio that scaled Mount Everest - Anshu Jamsenpa, Bidyapati Ningthoujam and Wansuk Myrthong (Photos Courtesy: MMTA)
Meanwhile, Ningthoujam and Myrthong, representing Manipur and Meghalaya, respectively, were the first women from their states to have achieved this distinction.
After spending three months at an end in the Everest region, they made their way back to their respective home states, all smiles. We met them at that point.
"My colleagues from Meghalaya Police are waiting for me. They will pick me up from the airport," giggled Myrthong, who hails from Lower Lumparing in Meghalaya. She revealed that she would now be given a promotion although she was unclear about the new rank.
As they stood at that famous point, looking at the world below and waving the national flag, a surge of emotions passed through them.
Myrthong and Ningthoujam were so awed by that experience that they were unable to explain their feelings even weeks after that moment.
Jamsenpa, a mother of two daughters, revealed that she felt like jumping like a child. She said, "I missed my daughters. I thought of all the struggles of my life, how nobody believed me when I said I wanted to take up an adventure sport."
Summiting the peak wasn't easy. At the summit camp, temperatures were around minus 40 degrees Celsius. When the team went for its final push on the night of May 16, winds up to 88 kilometres an hour were blowing.
Recalled Ningthoujam, enacting how she took position even as she kept alert to the direction of the wind, "It was a do or die. One mistake and you are finished."
The bad weather seemed to have had a disturbing effect on Myrthong's Sherpa guide. He was in no mood to allow the woman, who bore signs of frostbite on her face, to carry on.
According to Jamsenpa, only a strong willpower can help summiteers survive at those heights. She asserted, "Physical strength is not enough, mental strength is very important."
The first expedition of its kind from the Northeast was flagged off on February 25, 2013, from the historic Kangla Fort in Imphal, the capital of Manipur, by Governor Gurbachan Jagat.
Later, on March 20, President Pranab Mukherjee flagged off the expedition in New Delhi. The team left for Kathmandu, Nepal, on March 22 and reached base camp on April 5. The final ascent was made on May 15.
Ningthoujam, 28, the Joint Secretary of Manipur Mountaineering & Trekking Association (MMTA) works as an instructor of rock climbing. When not instructing young rock climbers at the MMTA, Ningthoujam tailors clothes at home.
Myrthong had joined the state police service in 2006. "I liked the police service since my father is a policeman," she stated proudly.
The 31-year-old, who is a constable with the 1st Meghalaya Police Battalion, had never taken adventure sports seriously but signed up for two reasons – to represent her department and get away from the monotony of everyday duties.
However, there was a battle waiting for her at home. "Even though my father encouraged me, my mom was very scared. She only wanted me to get married," reminisced the young woman.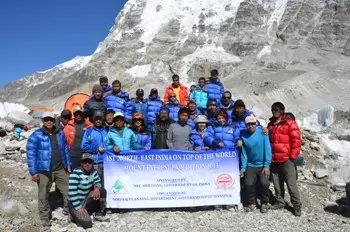 The team at the Everest base camp
It was only after she notched several successes, including scaling Mount Kohlalai and Mount Papsura, that her mother relented and began to understand better her daughter's passion.
Jamshenpa, on the other hand, took up mountaineering professionally only after her marriage. Her husband shared her passion for mountain sports and he constantly encouraged her to take up new challenges.
The couple runs the Arunachal Mountaineering & Adventure Sports Association (AMASA) in Bomdilla, organising trekking, rock climbing, mountaineering and other allied events.
"I am from a remote place, Dirang, and want to give something back to my community," said Jamshenpa.
Her Association sets out to create a platform for youth. "I focus particularly on rural youth and want them to explore our natural resources. I take this as my responsibility. There are, after all, a thousand kilometres of virgin Himalayas that are yet to be explored in Arunachal Pradesh," she added.
Very few girls participate in the events that AMASA organises, and one of Anshu's objectives is to encourage more women to enter the field. Clearly, here is a woman who wants to lead by example. - Women's Feature Service

Trending Now: