Make your train journeys enjoyable by ordering food over Travelkhana.com

Akash Bisht
&nbsp | &nbsp New Delhi
28-June-2013
Vol 4&nbsp|&nbspIssue 26
It is common to hear complaints from irate passengers about the quality of food on Indian Railways.

According to the Railway Ministry, out of the 7,433 complaints it received from passengers in a period of about 3 years up to last January, 2613 complaints related to the quality of food served on the trains.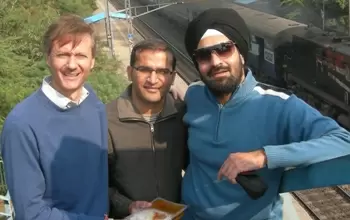 Pushpinder Singh's (extreme right) firm has tied up with 230 restaurants across the country
In this scenario, passengers either carry their own food or risk their health by consuming the sub-standard food that is served at high cost in the trains.

Tasty, healthy food remained a dream to the Indian train traveler. Not anymore, it looks like.

Pushpinder Singh, one of those discontented travelers, who was deeply distressed at the cold and revolting dishes he was served every time he took a long train ride, worked on a solution that could benefit millions of passengers suffering a similar fate.

A mechanical and software engineer, Pushpinder launched travelkhana.com, a web portal in October 2012, which enables passengers to order their favorite dish from the available menu by calling up a helpline or registering online.

Passengers are offered a variety of choices in different price ranges. They just need to provide their PNR (passenger name record) number while placing the order.

Food is served to the passenger at a prefixed station. Payment can be made online as well as on delivery.

Since its inception the firm has delivered food to more than 59082 passengers and has tied up with 230 restaurants across the country. Food is delivered at more than 85 stations.
Pushpinder is elated. "Since we started Travelkhana, our business has expanded more than 15 times and it says a lot about the need for good food on trains. We give all kinds of options to customers.

"Be it Bhopal's Celebration Restaurant or the much celebrated Biryani of Paradise Restaurant in Hyderabad, we provide a wide array of food to our customers," he says.

The other unique idea was to rope in travel agents and provide them with papers for printing tickets. At the back of the paper, the company puts its advertisement for customers to reach out to Travelkhana.

"We are basically a technology company with solid order management and all of it is automated. Our efficiency to deal with such a demanding segment makes us successful," says Pushpinder.

Born in New Delhi, Pushpinder did most of his schooling from Delhi. He went on to do his B.Tech in mechanical engineering from Indian Institute of Technology (IIT) -Benaras Hindu University and M.Tech in computer science from BITS Pilani.

With close to 15 years of experience in software industry, he has also been a Chief Technical Officer in two of his other profitable ventures.

An avid traveler, Pushpinder has travelled across the globe and spent considerable time in the US. It was on these trips he realized the role of good food to make these journeys memorable.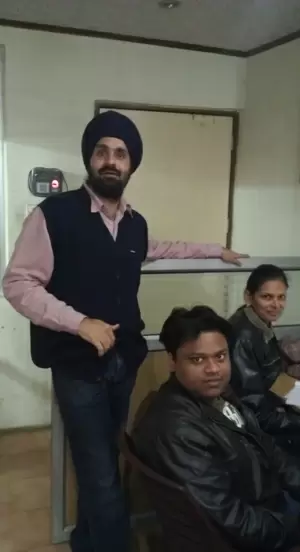 Pushpinder has a business plan to target bus passengers as well
Travelkhana was an outcome of this realization.

The progress of his business has been more than satisfactory for Pushpinder and he now wishes to expand his services to bus passengers.

"I really want to reach out to this segment. This segment has huge potential and if we can work out a solution then it would benefit lakhs of people who spend long hours travelling in buses," he says.

Pushpinder says it is a myth that people don't want to spend on food. "If you give them quality they would certainly embrace it. Moreover, most of our orders come from the sleeper class (passengers). There is no class divide between people who travel in AC and sleeper class."

He goes on to add that the railway charges Rs 80 for a meal that should cost Rs 35 according to the Railway Board Regulated Price.

"Our price range starts from Rs 100, so there isn't much difference as far as price is concerned. But our quality stands out than what is served in the trains."

To sum it up, Pushpinder says that their motto is to serve quality meals and getting the food at the right time to the right people.

Trending Now: