A village in a once Maoist hotbed gives a thumbs up to woman power for two decades

Saadia Azim
&nbsp | &nbsp Paschim Medinipur
07-June-2013
Vol 4&nbsp|&nbspIssue 23
Kultikiri is a special village. Located in Sankhrail block of West Bengal's Paschim Medinipur district, a region once infamous for being the hotbed of Maoist activity, the people of this small hamlet have set a unique precedent – for the last two decades now, they have only voted women into the local panchayat.
Contrary to what many may assume, Kultikiri has successively elected all women panchayats not because of the reservations for women.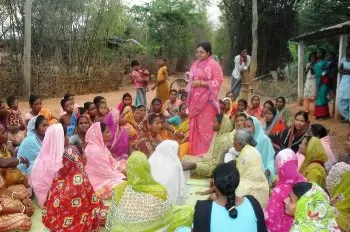 Kultikiri's village pradhan, Anamika Sahoo addresses the local women (Photos: Saadia AzimWFS)
The fact is that its women leaders have beaten their male counterparts fair and square on the basis of their superior leadership qualities and a spectacular track record of development.
These days, Anamika Sahoo, a 38-year-old mother-of-two, is at the helm of the village panchayat. She is a first-time panchayat member, elected to be the pradhan (head) of a seven-member gram panchayat.
Talking about the reasons behind Kultikiri's legacy of grassroots women's leadership, she proudly says, "Although this has been a woman-ruled panchayat for the last 20 years, it's not like the men have not stood for elections. They have simply lost every time. What has worked in favour of women for four consecutive terms is our good work."
According to local activist Partha Khanra, West Bengal has successfully held regular panchayat elections for the last 35 years and it is a great model for thriving grassroots democracy.
"In fact, it is the only state in India where even panchayat elections are a very political affair.
"The Left Front, which ran the state government for over 35 years, initially promoted Kultikiri as an all-women panchayat with the idea of giving a fillip to women's participation in grassroots politics.
"Today, however, it is a well-established, successful panchayati raj unit running on its own merit," he says.
Ever since the women gained control of the Kultikiri panchayat, the 12,000 people who inhabit this village have only prospered.
The literacy levels are generally high – around 70 per cent women and 60 per cent men are educated; and nearly everyone is gainfully employed, thanks to the proper implementation of the central government's flagship scheme, the Mahatma Gandhi National Rural Employment Guarantee Act (MGNREGA).
In the last fiscal year, the panchayat actively disbursed more than Rs 53 lakh under this scheme. Says Sahoo, "Our major thrust has been to identify work and then facilitate the proper disbursement of funds under the MGNREGA."
Significantly, every woman in Kultikiri enjoys economic independence and is in a position to contribute to the family income. They are either running small village-level enterprises or have joined different Self Help Groups. Pradhan Sahoo, a graduate, also supplements her earnings by taking tuitions.
What Kajal Rawat, 27, the Up-Pradhan (deputy village head), is most satisfied about is the high rate of literacy in her village. "Ours is not just any all-woman panchayat. We are young, energetic women, who are full of new ideas that can enable our community to grow and flourish.
"The fact that all of us in the panchayat are well educated has made a big difference. I can confidently say that we do not have a single drop-out from our village," remarks the youthful leader, who after graduating from a local college now divides her time between her panchayat duties, her job as a school teacher and taking extra classes for the girls in the village.
Besides Sahoo and Rawat, there's Pramila Singha, a panchayat member who is also an ASHA (Accredited Social Health Activist) worker, and Sushama Kisku, 26, another part-time teacher.
All the women take their official work very seriously. Says Kisku, "I go to the panchayat office every afternoon after school. In the evening, I meet up with the Self Help Groups that the panchayat has helped set up.
"These all-women groups undertake a variety of activities, including integrated farming, bamboo basket-making and puffed rice and bori (sun dried lentil nuggets) making. The stuff they produce or make is sold in the local village market. On our part we also conduct regular weekly village haats (market fairs) to promote fair business practices amongst farmers and cattle breeders."
Ramani Singha, 26, another enthusiastic panch, is really glad she got the opportunity to work with such a committed group of women.
She is currently pursuing her Masters degree in Bengali literature and feels that it is her education that has motivated her to do something for her people. "We feel so empowered because we can understand the community's needs," she notes.
But even as these women understand what works for their people and have also been able to deliver on their expectations, the political environment is becoming increasingly tougher for them.
Panchayat elections in West Bengal were scheduled to be held in early May. But because of a case in the Calcutta High Court between the State Election Commission and the state government over the deployment of para-military forces during panchayat elections the polls had been deferred.
Now fresh dates have been announced and elections are to be held from June 28 onwards in three phases.
Of course, in this election season, Kultikiri's panch's have been at the receiving end of political mudslinging.
Says Sahoo, "The village is now politically very sensitive. After the Left Front was voted out of power there have been several instances of clashes because of political enmity.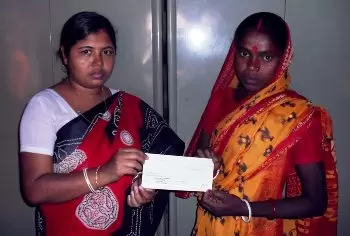 The all woman panchayat of Kultikiri ensures that people get their dues under various government schemes. Here Anamika Sahoo, the pradhan, (left) hands over a cheque to a beneficiary, Uma Singha
"My husband is on the run for the last one year after he was threatened with dire consequences by rival outfits. But I have not lost hope. We have the people's support and I will fight for my rights."
Kisku has her own take on the situation, "All members of Kultikiri gram panchayat had been Left nominees and the seat was with the Left parties since 1992. But with the change of power at the helm of the state, the political approach is also changing."
Another reason for the rise in threats is the fact that whereas earlier "even rival political parties had nominated women to fight elections in this village now the people want to grab power and not leave it solely for women".
But Rawat and Singha are not too worried about their political future as they are both contesting elections.
Explains the duo, "There has been pressure to grab power from elected members like us. Our panchayat members were jeered at and asked to resign by our rivals.
Even now, although the polls have been deferred, we are being constantly threatened and asked not to file our nominations when the time comes. But we will fight the next elections just as we have done in the past."
Sahoo, the leader of this inspiring bunch, has the final word: "We do not want this seat to be reserved for women. All these years, our village has been a model for women's empowerment.
"These days we even have a woman chief minister, so all we hope is that whenever panchayat elections are held in West Bengal they will be free and fair. If they are indeed free and fair, women will certainly come to power again." - Women's Feature Service

Trending Now: