Clock designed with love is all set to create a world record
Brij Khandelwal
&nbsp | &nbsp Shikohabad (Uttar Pradesh)
31-May-2013
Vol 4&nbsp|&nbspIssue 22
Concerned over his mother's failing eyesight a state government employee here designed a wall clock with a diameter of 54 inches. Now he's gone a step further and designed a six-foot diameter clock that is three inches taller than he is.
"I was pained to see my ageing mother straining hard to see the time on the clock. The failing eyesight made it increasingly difficult for her to read the correct time.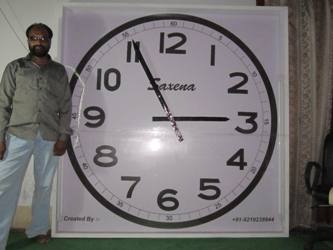 Saxena's clock measures 72 inches and is expected to enter the Guinness Book of World Records (Photo: IANS)
It was then that I worked on my first wall clock which had a diameter of 54 inches. The world record till then was 49 inches. It worked on one battery cell," Sunil Saxena, a state labour department employee in this small town of Firozabad district, said in an interview.
The clock became his obsession after his neighbours and just about everyone in Shikohabad heaped praise on him. He than decided to work on the next stage of evolution.
"Just last month I finished the biggest wall clock, measuring 72 inches. I am 69 inches tall," said Saxena, a classical music singer and social activist who helps people get married by providing financial support.
"The hands - minute and hour - took a lot of time to be balancing and had to be made of aluminium. My wallclock has been registered with Guinness World Records. Any day now it will be declared a world record. It is already in Limca book of records," Saxena said.
The dial is made of flex - a plastic covered rubber sheet – is powered by a Orpat quartz, has a wooden frame and runs on two battery cells.
"My mother is delighted and mighty pleased with my effort. She loves my creativity," Saxena said.
What next?
"I have a bigger mission and I am working on it. I need support and help. The mission is to develop a solar inverter that will allow endless use of two fans and two lights.

I don't want to beg, but if people see my wall clock and are impressed by it, they would definitely support me in my bigger project that will be a boon to the masses," Saxena said. - IANS

Trending Now: