The girl from Udaipur is all set to become the youngest to swim in all oceans

Rakesh Kumar
&nbsp | &nbsp Udaipur
21-September-2012
Vol 3&nbsp|&nbspIssue 38
Bhakti Sharma, 22, is quite the water baby. She is the youngest in the world to have crossed seven seas, including four oceans; is only the third person in the world to have swum across the Arctic Ocean, and is now eyeing the Antarctic Ocean to become the youngest to swim in all five oceans.
These days, the Udaipur girl is also basking in the glory of being the recipient of the Tenzing Norgay National Adventure Award 2012 for water adventure, recently presented by the President of India.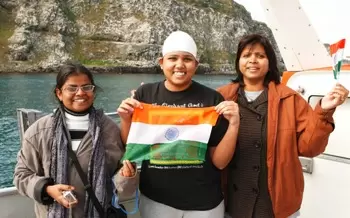 Jodhpur's Priyanka, Bhakti, and her mother, Leena, after swimming across the English Channel. (Photos: Rakesh Kumar)
Even as a child, Sharma had made the local pool her playground. In fact, she is an eight-time Rajasthan state champion in competitive swimming. Then when she turned 14, her mother, Leena, suggested she try open water swimming.
Recalls the youngster, who has great story-telling skills, "The thrill of trying something new excited me and I started training for a 16-kilometre swim in the Arabian Sea – from Uran Port to the Gateway of India in Mumbai. After I successfully completed that stretch, I swam 36 kilometres from Dharamtal Port to the Gateway of India.
"I thought I was done with the open water swimming when my mother (who incidentally, has studied with Anita Sood, the first Indian woman to cross the English Channel) asked me if I would like to take up the challenge of crossing the English Channel. Even she didn't know what it entailed, but when she came up with the idea I thought, 'why not'. But I was only 14 then while the minimum age for attempting the swim is 16 so I had to wait."
The interim years gave her adequate time to prepare. During the cold Udaipur winters she would spend days on end swimming in the pool to get acclimatised to the icy waters of the English Channel.
"At a time when most people used to be tucked away in blankets and quilts on cold winter nights, I would be swimming. People called my mother and me crazy. I did it to get my body used to cold water.
"But these practice sessions were not enough. A month before my scheduled swim in the Channel, we went to Dover Port, England. I practiced in sea water for four hours a day that month," says the gritty swimmer.
Sharma crossed the English Channel in July 2006 but not without setbacks. When she set off from Shakespeare Beach in Dover at 6.30 am British time, the water temperature was 14 degrees Celsius. It dropped drastically during the last leg of the swim due to cold undercurrents.
She also had to battle strong, six to seven feet-high waves because of the prevailing high tide conditions. Despite the strain, the resolute teenager carried on. "I didn't want to give up. I reached Kli beach in France, 11 hours and 55 minutes later. I feel I lost a good three hours on account of the turbulence," she says, looking back at that adventure.
She was in Class 12 when she completed what she calls "the Mt Everest of long distance swimming".
Back from Europe, like any youngster she thought she would now relax and party, but her mother had other plans for her. Leena thought her daughter could do India proud at the Lake Zurich Marathon Swim – from Rapperswil to Zurich, 26.4 kilometres – a major international event.
One year after she had conquered the Channel, Sharma embarked upon one of the toughest swims of her life.
"Although I had had enough practice in Udaipur's Pichhola and Fatehsagar lakes, competing with participants from 52 countries, all in their late thirties, was a different thing. Moreover, as lake water is very still the swim gets very tiring," she states. Beating her competition, she stood first, completing the swim in 10 hours and 42 minutes.
Sharma achieved many milestones in the years that followed. She crossed the Gulf of Mexico – the only Indian to do so – in 2007, then it was the Pacific Ocean, the Atlantic Ocean and the Mediterranean Sea.
All through these adventures, her mother was her constant companion and motivator. Leena, who had been a sportsperson throughout her school and college years in Mumbai, had wanted to become a swimmer but she was content seeing her daughter swim her way to the top.
Sharma was aware of her mother's forgotten dream and was always thinking about doing something for her.
"My mother had always egged me on, sitting on the boat with a video camera in hand as I swam. Then, when a girl, Priyanka, from Jodhpur approached her for coaching to cross the English Channel, I suggested that the three of us form a relay team. The girl wasn't strong enough for a solo swim," says the attentive daughter.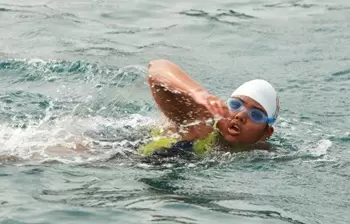 Bhakti in action
The trio's maiden attempt at crossing the Channel in February 2008 was not successful. "Nine hours into the swim, we realised we couldn't do it. In a relay, each member takes turns every hour while the others follow in a boat. However, all of us threw up after each came back from our stints in the sea. So we decided to pack up for the day and returned to Dover," she recalls.
Sharma was disappointed with that outing but she decided not to give up on her mom's wish to triumph over the sea.
"I thought we deserved another chance and luckily we managed to convince the organisers too. Nine days later, we became the only mother-daughter duo in the world to have crossed the English Channel," she says with pride. They also made an Asian record – of being the only three-member relay team to complete the feat.
Sharma's tryst with the tidal waters continued even after this feat. In 2010, she went to Iceland to cross the Arctic Ocean. It was dangerous because the water temperature was around six degrees Celsius and there were killer whales to contend with.
But on August 9 that year, she became the third person in the world to swim in the Arctic.

Of course, all of Sharma's achievements have come after a lot of sacrifice and hard work. Her mother took voluntary retirement from her bank job to chase Sharma's dreams, even as her father, Chandra Shekhar Sanadhya, a businessman, chipped in.
Loans were taken to felicitate training and travel. "The English Channel swim cost us around Rs 12 lakh," says Leena, adding, "Now we need Rs 25-30 lakh for the Antarctica expedition. Long distance swimming was included in the 2008 Olympics but awareness about the sport is quite dismal in India, and it's almost impossible to find sponsors. People say it's an adventure sport and you are doing it for yourself."
Yet, despite the challenges, Sharma feels fortunate to have got the chance to pursue her passion. Smiling, she says, "I am a celebrity in Udaipur. When I tell people about what I have done, they look amazed at the fact that these things are actually done by real people." - Women's Feature Service


Trending Now: