'We were the first to show to the world and to the police how Veerappan actually looked'

31-August-2012
Vol 3&nbsp|&nbspIssue 35
R R Gopal is Editor of Tamil bi-weekly 'Nakkheeran.' He shot to national fame in the 1990s when he took interviews with the then elusive sandalwood smuggler Veerappan, who was hiding in the forests on the Tamil Nadu – Karnataka border, hoodwinking the police of the two states. Gopal has weathered many storms in his career and is known as a daredevil journalist. He tells of the challenges he faced in his life since the launch of his magazine in 1988.

"I had no grand vision of reforming the world either before or after I entered the field of journalism. I was only armed with the skill of artwork which gained me entry into the field.

It was during my work as layout artist at `Tharasu,' a leading Tamil magazine in the 1980s, that I learned everything about running a magazine from procuring paper to printing to distribution.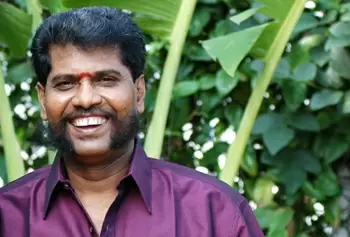 Nakkheeran's circulation touched 1.3 lakh copies in the first year
But when some former colleagues mooted the idea of starting a magazine, I was in no mood to listen to them. I knew what it would take to start and run a
successful magazine, and the huge investment that would be required.

As it were, two giants, 'Junior Vikatan' weekly and 'Tharasu' weekly, were dominating the field, and the latter had an impressive circulation of 3.5 lakh copies.
I was in a dilemma till we acquired the title of the magazine 'Nakkheeran' from its previous owner, Mr. K Subbu, who gave it free of charge. I expected he would demand a hefty price of Rs.50000 for the title, which I thought would put off the enthusiasm of my friends who were persuading me to start a magazine.
So when I approached, under pressure from my friends, each of my different contacts in the business of paper supply to printing to binding to typeset, they were willing to give me four to eight week credit based on my work credentials at Tharasu which took off my initial investment burden by Rs 10 lakh.
We initially functioned from a 10 ft by 10 ft room, with not even a phone. We had an arrangement with a nearby tea shop, and would pay a certain amount for every call we received. We had a boy to collect the messages from the shop and convey it to us every one hour. My initial investment was just Rs 4,000.
We built on a brand of dare devil journalism. In fact the struggle to launch the first copy itself taught us huge lessons in dare devilry. Even as I had arranged for everything on credit, just a day ahead of sending the magazine for print, the printer informed me that he had received a bulk order from my ex-employer coinciding with my print schedule.

Burying my ego I ran to my ex-boss's house at night to plead with him to allow for printing of the first edition. Not only did he refuse to meet me but he also told me curtly when I reached him on the phone that I should expect such problems and that I would have to learn to survive them.

I had announced the pooja for launch of the first issue and had even travelled to Sivakasi to print the launch posters. With great difficulty we managed to get 500 copies out in time for the pooja (as against the original print order of 18,000 copies.) The year was 1988.
Once the magazine was launched, there was no turning back and we overcame all obstacles and reached a circulation of 1.3 lakh copies in the first year.
As for content, we believed solely in spot investigation. We aimed at exposing the politician-police nexus that we knew existed so obviously but which got very little attention in the media. Our better known stories of the initial years were that of the infamous pimp 'auto' Shankar and sandalwood smuggler Veerappan. We had started tracking both since 1989, a year after our launch.
Veerappan aroused my curiosity as a trained lay-out artist. We received a black and white photograph of Veerappan from the police when he had killed a district forest officer, Srinivasan, in 1989.
After that we received the same photograph for every offence he was accused of committing. As layout artists we constantly look for new pictures. But the police had only one photo of Veerappan – which showed him in a Safari suit. I began to wonder if this man was real, and we started to track him.
We were the first to show to the world and to the police how Veerappan actually looked like, who he was, and what he was up to.
Another case that gave us a big boost was the 'Auto' Shankar case. We had to convince Shankar – who was facing trial on various charges - to give his life story in his own words.

His series in Nakkheeran created a big sensation and revealed his connection with powerful people including top police officials. (Auto Shankar was later convicted on various charges and sentenced to death.)
Such stories earned us many enemies. But we have learned to take it all in our stride.
Covering politics in Tamil Nadu is difficult, especially when Jayalalithaa is in power. During all her three tenures I have suffered most. On 7 January, 2012 our office was attacked by AIADMK men taking exception to something that we wrote. The police did not stop the attack but only aided the attackers. Electricity and water supply to the office was cut off. 245 FIRs were filed against us in several stations across the state on a single day.

Facing these cases is not easy. We have spent about Rs 4 crore between 2001 - 2010 on our legal battles. In running this kind of journal you need to have a deep pocket. Fortunately we now have it.
I have often been advised to play it safe just as everyone else does and go with the flow but I refuse.

My life began as the son of a peon of the highways department. What heartened me in all these years of running Nakkheeran was when I received the state government's 'Periyar Award.'

Not just the name of Periyar in the award gladdened me, I was happy about the experience my father had on that day.

Used to carrying files for his bosses and opening the car doors of his higher ups, my father that day had as per protocol a car at his disposal to travel to and from the ceremony with someone opening the door for him for a change.

My father couldn't forget the experience and had proudly told others in the family, "This is enough for me."

I am glad about the distance I have travelled and it is the experience of receiving support from many quarters that makes me stand up for Nakkheeran.

Before Nakkheeran I had no ambitions. Now we are fighting to live up to its name."
As told to Radhika Giri


Trending Now: