Tamil Nadu social worker wins Magsaysay award
28-July-2012
Vol 3&nbsp|&nbspIssue 30
Our belief is in self respect, empowering women, removal of poverty through self help groups and not in charity, said Kulandei Francis, a 2012 winner of Ramon Magsaysay Award.
Francis is the founder and president of Integrated Village Development Project (IVDP), a Tamil Nadu based self-help group (SHG) which provides help to the poor, students and women among others.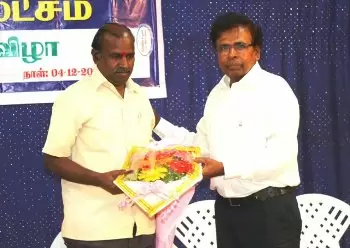 Francis (right) is credited with building 331 small check dams (Photos courtesy: IVDP)
"The Ramon Magsaysay Award has come as a pleasant surprise and it is good to note that the activities of our team are being accepted," Francis said over phone.
Francis is one of the six winners of the Ramon Magsaysay Award for 2012, announced Wednesday by the board of trustees of the Ramon Magsaysay Award Foundation (RMAF) in Manila.
"I do not want to expand IVDP into new areas. The plan is to grow in the three districts where we currently operate - Krishnagiri, Dharmapuri and Vellore. The current focus is on Vellore district," Francis said.
Born to a poor family in the Salem district of Tamil Nadu, Francis was the only one of his siblings to earn a degree.
Sixty-five years old Francis began IVDP in 1979 in Krishnagiri in Tamil Nadu, starting out with small projects like conducting night schools in the light of gas lamps and setting up a first-aid centre.
Later, with the help of development organisations, he undertook a micro-watershed programme that, over 22 years, built 331 mostly small check dams, benefitting cultivators and their families in 60 villages.
In 1989, IVDP began organising women's self-help group (SHG) and today there are over 8,200 groups with 153,990 members with a total savings of around $40 million, a cumulative loan portfolio of around $435 million and a reserve fund of around $8.9 million.
"The loan defaulters are almost nil as the repayment percentage is 99.9. The major issues faced by the population in the three districts are poor education and ignorance," Francis said.
The former priest said: "I decided to come out of priesthood as I felt I could serve the wider section of the poor in the society."
According to him, women are more responsible than men in general.
"We started SHG for men and that experiment failed. The need of the hour is to allow people's movement to grow and not subsidy for people," he said.
"We never expected the award. A team from RMAF had come and asked for details about our operations sometime back. In fact, they had done their research earlier and knew much more about our activities. Nevertheless, we are happy to get the award," said Sunitha Nandhini Esther, daughter of Francis and involved in IVDP operations.
She said IVDP is majorly into SHG, health and hygiene and education.
In the health and hygiene space, IVDP is into giving loans for building toilets in the rural households, distribution of sanitary napkins and water purifiers on cost-to-cost basis.
Till date IVDP has assisted construction of around 28,000 toilets in rural households at an outlay of Rs.28 crore.
In order to reduce the incidence of cancer of the uterus, IVDP started propagating the use of sanitary napkins among the SHG members.
Sourcing sanitary napkins from Bella Premier Happy Hygiene Care Pvt. Ltd. at a discounted rate, IVDP distributes these to women without adding any margins. IVDP sources around 864,000 sanitary napkins per month.
When IVDP started the programme five years ago, only five percent of its SHG women members were using sanitary napkins and now it is around 80 percent.
Similarly, IVDP sources and distributes water purifiers and solar lamps to its members.
On the education side, apart from running a school in the remote Kottaiyur village in Krishnagiri village, IVDP also gives scholarships and prizes to bright students, said Esther.
According to her, toppers in the school final exams are given laptops and cash awards apart from other assistance to schools in IVDP's operational area.
Esther said the Ramon Magsaysay Award will certainly have a positive impact on IVDP's operations and its growth. - IANS


Trending Now: