Tribal girls of Hutup are reaching their goals, playing football

Saadia Azim
&nbsp | &nbsp Ranchi
13-July-2012
Vol 3&nbsp|&nbspIssue 28
Teenage tribal girls in Jharkhand are the new icons of community leadership and development. Despite their poor physical growth and the hardships they face, these youngsters have donned spikes and taken to the football field in the hope of earning a better living.
At Yuwa, a community sports centre on the outskirts of Ranchi, Jharkhand's state capital, hundreds of local girls are being trained round-the-clock to become professional football players.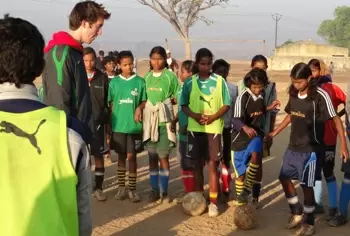 Three girls from Yuwa have made it to India's Under-13 national team. Another 18 girls are part of the Jharkhand state team. They have a national level champ in their ranks as well as some Under-16 stars (Photos: Ravi Sagar/ WFS)
Binita Toppo, 16, is one of them. The petite, five-foot teenager had started practicing her dribbles and kicks when she was just 13. Today, she's at the practice nets all day, perfecting her game as a goalkeeper.
And that's not all. The first in her family to have completed school, this trained coach from the Tata Football Academy and the Baichung Bhutia Football School is sharing her game-changing strategies with other girls, even as she prepares to go to a college in the city for her higher studies.
"Football was initially just another game for me. Now it is my passion. Even my family's income has doubled since I took to playing it. I had always thought that this was a game for men only. But now I know I shall always be able to earn a living from football," she remarks confidently.
Binita's mother, Sundo Devi, who works as a helper in a nearby school, is very proud of her daughter's achievements. She says, "According to the social norms in this region, my elder daughters were married off when they were very young.
"But Binita made it clear that she will not compromise on these issues in any way. She will study for as long as she wants to – we will not treat her any differently from her two younger brothers."
Binita is really lucky that "she has found a goal" in life, something not many of her sex in Jharkhand can claim to have done. In fact, girls have really been shortchanged in this predominantly tribal state, with their education, health and general empowerment completely neglected.
Sample this: Female literacy in the state is a mere 25 per cent, while the school drop-out rate for girls is an alarming 70 per cent. It comes as no surprise then to know that malnutrition afflicts more than half the girl children here.
But Binita and her football crazy friends, Seema and Usha, among others, are proving to be the torchbearers of change, even though it means a lot of hard work to change mindsets within their families and the larger community.
In fact, until a few years ago, in Binita's remote Hutup village, where the Yuwa centre is located, all that the local girls were expected to do was cook food, scrub earthen pots and take care of their younger siblings. Today, these very families are encouraging their daughters to follow in Binita's footsteps.
But how did a competitive sports facility manage to come up in the heart of rural Jharkhand? It's all thanks to an American traveller, who fell in love with Hutup and its children who, despite their marginalisation, are full of life and vivacity.
Around four years ago Franz Gastler, 31, a ski coach-cum-ice hockey player, came visiting Hutup at the invitation of a friend, who was keen that he help out in teaching English at the local government school.
But even as he was enjoying his stint in the classroom, he observed that most of his students were happiest when they were out in the field kicking around a dusty old football. That's when he came up with the idea of starting a sports centre that would train the local girls to take up the game professionally.
Elaborating on his reasons for setting up the coaching centre, Gastler says, "I knew that sports was needed to mobilise and empower the girls and stop them from dropping out of school."
Gastler got it right. Today, girls between six and 16 years attend school regularly here. And after class, there's always some exciting football match in progress at the nearby 'maidan', where the Yuwa-coached players clock in some invaluable practice time.
Over the last three years, Yuwa has managed to ensure that the kitchen has been firmly replaced by the glorious football field in the lives nearly 300 young women.
Curiously, coaches at Yuwa have never had any difficulty in motivating the girls. They may come from extremely impoverished families – most of their parents are either daily wage labourers or farmers – but the girls always squeeze out some money to pursue this new passion.
Says Hiralal, a coach at the Yuwa Centre, "The girls pay for their shoes and the ball on their own. That way there is a sense of ownership and they are driven to work hard and perform well."
Today, the once sleepy Hutup village has become well-known all over the state for its band of sporty daughters. Three girls from Yuwa's first team of 15 have made it to India's Under-13 national team. Another 18 girls are part of the Jharkhand state team. They have a national level champ in their ranks as well as some Under-16 stars.
Pushpa Toppo is a resident celebrity. Now regarded one among the country's leading football players, she has the distinction of having scored six goals in just five games at the AFC Cup held in Sri Lanka in 2011, helping India lift the championship trophy.
Even today this product of the Yuwa centre can clearly recall the day she first sat in an airplane – on her way to Colombo for the AFC Cup. "For years, just like all the other children of our village, I used to run out to see an aircraft when it flew above our small huts. I used to dream of sitting in one someday."
Going to Sri Lanka was thrilling and scary for her. She recalls with a smile, "I had to shut my eyes tightly before we took off."

Times have really changed in Hutup and its neighbouring environs. And Sandeep Chetri, Secretary of Yuwa India, the non-profit organisation that runs the sports centre, has been witness to this transformation.
"Playing football has not only inculcated sporting values in the community, it has brought forth social awareness among the poor. People now are talking about our girls, convinced that only good education for their daughters and a healthy lifestyle can transform their community." - Women's Feature Service



Trending Now: