'A born vegetarian, Saina became non-vegetarian in 2005'
06-July-2012
Vol 3&nbsp|&nbspIssue 27
Badminton ace Saina Nehwal, who is confident of winning the gold in the London Olympics, was initially into karate before she took up the shuttlecock game, says a just released book.
Saina was learning the martial art from coach Indrasena Reddy in Hyderabad paying Rs.100 a month.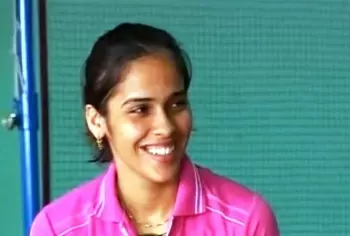 Saina stays away from fish and mutton and only eats chicken
"The karate coaching came to an abrupt end in December 1998 when, during a demonstration, the instructor prepared to run a motorbike over the hands of the students," says journalist T.S. Sudhir's book "Saina Nehwal: An Inspirational Biography" (Nimby Books).
"Saina's parents did not allow that and withdrew her from karate. Karate's loss was to become badminton's gain."
A born vegetarian, Saina, the book says, became non-vegetarian in 2005 while in China.
According to her coach P. Gopichand, when they found no vegetarian fare at a restaurant they were in, he told Saina to eat fish and crab.
The champion in the making did not argue. The book quotes Gopichand as saying: "To my surprise, she ate. No questions asked. She couldn't even open her mouth, but she ate."
But Saina, the book says, still does not particularly like meat. "She stays away from fish and mutton and only eats chicken. Given a choice, she still would fill her plate with rajma, dal and roti."
The 231-page book, the first biography of one of India's greatest sporting icons, is packed with interesting anecdotes from the time the Haryana-born Saina took to badminton.
Saina was in tears when she lost her first expensive badminton Isometric racquet that in 1999 cost Rs,2,700. It was bought for the under-10 Krishna Khaitan Tournament in Chennai.
In her early teens, Saina had to travel 25 km daily for training in Hyderabad. As she woke up at 4 a.m., "many a time Saina would doze off on the backseat of (her father's) scooter". In March 2000 the family purchased a Maruti 800 car for Saina's use.
Although she chose badminton over studies, there was a time when she would carry two bags -- one with her badminton kit and another with school books.
Her steadily growing badminton career cost the middle class family - her father Harvir Singh was an official in the Indian Council of Agricultural Research (ICAR) - Rs.12,000 a month when she was barely 12-13 years old.
From 1999, the Sports Authority of India gave her a fellowship of Rs.700, a kit and second class train fare for tournaments.
In 2003, the Petroleum Sports Promotion Board gave her a fellowship of Rs.2,500.
Harvir Singh and mother Usha Rani were surprised when Bharat Petroleum offered Saina a job when she was only 14 and had not passed Class 10.
To finance her game, her father drew money from his provident fund six times, claiming his wife was ill.
In contrast, Saina paid Rs.60 lakh in income tax in 2010 and Rs.1.5 crore in 2011. Her chartered accountant's fee alone was Rs.2.5 lakh. Companies now vie to pay her around Rs.1 crore for an endorsement.
The book says her aloofness coupled with aggression on court did not make her popular with players at the receiving end.
"In Saina's case, the urge to 'take revenge' has always been part of her personality. "She is also very stubborn... It is this lack of fear and respect that enabled her to beat top Chinese players."
Saina is extremely fond of chocolates, biscuits and ice cream, the book says.
Once, after visiting Malaysia, her weight went up by seven kilograms due to wrong diet. Her fitness was hit. "Now Gopi's permission is required if Saina wants to celebrate a win with an ice cream!"
The Hyderabad resident enjoys playing in Indonesia, "where she feels she perhaps has more fans than in India". This is because Indonesians resent Chinese domination of world badminton.
Does Saina, who turned 22 in March, have marriage plans?
Wedding is a long way off, according to her parents. Saina says: "At the moment, it is only badminton, badminton and badminton."
Her proud father, who has given up promotions to be in Hyderabad for her sake, says: "I wish every parent had a daughter like Saina." - IANS

Trending Now: