Dimple enters Lok Sabha in stunning style

Mohit Dubey
&nbsp | &nbsp Lucknow
09-June-2012
Vol 3&nbsp|&nbspIssue 23
For 35-year-old Dimple Yadav, politics was never a favoured option as a career. Neither did 'netas' matter much in her life. But on Saturday, life came a full circle as she was elected unopposed as Lok Sabha member from Kannauj, a seat her chief minister husband held thrice.
For in the last 13-odd years, she not only fell for a politician, was married into a political family, but is now herself an MP. Once defeated in her first attempt at Firozabad, two years back, Dimple has won the Kannauj by-poll unopposed.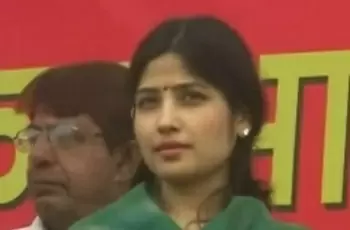 Since Akhilesh Yadav took over as the chief minister of Uttar Pradesh in March, she has has made two public appearances with him
A die-hard Metallica fan, a serious painter and one who rode horses happily, Dimple's latest innings with politics is at the behest of husband Akhilesh Yadav, whom she lovingly refers to as AD - Akhilesh Dada.
Mother of three - Aditi, Arjun and Tina (twins), Dimple, close friends say, was always a shy, reclusive type who was happy with the little private space she had with her family, enjoying late night outs at coffee shops and extended holidays abroad.
Second of the three daughters of a retired Indian Army Colonel S.C. Rawat, native of Uttarakhand, who had the best of life during her father's postings at Bhatinda, Pune, Lucknow, Andaman and Nicobar Islands, Dimple adjusted quickly to the 'marriage' paraphernalia that a rustic Yadav family demanded and commanded.
She was at ease with the long vermillion marking on her 'maang' or hair parting, sari and palloo (veil on her head) that was demanded by traditions of her Etawah based in-laws soon after their star-studded November 1999 marriage at Sahara Shahr in Lucknow.
Insiders say politics meant very little to her as her husband too was happy as a first time MP and they had their "own private space" that came with public life. But soon everything changed in 2009 when she was pitted against cine star-turned-politician Raj Babbar from Firozabad in a Lok Sabha by-poll.

Reluctant initially, the Thakur girl soon braced up for the 'public phase' of her life and leaped into the political hurly burly with ease and aggression.
People witness to her 2009 Firozabad campaign recollect her as a coy but planned politician who struck a chord with people and the masses almost effortlessly.

Though she did not make it to the Lok Sabha then, she began to dabble with politics in the form of conversations and debates within the family, a close aide of Akhilesh says.
During the gruelling campaign her husband undertook in the run-up to the crucial state assembly polls earlier this year, Dimple kept track of news happenings, statements of politicians and would communicate them to Akhilesh.

The Uttar Pradesh chief minister admitted that his wife, in his absence, would operate his Facebook account and respond to comments. Though largely happy within her small nest, close aides say, Dimple simply dittoes whatever her husband does.
Since Akhilesh Yadav took over as the chief minister of Uttar Pradesh in March, she has been a patient spouse and has made two public appearances with him and has floored the people who came in her contact.

Aishwarya Parashar, a 11-year-old student from Lucknow, whom she met at a Women's Award ceremony recently recalls Dimple as a very "nice auntie".

"She was very sweet to talk to, she even gave me her personal number," the girl says. During another function, Dimple floored singer Usha Utthup who admitted that the "girl was very modest and well-mannered".
In private conversations, Dimple has often recounted that as a young girl she always dreamed of being in some 'big company' and work for a corporate group.

Saturday's unopposed win has ensured that she was indeed in 'big company' - in the Lok Sabha. - IANS

Trending Now: