Bilawal Bhutto wows India's youth on social media
09-April-2012
Vol 3&nbsp|&nbspIssue 14
Bilawal Bhutto Zardari, the son of Pakistan president Asif Ali Zardari and slain former prime minister Benazir Bhutto, has touched a chord in India's youth, endearing himself to his admirers with his good looks, easy laughter, self-effacing manner and a down-to-earth body language.
The 24-year-old has stirred hope of an able future leadership in Pakistan among his Indian fans in the social media, who want him "to fill the cracks which have occurred in the last few years in the India-Pakistan relationship".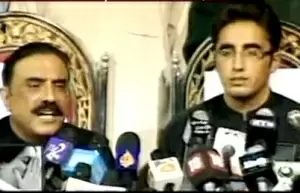 Bilawal is another politician son from the sub-continent being groomed for bigger responsibilities (Courtesy: TV Grab from Star News)
"The people want peace," the messages on the social media said, "welcoming Bilawal to India as the country's most loved and favourable friend".
Bilawal responded with a message, "Peace be with India" on the twitter.
The political scion who stood quietly by his father Asif Ali Zardari's side and sometime behind him during the day, depending on protocol and the nature of the occasion, was clad in a black and white pathani - the traditional Pathan attire of loose white pants and black kurta.
At the shrine of the Khwaja Moinuddin Chisti in Ajmer in Rajasthan, Bilawal did not bother to change clothes despite the blistering heat.
As a mark of respect to the saint, who had blessed Mughal emperor Akbar with son Jahangir after a pilgrimage, Bilawal draped an "embroidered scarf around his shoulders and tied a pink turban".
Bilwal in a message on the social media said, "he had found Ajmer spiritual and peaceful".
His body language changed once he left the capital for Ajmer, a source close at the airport said. "He began to laugh dropping his official silence. He carries striking shades of mother, when he laughs," the source said.
Born on Sept 21, 1988, he spent his childhood in Dubai and London during his family's "self-exile". He later attended the Rashid School for Boys in Dubai. A black belt in taekwondo, Bilwal studied history at Oxford in London and returned to Pakistan after his mother, Benazir Bhutto, was assassinated.
Bilawal is attached to his father's Pakistan People's Party. - IANS

Trending Now: