On the verge of an abyss? Put on your blinkers and run

Neha Dixit
&nbsp | &nbsp New Delhi
05-April-2012
Vol 3&nbsp|&nbspIssue 14
Neha Dixit is just 26 and has hardly been a journalist for five years, but her achievements in this short span have been mind-boggling, making her one of India's most promising journalists. This investigative journalist, who began her career with Tehelka, and is currently with Headlines Today TV channel, has won five awards already. These include, Best News Reporter, News Television Awards, 2012 , Lorenzo Natali Prize for Journalism, 2011, Asia-Pacific Region, News Television Award for Best Investigative Feature 2010-2011, UNFPA-Laadli Media Award for Best Investigative Feature 2009-2010, and Anupama Jayaraman Memorial Award for young women journalists 2009. She is also a contributor to the UNESCO Casebook of Investigative Journalism 2011. She has covered development issues, human rights, health, gender and conflict. Neha writes on how it's possible to aspire, achieve, and sustain, despite the challenges and hurdles that come your way by using a simple 'filter' and 'button' system.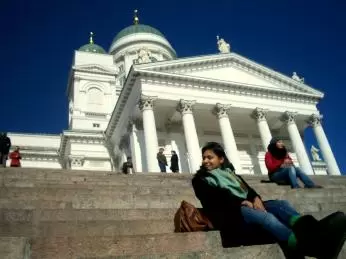 Neha Dixit in 'switch off' mode
There is a filter. And a button too. Switch it off. Switch it on. Discreetly, consistently.
Figure out what you want to do. Not what you want to be.
Prioritise and focus. Both, people and work.
When they bombard you with destructive criticism, judge you, dismiss you, your work and tell you that you don't have it, let it not enter your head. Filter it.
They will compare you with themselves and many others. Call you 'young and inexperienced'. Emphasise on how less you know and how much they do. That they have seen the world, they know the top-notch, they know the famous, they are friends with them.

And how you, a small town wannabe, with imperfect English, without a single 'contact' and uncool social behavior who doesn't even know a Sula to a Jacob's Creek, a Sylvester Stallone to a Woody Allen, could want to just do something. When you feel vulnerable every inch, when you find yourself on the verge of the abyss, put on your blinkers and run.
Because there is no need to know what they are upto, which college they went to, which country was it in, how their salary is 4 times more than yours and their designation way above yours. When they tell you how what they do is flawless and dignified and what you do is polemical and debatable, abandon them and go watch a movie.
Choose an assignment. Volunteer. Consume yourself to make it happen. Stay determined to complete it. No harm in converting it into an issue of life and death as long as it fuels you but definitely fatal if you want to make it happen at any cost using shortcuts.
Note it down when they say you don't have a vision, you never will. Because when you finally have one, they will first be condescending and later force you to regret it. Manifest the frustration of their own lives in analyzing you. Don't you care throwing a repartee, asking, 'what is your vision?' Just nod your head and chuckle (inside your head, please).
Be discreet when seeking advice (although, you may yearn for it all the time). Take it only from those whose intentions you can trust (hard to find). Parents, who may not understand a thing about your profession, your career, but still go on supporting you, unconditionally.
Their intention is never doubtful. You can vent out and say what you want to without it becoming the gossip of the next social gathering in town. Because aspiration is not a joke for them. Closest friends, yes, if you do not cross ways with them professionally. Mentor, if you have any. Otherwise, unfortunately but realistically, not many will be happy for you. Live with it.
Believe in what you say, what you do. Sounds generic and cliché tic, but it's true. Find a cause to do it. There is no shame in standing up for something, upholding a cause. Breathe it, sleep it, eat it.
Because if you don't, there will be no passion, earnestness, effort and most importantly, honesty. And when there is none of the above you will 'consult' and 'refer' others' works. That will influence you, prejudice you. You will deliver duplication. And personify self-disbelief. If you repeat it, you will start the process of self-destruction.
When you achieve (loaded word) a little something, it will shock them but they will clap. When you achieve again, they will patronize and say they are 'proud' of you.

The third time and thereafter, they will blame you because 'you only want to achieve.' They may even call you arrogant, a liar and a cheater. Let them say that. It's okay. No need to get affected. Keep refining and learning. Let them have their moment.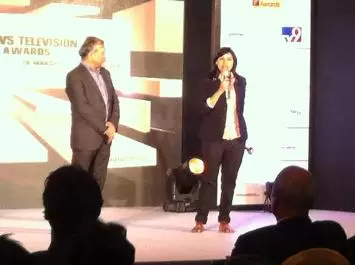 Neha at an award ceremony
And then there will be a time when everything 'abnormal' (unconventional) in your personal life will be seen as a manifestation of the 'achievements' in your professional life.
These are attempts to weaken your resolve. Remember, things will not revert to being 'normal' if you start being a non-ambitious nobody (more importantly for women who are blamed for their single-dom or choosing not to have children 'at the right time'.)
Some will say that you are great. You are the best and a star. When you start believing them, you will start reflecting signs of crisis. Don't forget to switch on the filter immediately. Because you will never be the best, no one ever is. It is only about who gets the opportunity to display what they are capable of. Not an iota less or more than that. Do not take yourself seriously. Drill it in your head.
The idea is to protect yourself. From capsules of venom. In the form of negative thoughts and cynical, discouraging, disillusioned people. Be tenacious. They will seduce you but choose to get attracted to positivity.
Do anything (from shopping, fine dining, to watching television the whole day, lazing around, reading, even facebook-ing, twitter-ing) but do not succumb to the magnetic pull of the negative.
When you complete this cycle, pick up the next project/ assignment in your life. Switch on your filter, put on the blinkers and run. There is a lot to do.

Also Read

Neha Dixit deep inside the Naxal heartland to bring out the truth about child soldiers


Trending Now: