Around the country in 84 days - on wheelchairs!
Quaid Najmi
&nbsp | &nbsp Mumbai
23-December-2011
Vol 2&nbsp|&nbspIssue 51
On Sep 28, four plucky Mumbaikars set out on a challenging 84 day nationwide tour. On Dec 20, the four physically challenged professionals completed their wheelchair-bound trip after logging in an impressive 19,000 km spanning 28 state capitals!
The tour, which started from Mumbai, was undertaken mainly via the Golden Quadrangle and stretched from Kashmir to Kanyakumari and from Gujarat to Arunachal Pradesh.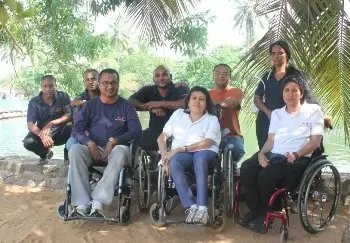 The Mumbaikars in Kerala as part of their 84 day nationwide tour (Photo: IANS)
The effort - christened 'Beyond Barriers - Incredible India Tour' - was the brainchild of Arvind Prabhoo, 44, who is a quadriplegic since 23 years and operates a cable and internet service in Vile Parle.
"We were accompanied by three helpers each on the tour which we undertook in three SUVs. In each state capital or top tourist destination, we moved around on our folding wheelchairs," said Prabhoo, sounding weary after the long trip.
He was accompanied in the 'mad-venture' -- as some people jokingly termed it -- by fellow quadriplegic Nishant Khade, 33, director of Das Offshores Pvt Ltd, an infrastructure company; Neenu Kevlani, 40, a publisher from Bandra suffering from scoliosis since 11 years and Sunita Sancheti, a tax consultant from Bandra and a paraplegic since 24 years.
"Nobody has attempted a nationwide tour like this on wheelchairs and we decided to do something different, despite our severe handicaps. We are happy that we have achieved it without any problems whatsoever during the tour," Sancheti said.
Discussing the purpose of the trip, Kevlani said the primary objective was to "sensitise" the countrymen on the problems that handicapped people face in their daily lives, create awareness of their special requirements and to change the general mindset of the people on the issue.
"For instance, we found a majority of the places quite 'handicapped-unfriendly', making them practically inaccessible for the physically-challenged people who would love to travel around in this beautiful country," Prabhoo said.
Referring to the special arrangements for handicapped in India as compared to developed nations, the four rated them as around 20 percent disabled-friendly. "We have yet to catch up on a lot of small but significant things, especially in tourist destinations all over the country," Sancheti pointed out.
Kevlani feels that with "a little effort by the government", India would be a wonderful place for physical handicapped to travel around and enjoy.
Prabhoo said that during their trip, they were given audiences with the governors of Uttar Pradesh, Mizoram and Tripura, and Chhattisgarh Chief Minister Raman Singh.
They also made it a point to enjoy and savour the local cuisines in each state.
"We also met the disability commissioners or other top officials of social welfare departments in Gujarat, Tamil Nadu, Madhya Pradesh, Uttar Pradesh, Mizoram, Assam, Jammu and Kashmir, Uttaranchal, Jharkhand, Orissa and some other states," he added.
Returning to their base Wednesday after the exhausting but memorable national tour, they regret having missed out on the Lakshadweep Andaman and Nicobar Islands.
The four have already reserved their place in the Limca Book of Records. Now, all eyes are on the Guinness World Records. - IANS

Wish to share your story?
Trending Now: