'Beyond Limits' initiative showcases stunning paintings of disabled
21-December-2011
Vol 2&nbsp|&nbspIssue 50
There once lived a boy in a village in Banaras. Just like any other little boy, he went to school, cribbed about homework, played with friends and then played some more during holidays.
But his life wasn't to continue like that of other boys' for long. At the age of 14, an electric pole fell on him and his arm had to be amputated. Without his active right arm, a lesser person would have resigned to life and lived off its dole with whatever the good hand could take. Not Shreekant Dubey.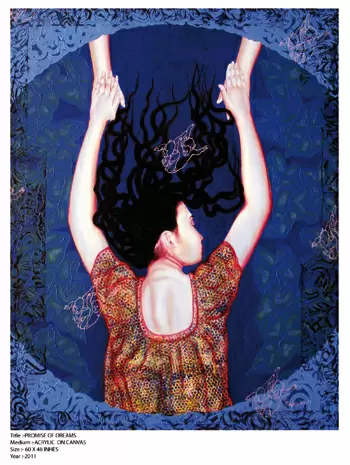 Photo courtesy: The Sunday Indian
An artist today with a Masters degree in Fine Arts, Shreekant Dubey's paintings are sold at various exhibitions around the country. He teaches in a school in Delhi and is a happily married man.
Needless to say, it was very difficult for him to cope, overcome and understand life at that age when tragedy struck. But he trained his left arm for a long time, and today not only manages the daily chores but also makes a living with his beautiful paintings. "It was very tough; I couldn't even eat but I had to get past it," he recalls.
To get an opportunity to see the works of Shreekant Dubey, and others like him, is a deeply moving and inspiring experience, and it was to be had at an exhibition called 'Beyond Limits' held in the capital from December 2-11.
'Beyond Limits', which started in 2001, is an annual art exhibition driven by the initiative of Family of Disabled. Founded by Rajinder Johar in 1992, this registered charitable trust is engaged in helping people with disabilities.
Mr Johar has been quadriplegic for years now since an accident and it is this state of paralysis that compelled him to bail out others in similar distress. His daughter, and chief organiser at Beyond Limits, Priety says: "My father had gone into depression after the accident. It wasn't easy for a man who was self sufficient, to be totally dependent for life. He even thought of ending his life."
After a long period of hardships and hurdles, he formed Family of Disabled after touching base with many like him through other people, magazines, hospitals etc. He instilled hope in them and gave them courage to lead a secure and self-dependent life. A lot of them started out with making greeting cards, before graduating to paintings.
Parveenjit Kainth, a post graduate in Fine Arts and a polio victim, says he was highly motivated after meeting Mr Johar. Kainth's message to all those like him is to muster their energy and channel it to their best. He'd have you believe that if one put their heart to it, there's nothing unattainable.
Indeed, for if you were to behold the paintings on display at 'Beyond Limits', it wouldn't cross your mind that they had been created by persons with varying degrees of disabilities.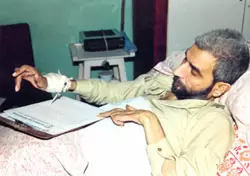 Rajinder Johar, founder of Family of Disabled (Photo courtesy: http://familyofdisabled.org)
And if you were reminded that the artist had only one arm, or was hearing and speech impaired, or was mentally challenged, the beautiful pieces of art on display only seemed more surreal.
Their expression on canvas through colour and design was inspiring. Be it Hindu deities, tigers in a sanctuary, portraits or modern art, every painting was unique, and no, it's not sympathy.
You can be sure it's only respect and awe if you spoke to Sriharsha Sukla. You couldn't, for he's hearing and speech impaired, but that hasn't come in the way of his many awards. The curator interpreted for me, as he told me, "Everything inspires me; small and big." Apart from paintings, he does some tremendously creative collage work too.
Family of Disabled has a database of over 100 artists today and with the help of renowned artist Arpana Caur, who lets out her gallery space for this noble cause, they put out a noteworthy show each time.
By arrangement with The Sunday Indian

Wish to share your story?
Trending Now: