The inspiring story of a man who was detected with AIDS in 1994
Anjali Ojha
&nbsp | &nbsp Belgaum (Karnataka)
01-December-2011
Vol 2&nbsp|&nbspIssue 47
They sit on a mat in a modest building, innocent eyes wandering while a blackboard in the background reads "all is well". Parvati and Amar (names changed) are as talented and active as anyone else their age but have been discarded by their kin for being HIV positive.
Parvati is a student of Class 6 in a Karnataka government school and has been the topper of her class while Amar is the captain of his school.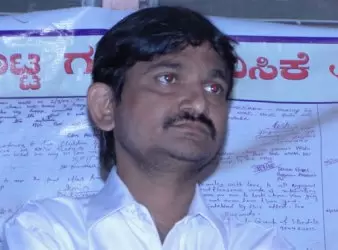 Mahantesh Male, President, Spandana and Founder, Nandana Makkala Dhama (Photo: IANS)
For 35 children living in Makkala Dham, a hostel for children with HIV/AIDS, life is about the struggle to get their right to dignity. Most of them are orphans, shunned by relatives.
But now fighting for them is a man who himself has the virus.
Mahantesh Mali, 38, is founder of the Spandana Network of Positive People, an organisation dedicated to supporting people with HIV/AIDS which runs the hostel.
The organisation won the Women and Child Development Ministry's National Award for Child Welfare this year.
For Mali, who has been fighting HIV/AIDS and the discrimination as well, meeting the financial requirement for his hostel is the biggest challenge. He gets some grants from NGOs and pools the resources from individual donors.
"We find individual donors, some may give ration for a month or two, some pay the electricity bill. Some doctors help us by looking after the children," said Mali.
The only support from the government is a promise to provide Rs.500 per month for every child, but the promise is still trapped in red tapes.
Such is the financial condition of this social crusader that when Spandana was awarded by the ministry, he had to borrow money for his travel to Delhi.
But the Rs.3 lakh reward given to Spandana Nov 14 could not be cashed till now as there are no branches of Patiala Bank, the issuing bank of the draft, in Belgaum.
"It will take some time, I will have to send the draft to Delhi to get it cashed," Mali said.
As he continues with his struggle for the rights of others suffering from HIV/AIDS, his own story is no less interesting. He had a happy life working in a local factory. But shortly after his marriage in 1993, he was detected with HIV/AIDS.
Mali was soon reduced to a mere skeleton, without any hope. In 1994, he weighed only 28 kg, and could not even drink water. His wife became his main support and motivated him to live positively and come back to a normal life.
Gradually, with help from counsellors at the district hospital, Mali started Spandana, a network of people with HIV/AIDS. The Makkala Dham was started by Spandana in December 2008.
With the hostel running now in a rented accommodation, his dream is to have his own building for it.
"If we have our own building, we can accommodate more children," he said, adding that he has not been able to pay the rent for the present building for the last two months.
The children at the hostel go to local government schools and are trained in painting, music, yoga and spirituality by volunteer teachers at the hostel.
For these kids discarded by all, Mali and the others here are their family. One of the girls is in fact going to be married, her groom being HIV positive as well.
Mali himself is now living with minimum medication. His wife Rama, who is also HIV positive, runs a beauty parlour at Chikori, 60 km from Belgaum. The couple has an HIV negative son.
"Nobody dies of AIDS, they all die of fear and stigma," Mali said, adding, "it is our job to spread awareness and things are changing".
He said over 300 children have been tracked in Belgaum alone who need support, but due to dearth of resources, they are unable to help them.
"The government should step in to provide support to these children," he added.
The visit to the hostel was arranged by the Centre for Advocacy and Research. - IANS


Trending Now: