Bengal's rural women turning into brave new entrepreneurs through SHGs

Ajitha Menon
&nbsp | &nbsp Birbhum
10-November-2011
Vol 2&nbsp|&nbspIssue 45
Agriculture-related enterprise is bringing empowerment to rural women in Birbhum district of West Bengal. These women have not found new businesses to run but have turned work they had anyway been doing since childhood into a means of sustainable socio-economic uplift for themselves and their families.
Take Neelima Bibi, 40, of Darjipara village, which comes under Margram I Gram Panchayat.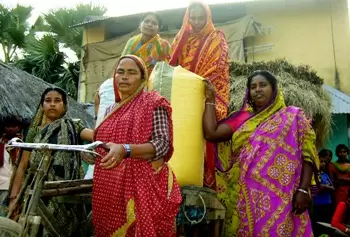 Each member of the Darjipara SHG earns between Rs 1,000-Rs 1,200 per month (Photo: WFS)
Ever since she was 10, this farmer's daughter's daily routine involved boiling paddy, re-steaming it twice, drying it out in the courtyard and then trudging to the rice mill to get it processed.
Later, she and her siblings would go to the market to sell the processed rice.
What Neelima had never imagined as a young girl was that this "routine work" would one day present itself as a great income opportunity. "It's something my family members had been doing for years. But when the Self Help Group (SHG) movement started in our block, I realised that paddy processing had the potential to develop into a group enterprise," she says.
So, Neelima founded the first SHG in her gram panchayat in 2005 comprising 13 women belonging to Below the Poverty Line families. And they decided to process paddy as a business.
"We began with buying meagre quantities of paddy from small farmers and processing it jointly instead of doing the same work as individuals. Working as a group, we could process rice faster and sell it," explains Rumila Bibi, 45, Neelima's friend and fellow Darjipara SHG member.
To start the enterprise, the Darjipara SHG used a funding of Rs 3,000, sourced through the Strengthening Rural Decentralization (SRD) initiative of the state government that began with partial funding from the Department for International Development (DFID), UK and aimed towards reforming and empowering grassroots local bodies like gram panchayats, by routing out funds for rural development through them.
To expand operations they availed of bank loans. "Our SHG was granted a Grade I status by the panchayat within seven months of us forming the group. The grading was dependent on whether we kept the SHG operational for that period successfully, using the initial fund.
"After receiving the Grade I status, we took a loan of Rs 17,000 (US$1=Rs 44) from the bank and started buying larger quantities of paddy from big farmers. We paid back the loan with full interest, which gave us a Grade II status three years ago and made us eligible for a larger loan of Rs 1,90,000. Of this Rs 90,000 was a subsidy," elaborates Neelima.
Additionally, with a princely sum of Rs 7,000, which was a part of their profit, the group bought a cycle van to cart the paddy and rice sacks. "We used to pay higher labour charges to the men carrying the paddy sacks from the homes of the farmers and also the processed rice sacks to the market.
Now we load all the sacks onto our own cycle van and cycle it to the required destination ourselves," informs a proud Chaman Ara Bibi, 30, who has two children, an elder daughter studying in Class VIII and a two-year-old son.
It takes the women two-three days on an average to convert about three quintals of paddy into rice. When the weather is cloudy the paddy dries slowly taking up to eight days. The group pays Rs 1,100 per quintal to the farmers and the processed rice is sold at Rs 1,700-1,800/quintal.
Each member of the Darjipara SHG earns between Rs 1,000-Rs 1,200 per month, except during the rainy season when the income comes down to Rs 700-800. But they are a happy lot.
"Our earnings supplement the family income. Our husbands work as milkmen, farm labourers or woodcutters and have erratic, small earnings. With the income from paddy processing, we send our children to school.
"We spend our money on uniforms, school fees and books. It would have been impossible to educate our children if the SHG had not been formed," says Neelima, whose elder son is currently doing his Masters in Art from Burdwan University, while the younger one will be appearing for his school finals this year.
Adds Chaman Ara, "The income my husband had as a farm hand was insufficient. Paddy processing has given me money to spend on my children's education, clothes and small treats for the family."
The success of the Darjipara SHG brought about a revolution within the district and several women's groups have come forward with agricultural-related entrepreneurial ideas.
"We started a paddy threshing business with Rs 3,000 received from SRD funds. Ten of us pooled in another Rs 500 and bought a manual paddy threshing machine. We thresh paddy ourselves for small farmers and lease out our machine to big farmers on demand. On an average each one of us is earning Rs 800-Rs 1000 monthly now," says Marjina Bibi, 30, a member of the Fatima SHG under Paikar II Gram Panchayat.
The group has about Rs 7,000 in its savings account now and the members are planning to buy a motor threshing machine to increase profits.
In Margram I Gram Panchayat alone, there are over 100 agriculture-related SHG-run businesses - from vermin-compost projects, nurseries, fish farming and animal husbandry – that started operations between 2008 and 2010.
The women of Darjipara SHG have become leading symbols of empowerment through economic independence, inspiring and encouraging others to follow suit. - Women's Feature Service
Wish to share your story?
Trending Now: