An all-women pink brigade that bashed up men supports Congress in UP
27-October-2011
Vol 2&nbsp|&nbspIssue 42
Sampat Devi Pal is one hell of a woman. Armed with an indomitable spirit and a bamboo stick, she has led Chitrakoot district's Gulabi Gang of vigilantes, dreaded by all perpetrators of crimes against women.
In the impoverished and parched region of Bundelkhand in southern Uttar Pradesh, the feisty lady has a following among the powerless. No wonder the Indian National Congress has nominated Sampat Devi Pal as its official candidate for the Manikpur Assembly seat.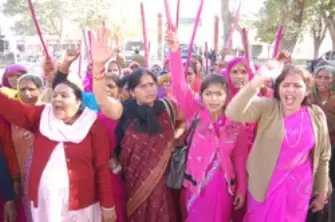 Sampat Devi's supporters chant, "Not a moneybag nor a muscleman, this time the winner will be an underdog's daughter." (Photos courtesy: The Sunday Indian)
She heads a sorority of pink sari-clad and lathi-wielding crusaders who fight an array of social ills that rural women of this backward region have traditionally faced – alcoholic menfolk, wife-beating husbands and apathetic officials reluctant to act against those that wield power.
The Congress party is obviously hoping that the power of pink that Sampat Devi brings to the electoral equation will help it counter the Bahujan Samaj Party, which has registered a hat-trick of wins from the Manikpur seat.
The last time the Congress won the Assembly election in Manikpur was in 1989. Significantly, the victor was a woman – Siya Dulari. Manikpur was a reserved constituency but after delimitation it has become a general seat.
For Sampat Devi, the transformation from hell-raiser to vote-seeker hasn't been easy. But she has made a fair fist of it. She goes from door to door, village to village, travelling through dacoit-infested jungles, canvassing for support.

Interview: Sampat Devi Pal
Why have you joined the Congress, which is grappling with the issue of corruption?
All major parties are grappling with corruption charges. I support Anna Hazare's campaign. Corruption cannot be weeded out until we learn to completely boycott all corrupt people in the system. I have joined the Congress because it stands for the people of Bundelkhand.
Wouldn't your Gulabi Gang campaign take a backseat after you become an MLA?
No, not at all. It will actually be strengthened. Gulabi Gang march on with its own doctrine with renewed vigour even after I enter the state Assembly.
How will you further the cause you espouse once you become an MLA?
My fight for the rights of women will become much easier because as an MLA I will have more power and authority. I would be in a better position to move about freely in the villages and work for women who need help.
Her supporters chant "Na dhanbali, na bahubali, abki jeeti garib ki lali (not a moneybag nor a muscleman, this time the winner will be an underdog's daughter)".

While there is obvious heartburn among old-time Congress workers in the local party unit here – Sampat Devi has never had any links with Congress – it is rather easy for her to get people on her side.
Victims of social and economic inequities in the region have known her work for years and perceive her as a woman of steel.
They have seen the 51-year-old woman leave no stone unturned in her campaign to right many wrongs. She and her Gulabi Gang have stormed police stations when officers have refused to take cognizance of cases of domestic abuse.
They have often publicly beaten up men who have subjected their wives to physical violence and other forms of torture.
They have marched into homes where women have suffered untold ignominy in silence and taken up cudgels on their behalf. Many of these women are now active members of Sampat Devi's 20,000-strong Gulabi Gang.
Sampat, daughter of a poor shepherd, was married off at the age of 12 to a vegetable hawker. By the time she turned 20, she had become a mother of five children and was looking down the barrel.
One day, she witnessed an incident of wife-beating. She pleaded with the man to stop. He did not. The very next day, with a small group of gutsy women, she waylaid the wife-beater and rained lathi blows on him until the chastised man begged for mercy.
The seeds of Gulabi Gang were sown. Sampat Devi has come a long way since then.
Published by special arrangement with The Sunday Indian
Wish to share your story?
Trending Now: