Beating life at its own game
Anu Gulmohar
&nbsp | &nbsp New Delhi
29-August-2011
Vol 2&nbsp|&nbspIssue 34
When the doctors issue you the sentence of imminent death, would you sit in a corner and wait for the Grim Reaper to come and claim you, or would you throw caution to the winds and go skiing instead?
19-year-old Jothy Rosenberg opted for the latter. The loss of a leg and a part of his lung to cancer did not come in the way of his journey to Utah, where he skied for hundred days straight, and returned more alive than ever before.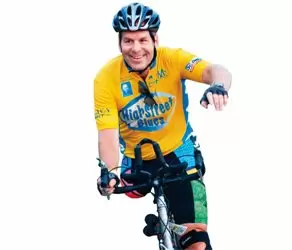 Who says I can't: That's how Jothy Rosenberg reacted when a colleague said it was sad that he could not ride a bicycle (Photos: The Sunday Indian)
Jothy Rosenberg relates the amazing tale of how he went on to defy the verdict of doctors and now 36 years later, has been married for 28 years, is father to three children, started six tech companies, participated in seven bike-a-thons and swum across San Francisco bay 16 times.

"At the age of 19, when the doctor told me no one had survived what had just happened to me, part of me did not accept that because someone of 19 typically thinks they are immortal.

I figured that if I really was going to die, like they said, I should live it up while I could. I had always had the attitude that I would prove everyone wrong on any limitations they placed on me – whether it was how many days I would have to stay in the hospital, or that I would never ski as well as two-leggers. But I was not trying to prove them wrong about me dying; I was just trying to live better and faster while I could.

I lost my leg at 16 in January of that year. In March, before the snow was gone, I insisted my parents take me to a local ski hill to see how this might work. I was not even yet fully healed and my stump was still sore and swollen.

When I tried to ski a little and take a turn, I would immediately fall to the snow and it would hurt. Still, while my parents were cringing and trying to get me to stop, I began to see that this really was going to be possible.

This was of vital importance to me because skiing was the sport I was best at, and I loved it. I really wanted to be able to do it and this early attempt, instead of depressing me, made me elated.

No one could see why. But I saw that with super hard work and maniacal focus I could learn this and be good at skiing again. And yes, that gave me a huge lease on life.

I was a good swimmer as a kid. My parents got all the kids swimming lessons early on. We sailed a lot as a family so that was important. In junior high, I tried out and made the swim team and got fairly good at that sport.

After the amputation and then the loss of a lung I realised that swimming would be a great sport to keep me fit. It's really a wonderful sport for someone with any kind of diminished lung capacity because you have to breath slowly (when you turn your head) and deeply.
But it was when we lived in California that I got hooked on open water ocean swimming. People were doing triathlons and some friends asked me to be part of a 3-person triathlon team doing the swim portion. That was a challenge and I had to rise to it, and so I had to start swimming in the ocean. That was intimidating at first for someone who had only really swum in a pool with lane markers. I just forced myself to do it, and eventually got to like it more and more.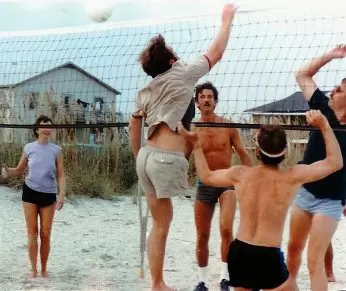 Staying positive: Jothy feels "cancer, amputation, loss of lung, living with a death threat" have made him a better person
It was many years later that I started biking. In fact, it was just ten years ago when I was in my early 40s.

I was CEO of my company and one of my young employees asked me to sponsor her in a fund-raising bike ride she planned to do from Boston to New York City.
I liked the cause and I was impressed that this young lady would take this on. In fact, I was amazed it was even possible to ride 85 or more miles per day. I was bragging about what she was doing to one of my staff and he said to me, "I can see you are excited so it's really sad that someone with only one leg could never do something like that."

He stunned me with that comment, and I looked at him and said, 'Who Says I Can't', and at that moment I decided no matter what, I would figure out how to do the same ride the next year. I got a bike and started training.

First I went four miles then 11 then 25 and pretty soon I was ok doing 45 miles in a training ride. By then I was hooked and ten years later, I have done the Boston to NYC ride three times, and the 192-mile Pan-Massachusetts Challenge ride across the state of Massachusetts six times.

After I had focused on a sport and worked hard to figure out how to be good at it, I found it very satisfying to be better than some two-leggers.
And as we all know, you just cannot live a healthy and happy life without strong self-confidence and self-esteem. For me and for many others, sports is a great way to get that self-confidence back. And self-confidence gained in a sport you can master, translates naturally over to every other aspect of one's life.

For someone who was told he had zero chance of survival, being the father of two fantastic kids (and the adopted father of a third) is by far the accomplishment I could never have anticipated and, now that it has happened, is the most precious.
I know that when we humans are tested and we fight back, we end up stronger than before. That is natural and is true of everyone. What I went through changed me and made me stronger and more willing to take risks.
Many of those risks have turned out well for me, so in that respect I think I can say that what happened to me – cancer, amputation, loss of lung, living with a death threat – made me better."
Published by special arrangement with The Sunday Indian

Wish to share your story?
Trending Now: