An unofficial ambassador of Indian culture in Seattle also fights Parkinson's

Sudha Narasimhachar
&nbsp | &nbsp Seattle
29-July-2011
Vol 2&nbsp|&nbspIssue 30
When a 34-year-old active woman learns that she has been afflicted with Parkinson's disease, which is known to attack elderly people, she should have gone into a depression, normally. But Shelly alias Shailaja is an extraordinary person.
"I was named Shelly as my father was very fond of the poetry of Percy B Shelly," she says, adding: 'My strong and loving parents to whom I am the only child, my husband Rajan Krishnamurty, who can bring me out of my frustrations with his quick wit and my lovely children who want their mother, never mind in whatever shape! I lived on, because they all helped me find some purpose to continue living despite my disease and pain," says Shelly.
Her lovely home in Seattle, USA, is decorated with Indian artefacts, most of them paintings of her late mother-in-law, who was also a versatile Carnatic musician.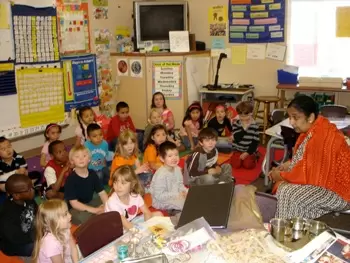 India's 'unofficial' ambassador: Shelly loves to introduce Indian culture to children, who are seen listening to her with rapt attention
"My mother-in-law lived in the US for 45 years and died three years ago. She was an amazing woman. Though all her three children are successful professionals, I was given full support when I expressed my wish to stay home and contribute as much as possible to the society around me," says Shelly.

That, however, is a very modest confession by Shelly, who moved to the US from Bhopal after her graduation in Business Management in 1979, when her father Dr R V Ramakrishnan who retired as a Vice Chancellor of Jabalpur University took up a World Bank assignment.
She married Rajan, a computer professional in 1982. When her daughter started going to school in Texas, Shelly started volunteering in a school. After 15 years in Texas, they shifted to Bangalore for three years and that's when Shelly was diagnosed with Parkinson's disease.
"My disease was really hurting. I suffered intense pain on one side of my body for 17 years. But I never gave up my activities. My parents and husband have been supporting me totally and say, 'never hide your problems'. I get to cry only in the bathroom, because they cannot see me crying," she says, adding, "Thanks to a path-breaking surgery of my brain, I am able to lead a painless life now."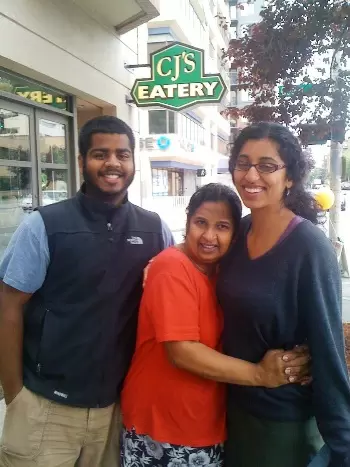 Her 'pride and joy': Shelly with her children Ratika and Akshay
The family shifted to Seattle in 1999 and Shelly started volunteering for the Overlake School, in their library. She is very passionate about Indian culture and food.
She wanted to introduce that to the children in a big way and hence offered to cook for all the 500 children of the school twice a year.
Shelly speaks about the rich Indian culture to the school children, shows them the exquisite art works of India, tells them stories from Indian mythology, teaches them small values like respect for elders, concern for fellow citizens, respect for knowledge, books and nature, etc.
Shelly volunteers in various schools of Seattle to introduce India. She supports diversity in schools and uses innovative methods like dress-up sessions. She organizes many fund-raising events and participates in many others for NGOs, donating in various ways like offering Indian dinners/luncheons for auctions, auctioning beautiful sarees with her mother's embroidery work and free Indian dress-up sessions for curious people and so on. She was honoured with an award for her exemplary social service by the North West Asian Weekly.
"My mother Champa used to work as a teacher for the Madhya Pradesh Government and later started her own school in Bhopal, which is running successfully even today. The popular Bollywood actor Saif Ali Khan studied in this school. Today, at 82, she cheerfully does her share to support me by making beautiful kasauthi designs on Kanchipuram sarees, which I auction for good causes. The strong values that my father instilled in me are of great use. He always used to say, 'Keep giving and you will keep getting'," she recalls.
Her children Ratika and Akshay are very bright. Ratika is pursuing her Ph.D. in Organic Chemistry, while Akshay is doing his Ph.D. in Immunology. "Mummy does not know the letter 'N' in the alphabet and hence can never say, 'No'," tease her children, since Shelly keeps accepting all the offers that come her way to serve the community.
Despite the involuntary shaking, Shelly is very independent and drives herself to attend to her umpteen passions.

Wish to share your story?
Trending Now: