A Dalit woman's journey from a small hut to the legislature
Mohammed Shafeeq
&nbsp | &nbsp Hyderabad
27-June-2011
Vol 2&nbsp|&nbspIssue 25
From a small hut in a remote village in East Godavari district to the Andhra Pradesh legislature, Anguri Lakshmi Shiva Kumari has come a long way.
The 32-year-old Dalit woman, who had to discontinue her school education because of utter poverty, is today a member of the Andhra Pradesh legislative council, the upper house of the state legislature.
Overcoming all odds with exemplary grit and determination, she has achieved what many women of her age can only dream of.
She is the embodiment of hard work, perseverance and a living example of women's empowerment in a state that has the largest number of women's self-help groups in the country.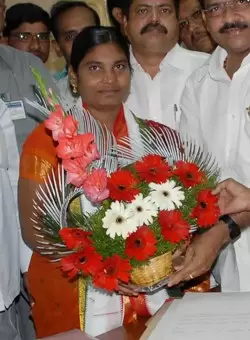 Anguri Lakshmi Shiva Kumari's story is one of grit and determination that helped her overcome all odds (Photo: IANS)
Nominated to the council under the governor's quota early this month, the school dropout has today become a ray of hope for 10 million women associated with self-help groups in the state.
It was a journey full of thorns for the young woman from A. Mallavaram village of Routulapudi Mandal in the coastal East Godavari district.
"Born and bought up in utter poverty and facing problems at every stage, I never even dreamt of achieving this," said Lakshmi.
As a child she had to depend on food and clothes donated by neighbours because her father's paltry monthly income of Rs.250 was spent on buying liquor for himself.
"I could not go to school for many days due to hunger," recalled Lakshmi, who wanted to get better education but had to discontinue her studies when in Class 6 as there was no food, clothes or books.
"My father used to come drunk every day and beat up my mother. For the liquor, he even sold the stitching machine given to me by an NGO after I discontinued my education," said Lakshmi.
Life became more miserable after her father suffered paralysis. She along with her mother started doing petty work for two square meals.
There was no end to her woes even after her marriage at a young age. Her husband Balakrishna was a factory worker and the income was not adequate to run the family.
Refusing to give up, Lakshmi joined hands with 11 other women in the village in 2001 to form a self-help-group, which received a loan of Rs.10,000 for income generation activities. Her life took a positive turn.
"I always wanted to study. With some financial stability in the family, I appeared for the 10th standard examination and passed. This gave me courage and then I never looked back," she said.
Lakshmi led an anti-liquor movement in the village and this helped change the lives of many families.
She became president of the federation of self-help-groups at the mandal (a cluster of villages) level and was subsequently elected president of the district unit.
Lakshmi, now a mother of three, is fully aware of her new responsibilities. "I have become a legislator but I will be really happy only when all women in villages who are going through what I have faced since my childhood get economic empowerment." - IANS
Wish to share your story?
Trending Now: