Man who took to Marathon races at 89 still running at 100
Jaideep Sarin
&nbsp | &nbsp Chandigarh
13-June-2011
Vol 2&nbsp|&nbspIssue 23
Having become the world's oldest half marathon runner at 99 years of age in May last year when he ran the Inter-Faith Marathon in Luxembourg, Fauja Singh whose name means a soldier, is a one-man army who wants to keep running till he drops.
"I won't stop running till I die. I want to be remembered as the person who ran till the end," said Fauja, who has been living in London for the last nearly 16 years, recently.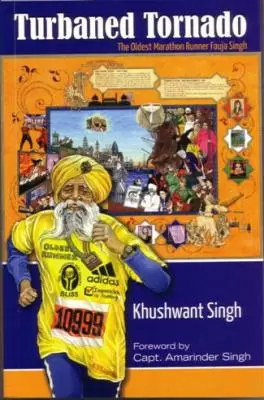 Fauja Singh's biography 'Turbaned Tornado' penned by Chandigarh based author Khushwant Singh is slated for release next month
The death of his son Kuldip and earlier of his wife forced Fauja to search for a worthwhile alternative in life. At 89 years, he took seriously to running and ended up in international marathon events like the London, Glasgow, Toronto ones.
Fauja ran his first race, the London Marathon, in 2000. Before that, his early memory of being a runner was, at best, limited to participating in village sporting competitions before World War-II.
He was well-known in his village in Punjab for running "from one place to another", old-timers in his village recount.

Fauja's biography "Turbaned Tornado" is slated for London release next month. Fauja, who lives in Ilford, London, and has participated in several international marathon runs, will be 100 years and three months old when the book is formally released at the Atlee Room of the House of Lords in London at a function by Britain-based Anglo-Sikh Heritage Trail (ASHT).
The biography has been penned by Chandigarh-based author Khushwant Singh and published by Rupa.
"He is a unique man. He started running at an age when people actually hang up their boots in life. This man is so full of life and energy even at this ripe age," said Khushwant, who has earlier written "Sikhs Unlimited" and "Mending Souls."
"It is unique that he could be the only man who is alive at 100 years to see his biography being published," Khushwant added.
The book's cover shows a smiling Fauja running in his flowing white beard.
Fauja has rubbed shoulders with the likes of football star David Beckham and other sporting celebrities as brand ambassador and poster-boy of leading footwear company Adidas for their international campaign. Billboards featuring him once used to be prominently displayed on busy London streets.
The foreword for the "Turbaned Tornado" has been written by former Punjab chief minister Amarinder Singh.
"The book is a humble attempt to confine in words the life of a man whose spirit is indomitable," Khushwant said. - IANS

Wish to share your story?
Trending Now: