Savera School helps special children stand on their own legs

Naunidhi Kaur
&nbsp | &nbsp New Delhi
27-May-2011
Vol 2&nbsp|&nbspIssue 21
Amarjeet Kaur is a busy woman. Like any homemaker, this Delhi resident gets up early in the morning to complete her chores. She finishes up early because come 11 am and she has some important work to attend to. No, it's not for shopping or a spa appointment. Amarjeet does something more valuable with her time - she works as a volunteer at a nearby school.
Of course, this no ordinary school; it's a special institution for some very special children - the Savera School, where children battling with physical and mental disorders such as Down's Syndrome, Attention Deficit Hyperactivity Disorder and Autism are taught skills that can enable them to handle the rigours of regular life. For the young ones there's regular school work, while those in the 15 to 17 age group are given vocational training in addition. And all this is accomplished with the help of 25 trained teachers, a speech therapist, an occupational therapist, psychiatrists and a dedicated group of helpers as well as volunteers, like Amarjeet.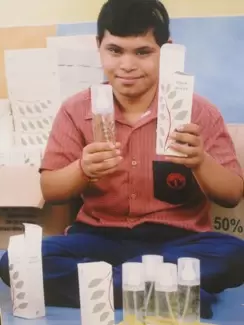 Equipped: Savera School children are trained to pack room fresheners, and are taught to make rakhi, diwali thalis and diyas (Photo: WFS)
The Savera School is an initiative of Sparsh, a non-governmental organisation - supported by Mother's Pride, a group that runs a chain of pre-schools across Delhi - focused on empowering differently-abled children. The vocational training programme, where Amarjeet lends her support, has been a recent addition to the list of programmes the school runs. Every day, along with some of Savera's teachers, Amarjeet minds a group of children, who excitedly pack room fresheners into boxes that are eventually sold. This is one of the many employable activities that they are taught.
"The excitement in this room is contagious. At times, some of children compete with each other to fill the boxes. They tuck the unfolded boxes under their seat so that the next person does not get the chance to have a go at them sooner," she smiles.
The beige and purple coloured room freshener boxes are sold under the brand name of Touch of Heaven and are available in three fragrances: Rose, jasmine and sandal. "The packaging process has been divided into small tasks that are repetitive and easy to handle," says Shilpa Arora, principal of the school. Some of these tasks include lining up the bottles that need to be filled, placing caps on the bottles, putting stickers on the bottles, putting the bottles in the boxes, and so on.
Young Arun has a growth disorder and is blind in one eye but he is a pro at putting the bottles in their boxes and placing the right sticker - identifying the fragrance - on the correct boxes. "He is also the most meticulous and hardworking in the group," says Arora, proudly.
Arun comes from a poor family; his grandmother takes care of all his needs. But today he is in a position to give something back at home. It's because Savera's training programme gives children a chance to earn as they learn. Elaborates M.P. Singh, president of The Savera School, "Part of the money from the sale of these products goes to the children as an honorarium while some of it is used to sustain the school." For Arun, this means that he can take some of his hard-earned money home for his grandmother.
The very first project that the children undertook last year, that of making rakhi and diwali 'thalis' (festive ceremonial trays) - was a resounding success. They were hand decorated and came with custom-made 'diyas' (earthen lamps) and candles. At the end of the festive season, which was around November, they had made a neat profit of over Rs 1,00,000.
Now the children have moved on two new projects: Making fancy 'shagun' (ceremonial) envelopes that are used for cash gifts during marriages and other festivals, and 'rangoli' colours (the colour used to make the traditional decorative folk art seen outside Indian homes). "Some of the children here are really artistic. So we want to tap into their strength and give them the added confidence of making money," says Amarjeet, who loves spending time with the children.
There was a time when differently-abled children and their parents faced a bleak future. But initiatives like that of the Savera School are helping to change that reality. "An important message has gone out to the families of these children as well as to the community at large - that special children can be independent," says Singh.
Women's Feature Service

Wish to share your story?
Trending Now: