Down with arthritis, Jacqueline Calaco reaches out to others who need support

Marianne de Nazareth
&nbsp | &nbsp Bangalore
14-January-2011
Vol 2&nbsp|&nbspIssue 2
She winces in pain while sitting down. I feel her pain, looking at her twisted feet and fingers. I knew Jacqueline Colaco when she was a go-getter and a career woman, holding an excellent position with the Bank of Baroda in New York. She was young and good looking with the world at her feet when tragedy struck in the form of rheumatoid arthritis, a debilitating illness. She was 35 then. Now 61, she has been battling the illness with courage for more than two decades.
"I was on this prestigious posting in New York when one day I found a stiffness in my limbs while getting out of bed and swellings under my feet. I told a doctor friend about it and he advised me to take a test. I tested positive for rheumatoid arthritis, which hits women especially from the age group of 20-40. I was lucky to have been diagnosed early and avoided steroid treatment. I carried on working long hours and travelling huge distances with my bank work in New York, till I requested for a posting back home to Bangalore in a couple of years."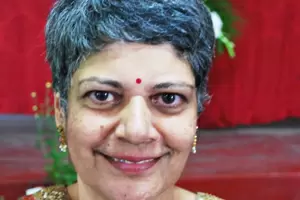 Strong willed: Jacqueline Calaco has refused to let the debilitating rheumatoid arthritis break her will. She is actively involved in helping others in similar plight
In India, Jackie found getting away from the cold climate helped and she also began ayurvedic treatment. But since there was no pain relief with ayurveda she went back to allopathy and in 1991 had her fist hip surgery.
In 1995, Jackie resigned her job as she was unable to cope. "Most doctors do not tell you how to cope with the disease here. Luckily while in the US I found a lot of literature which I use now to help others suffering from this crippling disease," she says. "I went through years crying with the pain, lying awake at night. I had to relearn how to help myself just to live and do the simple things in life like eating, dressing, brushing my teeth, going to the toilet- so many things that we take for granted when we are well."
After she quit her job, Jackie established The Arthritis Foundation (India) - http://www.arthritisfoundation.in/ - along with Dr Thomas Chandy in order to help people suffering from Rheumatoid Arthritis. "It is a registered trust through which we reach out to the poor and those who require support to deal with this disease. We have regular programmes and in fact the very first awareness programme brought in 300 interested people."
Through this programme, Jackie helps families devastated with the disease and advises them on how to cope. "Since the medication and the related surgeries are very expensive, I have arranged musical concerts in Bangalore named 'Sing away the pain' to collect funds for helping poor people with their joint replacements," says Jackie.
Jackie has also written her autobiography, which is titled, 'Me, Jacqueline, on My Way'.
"Life may not seem fair, but we have to learn to cope through our pain. My mother who suffered from the same illness showed me the way with her stoic calmness and forbearance," she says philosophically.

Trending Now: