A Pune artist brings inner peace to those viewing his paintings

Kavita Kanan Chandra
&nbsp | &nbsp Mumbai
04-November-2010
Vol 1&nbsp|&nbspIssue 10
Vibrant energy emanates from the paintings of Machcha Gangadas and energizes the discerning viewer even as the bold colours, criss-crossing fine lines and scattered spheres make a striking impact. "My paintings are full of positive energy," says the artist from Pune, who explores cosmic energy. Since cosmic energy is unseen, the landscape painter has turned to abstract art and through his paintings hopes to spread positivity in the lives of people.

Positivity is the buzzword in Machcha's life too for he had to swim against the tide to follow his heart and his passion for painting. Apart from a polio-afflicted right leg and his family's poor economic background, Machcha, originally from Andhra Pradesh, had to battle against the views of a strict but practical father, who thought that an artist's life was no better than that of a beggar.

So, Machcha had to pursue commerce instead of art and do a number of odd jobs to sustain his hobby of painting. "I used to sit in the loft of my house with paints and canvas hidden from my father's watchful eyes," Machcha recalls his growing years.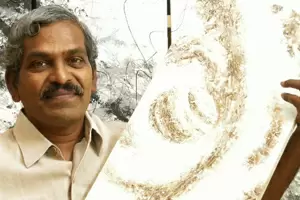 An artistic mission: Machcha wants to radiate positive energy through his paintings
Now with a full time bank job, two well settled sons and a wife, who had been a pillar of support; he muses how he entered competitions during college days and sustained himself by doing anything with paints. He made posters, murals, greeting cards and later wandered along Konkan beaches, secluded forts and ghats for his water colour landscapes.

He acknowledges the help from his teacher and guru, artist Raosaheb Gurao, who provided him with art materials, encouraged him in his quest for exploration and often took him to locations where he could harness his potential as a landscape painter.

Machcha recounts an incident that made him look beyond landscapes. One day as he was sitting alone and painting, in a flash some paints disappeared in front of his eyes. It was a moment of epiphany and he felt the presence of some unseen power. "It was God's way of telling me to do something beyond landscapes and to use my art for the good of humanity," says Machcha.

For the mostly self taught artist, the incident triggered an imagination that led to his experimentation with all types of colours and a wide range of techniques. He has used water colour, acrylic, oil, pencil, pen, rangoli, epoxy resin and techniques like pouring, splashing, dragging, erasing, flow & blowing, knife work, spraying, etc. As one who always tried newer things, he also pioneered 'embossed Ganpati in tiles' and was also the one who introduced the concept of cosmic energy in the form of abstract art.

He feels that by simply viewing his paintings where he uses freely moving lines crossing each other and different colours to depict movement and create energy, the viewers would feel inner peace due to the positivity generated through them. In his paintings he liberally uses colours like red, orange, green, blue, white and yellow.

At peace with himself, Machcha tries to spread spirituality and bring positivity in the lives of people. He not only holds free art classes for poor but doles out money and spends time teaching them for various competitive exams. Realising the importance of English, he first learnt the subject and then taught students to speak the language so they could get through interviews.

Trending Now: